Happy Holidays!
Twelve amazing days of Food gifts for memorable giving.
Last year for the holidays I did a series of 12 food gifts for making and giving. A bunch of folks have been asking about them, so here they are in the order that they were posted in. Just click on the title to take you directly to the original post. Also be sure to check on the page bar at the top of the post for resources for jars, containers, ribbons, etc.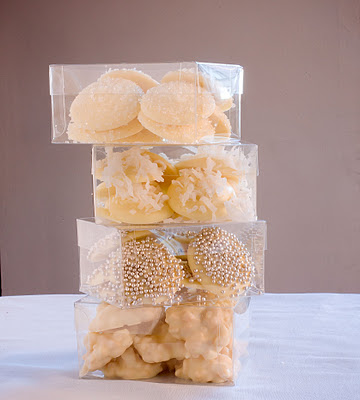 White Chocolate Candies
Day 1- White Chocolate Candies– easy to make drops.
Day 2- Candied Fruits- Sweet and Savory. This post contains recipes for the candied pears shown above, candied spicy tangerines and candied ginger.
Day 3- Rosemary Lemon Biscotti and Dark Chocolate Cherry Biscotti– two classic cookies.\
Day 4- A Tradition Renewed- Marzipan– instructions on how to make cherries, pears and plums.
Day 5- Cowboy Candy- sweet pickled jalapeños that have the added bones of a beautiful syrup leftover that makes the dang best margaritas you've EVER tasted!
Day 6- Flavored Oils– Two infusion methods: Hot and Cold. Recipes for Lemon Oil, Basil Oil and Smoked Paprika Oil.
Day 7- Mixed Drinks~Pre-made cocktails. These are the bases for some delicious cocktails. Just add ice a spritz of tonic or soda water and you can kick back and enjoy the evening.
Day 8- Fruit Compotes~ Red & Blueberry Mint, and Orange Lavender– Send along with a batch of homemade scones for a special Christmas morning breakfast.
Day 9- Fregolotta- An Italian tradition. It's a large cracker like cookie, full of almonds, that is broken and eaten after dinner, served here with a ruby port.
Day 10- Homemade syrups to make your own exotic soda or create a cocktail. Blueberry Thyme, Ginger Ale, and Fresh Mint
Day 11- Apricot Tapenade with Rosemary. A sweet and savory fruit sauce that pairs beautifully with cheese and makes a colorful and sparkling addition to your holiday table.
Happy making and sharing everyone!