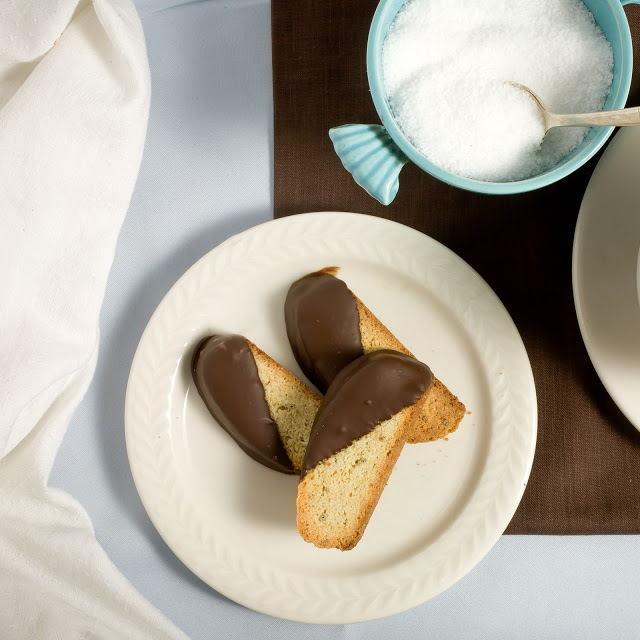 This past week I took myself down to Bumble and Bumble in the meat packing district to get my hair trimmed. One of the many delights of the salon is complimentary coffee or latte when you are awaiting your chair time. The salon is situated on the 8th floor of a loft building that has impressive views downtown and toward the river. The windows are floor to ceiling and there is nothing like settling back into the squishy leather couches they have, facing out with a warm creamy cup of coffee in my hands taking in the view.
But even better, there was tucked alongside the cup a teeny biscotti that was a delightful, not too sweet treat, that managed to make the sublime only that much better. I enjoyed every nibble.
Of course this set me onto a track that I am not quick to get off of. As I stared out over the rooftops I mused about heading back into the kitchen, of flour and mixing bowls.  I wanted to make some biscotti of my own.
I have made plenty of this crunchy cookies over the years and have a few fantastic recipes in my back pocket. For instance there are the chocolate biscotti that almost melt away in your mouth and have an almost black color. I've made these many Xmases and bagged and bowed them as holiday treats. People still ask for them- perhaps I should make a batch this year…
For some reason though I got a hankering for fennel. I imagined a delicate digestif type biscotti and not altogether that decadent. Something basic, something not too too. This recipe is fantastic as biscotti go. Super easy and it yields a cookie that has an even dense crumb that I really like. It can handle dipping into coffee with gusto.
Though perfectly delightful on their own, I added the chocolate as an afterthought. Now, truth be told, one could probably count the days in my life that chocolate has not passed my lips in one form or another, so dunking these in a bit of dark chocolate was not a hard sell. I did not bother to temper the chocolate, but chose a simpler cheat method. No blue ribbons for this, but it does the trick.
Fennel Seed Biscotti Dipped in Chocolate
Oven to 375˚ Grease 2 cookie sheets or line with parchment
In medium bowl combine the first 5 ingredients and stir well to combine
In larger bowl sift together flour, salt and bp. Add the fennel seeds
Pour the wet into the dry and stir to combine. The dough will be stiff.
Divide in half and make logs about 3″ wide and ~1″ high and place one in the middle of each baking sheet.
Bake the logs for approx 25 mins until golden brown and only slightly yield when pressed in the middle. You do want a baked cookie, but not overly so. Remove from oven and set aside.
Leaving the oven on allow the logs to cool until you are able to handle them.
With a sharp serrated knife cut the log into slices and lay flat on the trays.
Return the sheet trays to the oven for ~6mins until toasted, then remove, flip the cookies and bake again until the tops are a golden brown.
Place chopped dark chocolate into microwavable bowl.
Melt on high for ~1 min then stir. If it needs more give it another 15 sec jolt. Do not over heat the chocolate. Allow the warm chocolate to melt the last of the bits. Be patient.
Add oil and stir into the chocolate.
Dip the cool cookies in the chocolate and set on wax paper or parchment lined cookie sheets.
Pop into fridge until set.
This will not yield a "snappy" chocolate. If when left at room temp the chocolate gets too soft store leftover cookies in a covered container in the fridge. 
Otherwise store uneaten cookies in a covered container- such as a pretty cookie jar until they are all gone and you are compelled to make another batch.