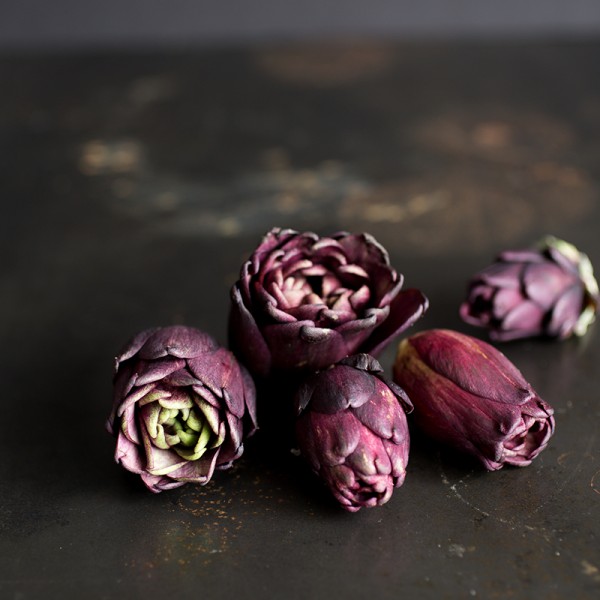 It might be ridiculous to think of oneself as an urban hunter and gatherer, but from time to time this is what I do. Bored with what I typically see in my pantry or market, I will go in search of a new or unfamiliar ingredient. Sometimes this expedition takes me hither and yon to the deepest darkest parts of NYC, but sometimes I'll simply dig around the shelves in my "around the corner" market. Often tucked away in the Imported area there can be some amazing sauces, grains, or food stuffs that are languishing on shelves, waiting for an intrepid cook to give it a go.
This past week I went on such a trip downtown to a fruit and vegetable store that occasionally stocks a variety of foods not typically seen at local markets. I was actually on the hunt for some peppers that I had gotten a hook onto, but instead came away with these bitty baby artichokes (and some mushrooms you'll see later this week).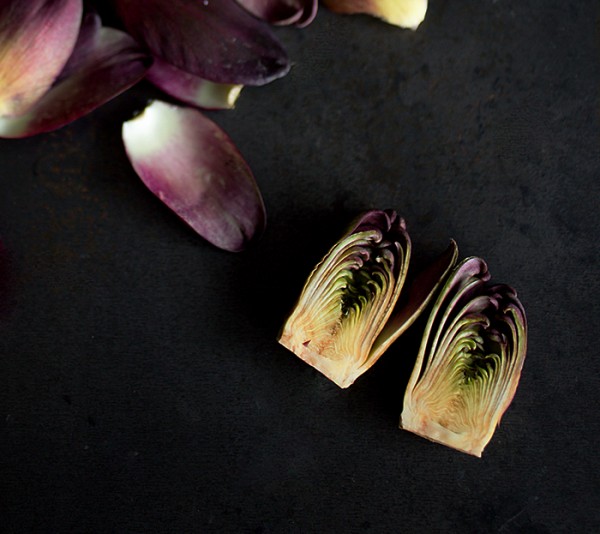 I spotted the artichokes as I came around the corner. They were piled in a soft mound in a cardboard flat at the end of the row, with a hand written scratch of a paper tucked in amongst the pods reporting the name and price. It was the color that struck me at first. That beautiful deep purple that few vegetables really behold. Often artichokes can sport tinges of the aubergine, but usually just a tinge, and then only on the tips. The color on these were rich, velvety, and regal in color, with hidden buds of bright green coming from the centers of some- very sexy and alluring.
The second thing was their adorable petiteness. When I say bitty, I mean bitty. I had never seen such small artichokes before. I was able to put 5 of them easily into one hand.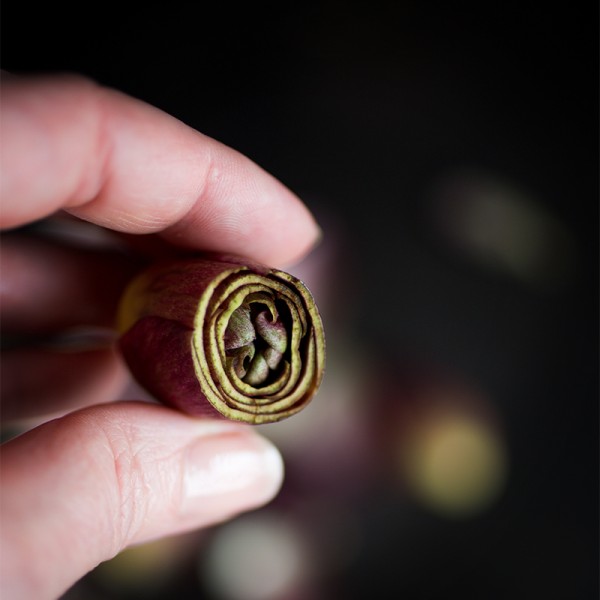 I had no idea what they would yield. For a typical artichoke it requires peeling layers of outer leaves to get to the tender heart- about ~20% of the whole size of the fruit. Since they were so small I suspected that they might be tender enough to eat almost all of it once cooked. I had no idea, but after all, that's part of the fun. Regardless- they were too gorgeous to pass up.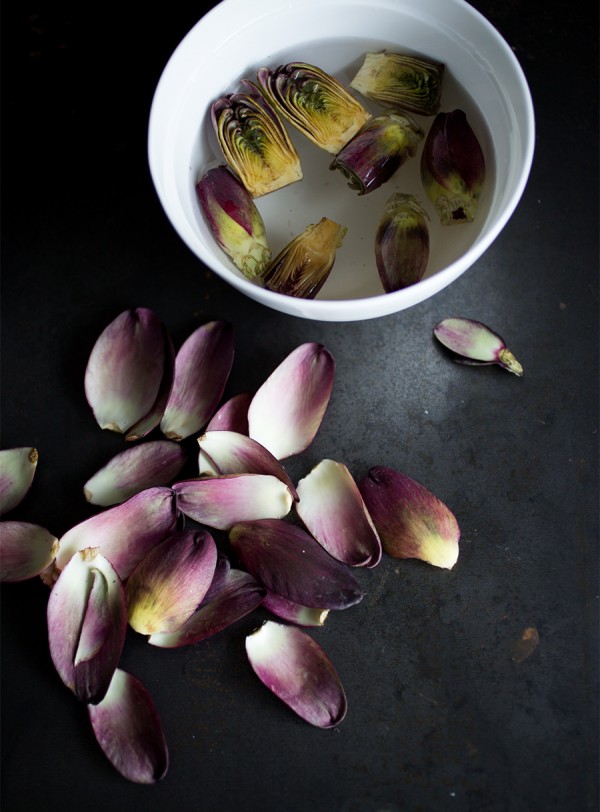 This past week I've also been reading a book about the art and history of Gregorian Chants. There are delightful passages about the breathtaking wonder of simple chant- or single voice chanting. You can hear the echoing tones of devoted monks singing in unison, creating a holy vibration of music. I am not Catholic, nor religious, but it's not hard to image divinity in such moments as those.
This has put me squarely in the Italian frame of mind, more specifically the quiet perfection of simplicity well executed to create supreme beauty- or in the case of my artichokes- deliciousness.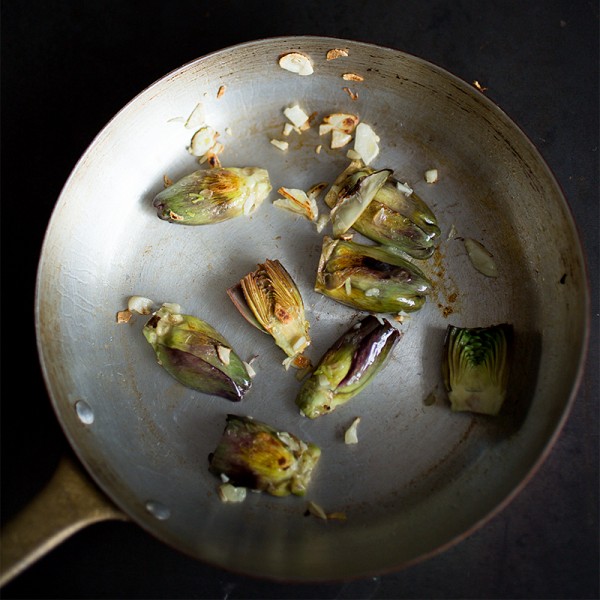 After peeling the toughest leaves back, trimming and splitting in two- I simply sautéed them in olive oil, garlic and a hearty squeeze of lemon juice. As it turns out I was correct. There was enough tenderness to make almost the entire artichoke edible. The taste was not fully the traditional quality of artichokes, it was more vegetal- and supremely enjoyable.
I served them up with some Speck (smoked prosciutto), fruits and nuts and a hunk of crusty bread- nothing more complicated than that.
And that's all it takes, to make my heart (and maybe the angels of Rome) sing.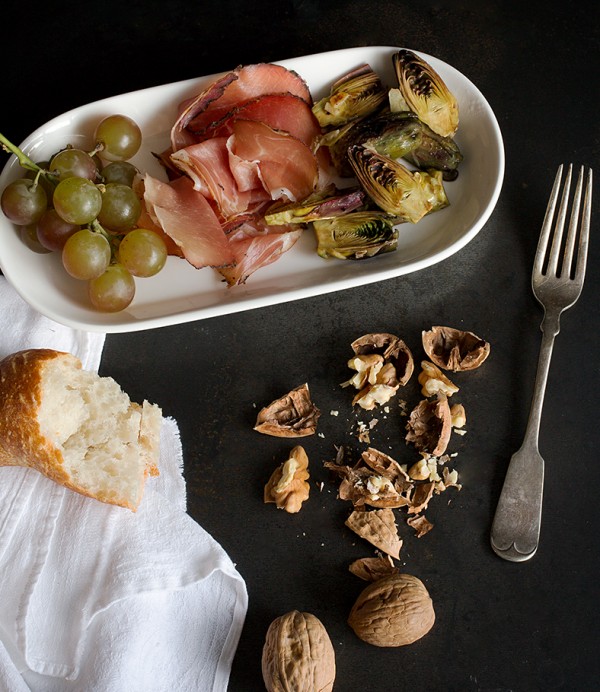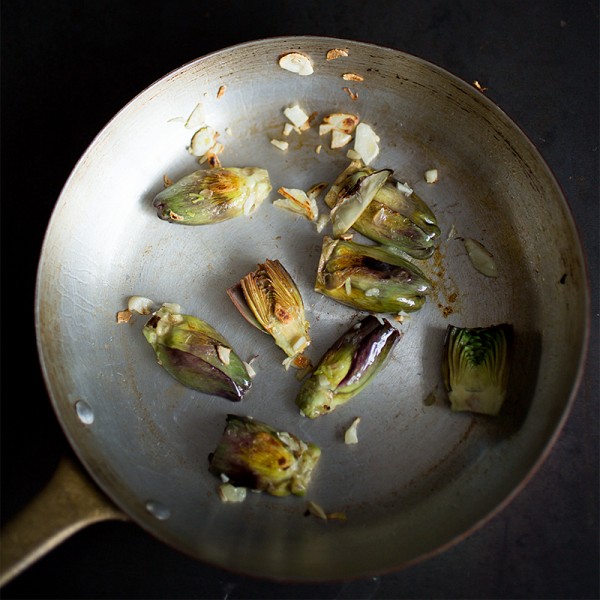 Sauteed Baby Artichokes
2013-04-28 13:29:12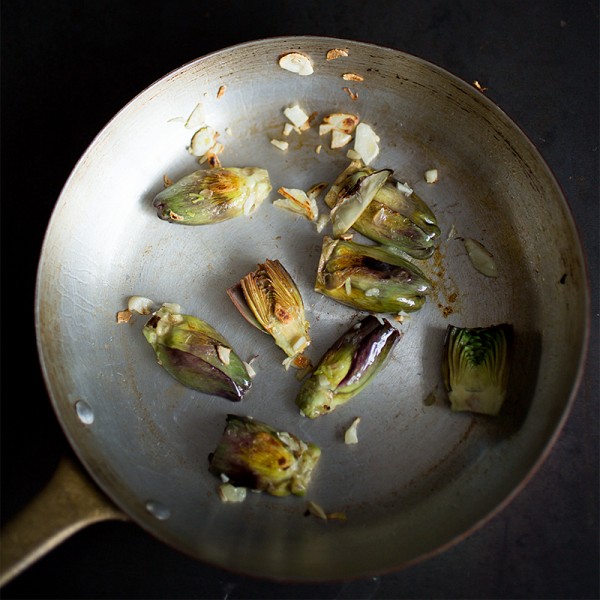 This recipe can be adapted to any size artichokes you find, just be sure to peel back enough leaves to get to the tenderest leaves. Serves 4 as an appetizer.
Nutrition Facts
Amount Per Serving
* Percent Daily Values are based on a 2,000 calorie diet. Your Daily Values may be higher or lower depending on your calorie needs.
Ingredients
15-20 baby artichokes
2 cloves garlic, thinly sliced
2 Tablespoons olive oil
2 lemons, zested and juiced
pinch of salt
Instructions
Trim the outer leaves of the artichokes until you reach tender leaves. For the larger I trimmed the tough top ends. Trim the dried out ends of the stems.
Cut in half and put into cool water that has a squeeze of lemon juice in it to prevent browning.
In a saute pan, warm the oil over medium heat. Drain the artichokes then add them along with the garlic to the pan.
Saute for 3 minutes until the garlic is golden, then add 2 Tablespoons of water to the pan and cover- allowing steam to build up inside. Cook for an additional 2 minutes then remove the lid. Test to see if the artichokes are tender by piercing with a sharp knife. Add more water and steam longer if necessary.
When the artichokes are tender, add the lemon juice and toss along with the salt until warmed through.
Notes
May be prepared ahead of time, but I prefer to serve them warm.
A Stack of Dishes http://www.astackofdishes.com/