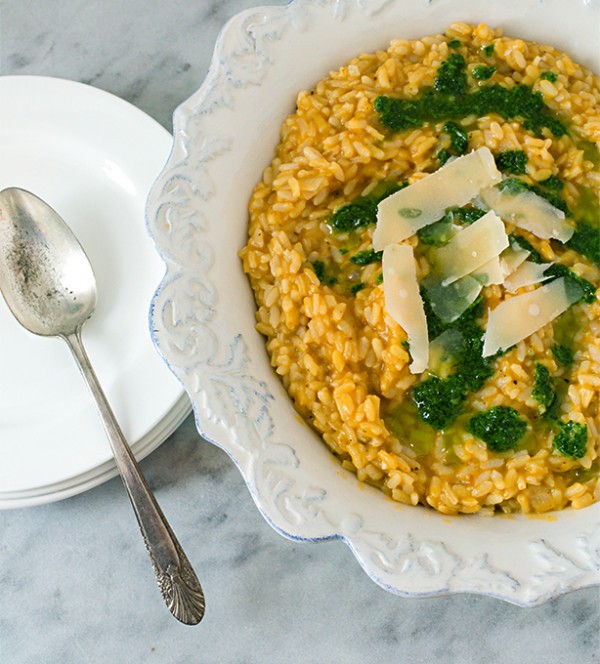 Yes, I know it's after Halloween, but tell me you're not sick of pumpkin yet. Just hang in there for at least one more recipe…
I will confess that I have never been successful at mastering the technique of making creamy risotto stove top. I've given it a few tries over the years, and for all that standing and stirring, I don't know… it just has been less than impressive. Yes, it's very true that I should get back at it and give it another go (after all I am that much older and wiser now), but when I came across this recipe for baked risotto- my eyes lit right up!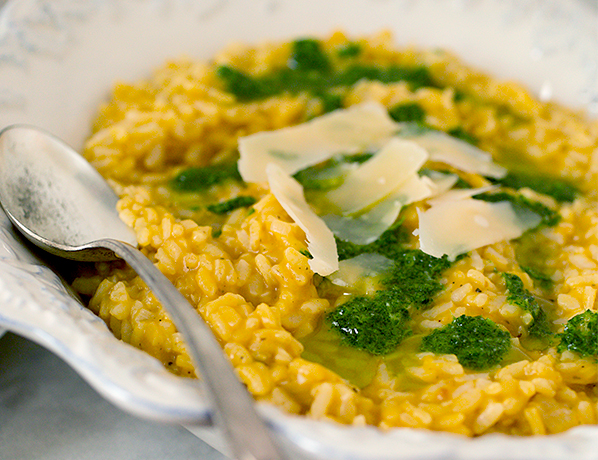 First off I love using my Le Creuset Dutch Oven
as often as I can. It just brings out the Julia Child in me, what can I say? There is something about heaving out the heavy artillery that makes cooking seem so REAL. It might be silly to be so attached to cooking implements, but I am sure I am not alone in this. If you've got one languishing somewhere, now is the time to pull it out.
The delightful thing about this recipe is that the time it takes to make this dish is considerably less- closer to 30 minutes from start to finish, most of which is hands off. I've even made this dish earlier in the evening, and just added a tad more stock and rewarmed it. Not culinary perfection, but when it comes to crowd pleasing, it worked like a charm.
The pumpkin is plain ol' canned. Which also great when you need something special last minute. Feel free to substitute pureed butternut or any other winter squash. Pureed sweet potatoes would be divine too.

I also wanted to share some other news with y'all too. As many of you know I've been working on a new business called A Healthy Hunger. It's an menu subscription service for Clean Eating or Diabetics. The site is primarily built and now I'm just fleshing it out and working out the technical kinks.
Creating healthy menus has turned out to be such a delight- more than I could have possible imagined. So many people talk to me about not knowing what to cook for their families, and when you have a diabetic to consider, even more so. I think we've all been there at one point or another.
Pulling these menus together, including shopping lists and nutritional information, just feels SO GOOD! So stay tuned for the big launch. Hopefully very very soon.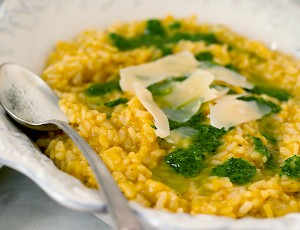 Baked Pumpkin Risotto
2013-11-01 10:21:58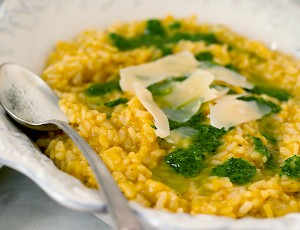 Super easy to make risotto that requires none of the endless stirring.
Nutrition Facts
Amount Per Serving
* Percent Daily Values are based on a 2,000 calorie diet. Your Daily Values may be higher or lower depending on your calorie needs.
Ingredients
4 cups low sodium chicken broth
1.5 cups water
2 bay leaves
4 tablespoons unsalted butter
1 medium onion, minced
2 cups Arborio rice
3 cloves garlic, minced
1 cup dry white wine- chardonnay is wonderful here
3/4 cup parmesan cheese, grated
1 12 oz can pumpkin puree
1 cup fresh parsley
4 tablespoons olive oil
salt and pepper to taste
Instructions
Preheat oven to 400˚
In a saucepan, warm the broth, water and bay leaves to a simmer and hold.
Warm the Dutch oven over medium heat and melt the butter. Add the onions and sautee until translucent. Then add the rice and stir until the edges become slightly translucent- about 3 minutes. Stir in the garlic and cook for 1 minute. Then add the wine and cook, while stirring until all the liquid is absorbed.
Remove the bay leaves and pour the broth over the rice. Place a piece of aluminum foil over the rice to within an inch off the surface of the rice. Place the lid on top of the dish and place into the center of the oven.
Bake for 15-20, or until the rice is tender and creamy and the liquid is absorbed.
While the rice is baking make the parsley oil
Place the parsley and oil in a blender and puree until smooth. Add salt and pepper to taste.
Remove from the oven and stir in the pumpkin and parmesan cheese.
Divide between 8 bowls and serve with a drizzle of parsley oil.
Adapted from Cook's Country
Adapted from Cook's Country
A Stack of Dishes http://www.astackofdishes.com/