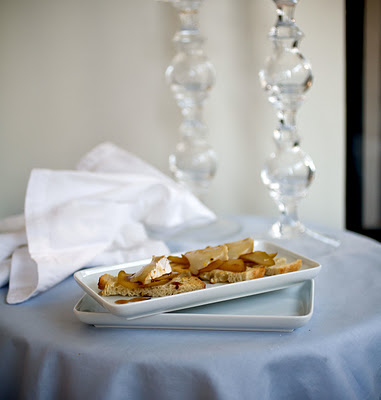 Pears are poached in balsamic vinegar and cracked pepper
My move is now planned and the boxes are beginning to get packed. Not only has this not deterred me from cooking, but by a quirk has increased my inspiration. The crazy thing is as I dig into my cupboards and cabinets I'm finding pans and tools and platters and things that I had forgotten were in there.
I have been blessed with an inordinate amount of storage space and an insatiable appetite for china and gadgets. Years ago, long before Martha Stewart Magazine had their big studio and kitchen(s), they would sometimes shoot in my loft. I had ovens, refrigeration and counters galore, but what I also had was stuff. As you know the stylists on the magazine are some of the best out there, and also the most nit picky. Often when some prop was in need, or just not right, I would fling open my cabinet doors and pull out more options. The look on people's faces is always priceless. I REALLY have stuff!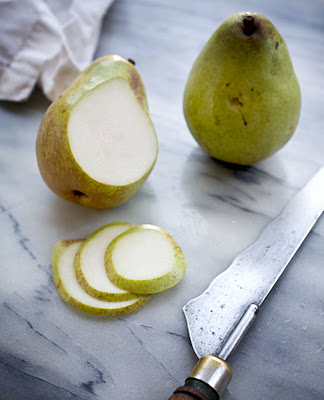 So now, all my memories are spilling out of the dark corners of the platter cabinet (yes, I have an entire 30″ x 48″" cabinet filled to the brim with only platters). It's been a wonderful time.
This quick and lovely hors d'oeuvres is one of my great fall backs. The pears are also wonderful with a nice thin slice of pate as well. Definitely use a bread toast here to catch the gorgeous balsamic sauce. Crackers won't cut it.
I usually make these right on the spot which means that they get gobbled up as fast as I can put them down on the platter.
Balsamic Poached Pears w Black Pepper and Brie Toasts
serves 12
3T apple cider vinegar
2T balsamic vinegar
2T turbinado sugar
cracked fresh black pepper
2 barely ripe pears, peeled and sliced thin
6oz Goat Brie
baguette or sourdough bread for toasts
Combine vinegars, sugar and pepper in a small saucepan and warm allowing the sugar to melt.
Add the pears and simmer for 1 minute. Remove from heat and let the pears stand in the poaching liquid for 1 hr.
Gently remove pears and bring remaining sauce to a low boil and slightly reduce.
Toast up your bread and have on the ready. Place a pear slice or two onto the bread and top with a small wedge of the brie.
Warm in the oven to just melt the brie. Drizzle with the reserved balsamic sauce and serve.