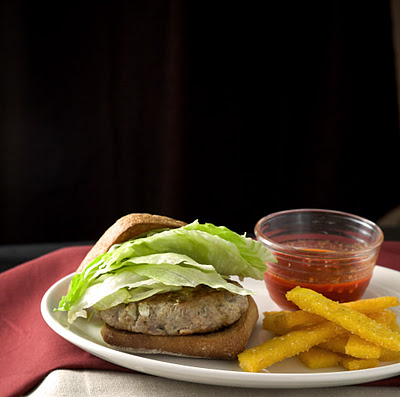 I love a good burger especially when they are juicy. Unfortunately for the Turkey Burger it has always had its shortcomings. I appreciate the healthier version of the American Classic, but just cause there's hot meat on a bun it does not a "burger" make.
A few years ago when I was marathon training I looked for ways to add lean meats to my diet and still maintain my love of food. This recipe adds onions and Feta cheese which not only gives the bland turkey a flavor boost, but also bumps up the juice factor. It's amazing how two little additions can make such a tremendous difference.
Another trick is I cover my pan when cooking. Unlike beef burgers you want to get the turkey cooked thoroughly. Covering the pan will allow you to create an oven effect that will allow you to heat the burger evenly without drying out the outer edges of the meat. I have a large frying pan lid, but if you don't have one, use a baking sheet or the lid from any ol' large pot you have. You can even flip an other pan on top. Also please, do not cook on low heat. This produces a dull, flat, hockey puck of a burger that is a waste of good protein.
If you, or you have mouths to feed that are not onion or feta cheese crazy, try mincing them as finely as you can get. Honestly, the flavors are not strong here and it's worth the yumminess factor to give it a try.
The polenta fries are not altogether on the healthy side at all- except for the added fiber the corn adds as opposed to a potato. But a greasy crunch is all part of the burger experience for me, so I indulge when appropriate and try not to overdo it. It's all about balance and the secret to delicious food and a healthy life. Just take time to enjoy what you have when you have it- it's more satisfying that way.
I pumped up the ketchup with a small dollop of hot sauce and a splash of vinegar. If you are a spice fiend like I am you will love this- otherwise traditional ketchup is super OK.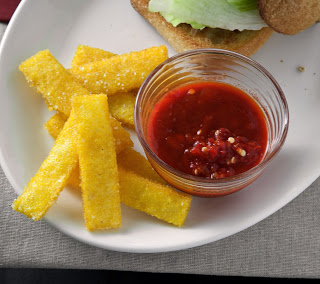 Feta Turkey Burger
serves 6
1.5# ground turkey
.5 red onion minced
3 cloves garlic minced
1c feta cheese crumbled
6 sourdough rolls
lettuce, tomato etc
Combine first 5 ingredients into a bowl and gently mix. I "fold" the ingredients in to get an even consistency without overworking the meat.
Divide the mixture into 6 even portions and pat into the shape and size of your roll- make slightly larger as burgers will shrink just a tad when cooking and personally I like to bite into meat, not too much roll.
Heat medium-large frying pan over medium high heat. Add a touch of either oil, or cooking spray. Place burgers into pan and let sear for 2 mins and then cover. Turn heat down to medium. Flip after 5 mins and cover again until done.
Cooking time will depend on how thick your burgers are. I test mine by the poke method. If the center of the burger is springy and soft they are not done. There should be some resistance with a gentle give. If there is no resistance you've gone too far.
Enjoy right away with your rolls and extras.
Polenta Fries and Kick-A Ketchup
serves a generous 6
Instant polenta
generous pinch of salt
oil for frying
store bought ketchup
hot sauce or any kind
splash of white or wine vinegar
Prepare the polenta according to package directions adding the salt. I make mine in my rice cooker, which not only prevents the polenta from scorching, it also makes for easier clean up.
Pour cooked polenta onto greased baking sheet. With spoon or spatula spread the polenta out as evenly as possible.
Pop into fridge to cool and stiffen.
Once cold and set you can slice the fries into any shape you would like. Heat oil to 375˚ The polenta does not have to cook like when frying potatoes. Fry until crisp and golden on the edges. Drain on paper towels and toss some coarse salt on them immediately.
I used about a half cup of ketchup to a T of hot sauce and a scant teaspoon of vinegar. This is all totally subject to your personal taste, so get creative here. Lemon juice is also fantastic here.