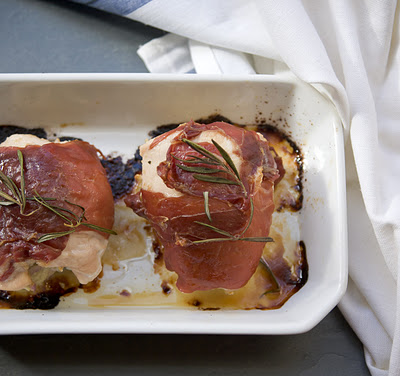 Ah the ubiquitous chicken breast- and the endless possibilities…
The Fall gets me thinking about earthier flavors. I am drawn to rosemary now like no other time of the year. The oven can be turned on without concern, or more correctly, with relish.
Making packages, anything individual, is so enticing. Turnovers, petite fours, cupcakes etc, are tidy delights. Little jewels that for that bit of time make one feel royal and deserving.
Making chicken into packages is simply a way to turn the mundane into extraordinary on a Monday. And why not feel royal on a Monday?
Plump breasts were filleted off the bone, then butterflied and each half pounded to evenness. Do not let this step faze you- it's no brain, just brawn. If you haven't a mallet, lay the side of the knife and with fist wrapped in a towel gently pound. Filled with a mixture of grated apples, garlic, onions, bread crumbs, bleu cheese and olive oil, then wrapped with gorgeous slices of prosciutto.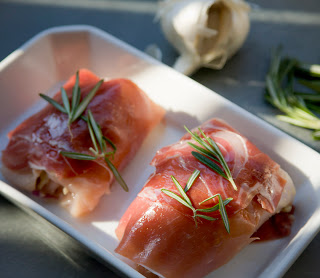 Once slid into the oven it's quick work of the pasta and tomatoes. Easy and comforting.
The wine for this was a California Chardonnay. Acidic enough to balance the cheese and rosemary, but with enough body to hold it's own to the richness of the dish. I might even have gone for a San Giovese with good fruit and lower tannin.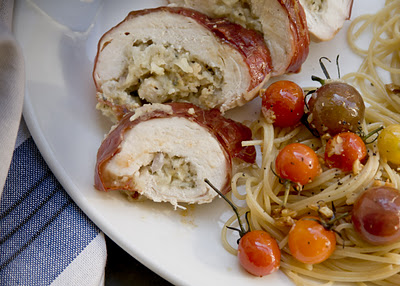 Blue Cheese and Apple Stuffed Chicken
1 large chicken breast filleted off the bone, skin removed
.5 c grated granny smith apple
1 clove minced garlic
.5 cup minced onion
1 c fresh bread crumbs
1 oz flavorful bleu cheese
1T Olive oil
S&P
rosemary leaves, fresh preferred, dried is fine
Holding palm down on the top of the chicken breast and gently pressing down, slice a knife through the center to butterfly in half
Pound each half into evenness on a cutting board under a layer of plastic wrap
In separate bowl combine the filling ingredients.
Divide the filling between the two chicken pieces, then roll up tucking under any untidy ends
Oil roasting pan and place chicken into pan. Wrap each breast with one piece of prosciutto, once again tucking under any stray bits
Lightly oil the tops and add sprigs of rosemary
Roast in 350˚ oven for ~35mins
Blistered Tomato Pasta
.25 package of spaghetti
1 large clove of garlic minced
generous handful of cherry tomatoes
3T olive oil
2T white balsamic vinegar
S & P
Prepare spaghetti according to the package and drain
In medium sautee pan heat oil on medium heat and gently sautee garlic, taking care not to burn which can result in bitterness
When garlic is almost golden toss in cherry tomatoes and sautee, shaking the pan for ~3 mins
Splash with the vinegar, then toss in the pasta to reheat and coat
S & P to taste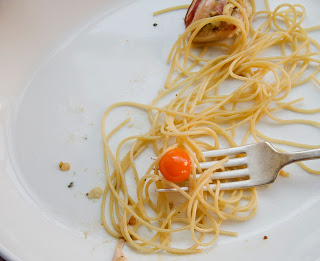 The recipe may be doubled or tripled with ease. It's a great meal for entertaining as much of it can be readied beforehand. Prepare the chicken in advance and then pop it into the oven when your guests arrive. The pasta may be cooked earlier and then reheated with the making of the tomatoes. Once the pasta is tossed with the tomatoes I suggest a quick splash of a tablespoon or so of water and covering the pan with a lid. This will quickly steam the pasta and bring it up to temperature. This is so much better than wielding great pots of boiling water when trying to entertain.