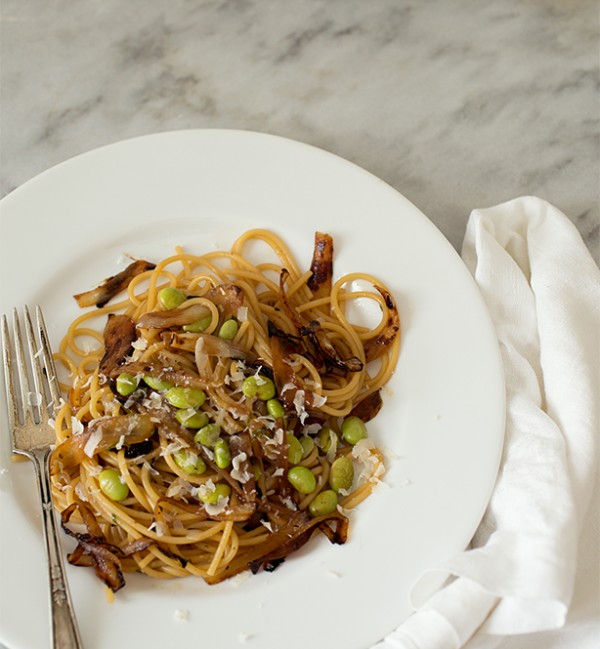 If you know me at all you know that I am a real cookbook hound. I might be able to trace the start back to when I was a kid during a birthday pool party. I probably was about 9, and in those days we played games. The winners of each game got to pick a grab bag gift. My pull that day was a copy of Fanny Farmer's cookbook.
You would think that a book given to a chlorine soaked little girl on a glorious summer afternoon would have been a buzz kill. Instead I turned the book over and over in sheer delight and amazement. I never had my own cookbook before- and don't you know I sat right down poolside and started to thumb through it. There were recipes for cookies and candies and other treats. The potential in those pages astounded me- even as a young girl.
To me cookbooks are treasure chests. They should be delved into and perused. I am also quite sure that I am not alone in partaking in the joy of reading a cookbook like a novel. Weekly the pile by my bedside grows taller and more rickety until I gather them all into my arms and return them to the shelves like errant children. Some sneak it back on a regular basis, such as the book that this recipe came from: Radically Simple
by Rozanne Gold.
Rozanne and I share some mutual friends, and I've had the pleasure of speaking with her a few times over the years. Rozanne is a beautiful tall woman who commands herself with simple elegance and grace- very much like her recipes. She's a four time James Beard Award winner, and recipient of the Julia Child/IACP award. At 23 she was chef to Mayor Ed Koch, and was executive chef to Lord & Taylor, Baum + Whiteman, The Rainbow Room, Windows on the World and Hudson River Club. Rozanne has written for countless periodicals, and is the author of 13 cookbooks. Her books include the acclaimed 1-2-3 series, which was the impetus for the minimalist column in the NY Times. However, one of the most endearing facts about Rozanne is that she purchased the defunct Gourmet Magazine's 3500 cookbook library and donated it to New York University in honor of her mother- who encouraged her to be a chef at a time when it was unheard of for a woman to hold such positions in professional kitchens.
Her recipes in Radically Simple
really speak to me in that they are elegant without a lot of fuss. Using a few ingredients with the right balance and well executed cooking techniques, she makes it possible for the home cook to come off like a pro. I also highly recommend giving this book to the young cook who is looking to entertain with ease and success.
I will also share with you that when I last moved it was one of three cookbooks that I kept from the boxes and used regularly during those first days in my new place. It's a very user friendly and inspiring book- it's the type of cookbook you'll want to keep by your side.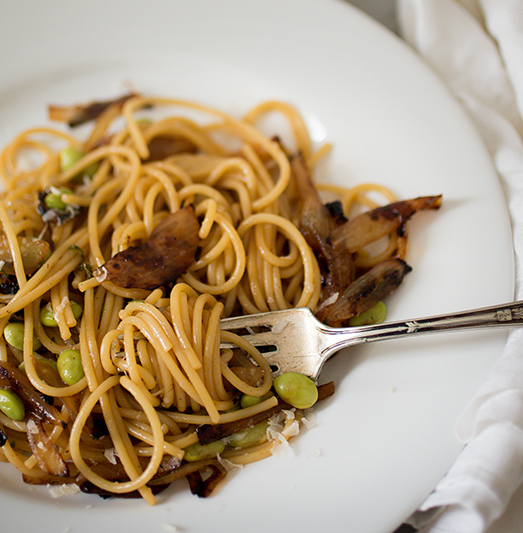 With Rozanne'a permission I have recreated one of her recipes here. In place of peas I used edamame which I had on hand, and had to opt for spaghetti as my choice of pasta. Neither were a detriment to the recipe.
This dish is a gorgeous balance of the earthy umami taste of caramelized onions with the round acidity of white balsamic vinegar. The mint gives it an herbaceous high note to finish it off. Add this to your list of meatless meals.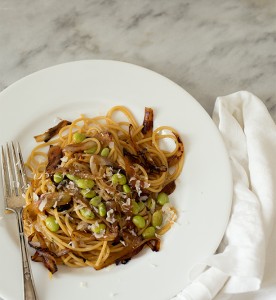 Caramelized Onion Pasta with Edamame and Mint
2013-10-24 11:35:36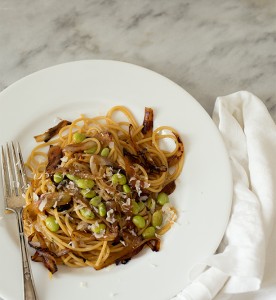 A hearty earthy pasta dish, great for any meatless meal.
Nutrition Facts
Amount Per Serving
* Percent Daily Values are based on a 2,000 calorie diet. Your Daily Values may be higher or lower depending on your calorie needs.
Ingredients
4 large yellow onions, about 1 1/2 pounds
1/3 cup extra-virgin olive oil
12 ounces spaghetti- or other past of choice
1 cup frozen edamame (or peas)
3 tablespoons white balsamic vinegar
1 tablespoon fish sauce
1 cup coarsely chopped fresh mint
1/3 cup freshly grated Parmigianno-Reggiano- plus extra for shaving
Instructions
Bring a large pot of salted water to a boil.
Cut the onions in half through the roots. With cut side down, slice longwise (not semi-circles).
Heat the oil in a large skillet over high heat. Add the onion and cook while stirring until dark brown, about 15 minutes.
Meanwhile, cook the pasta until tender, about 10 minutes- adding the edamame halfway through. Drain, reserving 1/2 cup of the pasta water.
Add the vinegar and fish sauce to the onions and cook for 2 minutes. Add the drained pasta and peas, cooking water, mint and grated cheese. Cook stirring for 2 minutes until heated through.
Add salt and pepper to taste.
Divide evenly between 6 bowls and garnish with shaved cheese on top.
Adapted from Radically Simple
Adapted from Radically Simple
A Stack of Dishes http://www.astackofdishes.com/