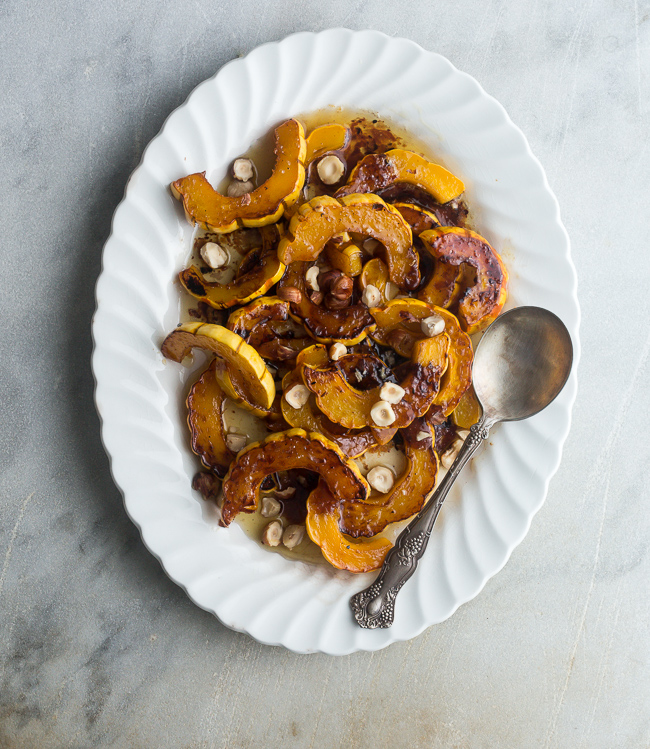 Delicata Squash that tastes like candy.
Behold, I have brought you another idea for your holiday table, the brilliantly easy to prepare delicata squash. Delicata squash has a special place in my heart since you don't have to do any teeth gritted wrangling to slice it up. Man, slicing up acorn squash can be harrowing on the fingers, and can require a bit of muscle at times too. With the delicata though, the outer skin is so tender there is no need to peel, just slice, cook, and eat.
I have also absolutely fallen in love with browned butter. This is a direct result of an evening with Dorie Greenspan at Books Are Magic in Brooklyn last week, where she was holding court to promote her new cookbook: BUTTER. It's one of 29 other small little books from the Short Stack Editions group. The books are simple pamphlet-like books all created around a single theme. They are just the most wonderful little gems and I just adore them. Sure, sure, you can get more for less- but there is something so utterly charming about this series. They are more like small art pieces than a standard cookbook, and I just love that about them. (stocking stuffers anyone?)
During the gathering Dorie served up some buttery treats, one of which was a Cinnamon Chili Caramel Corn that was sheer delight. I just became entranced with that nutty buttery caramely thing. Poor butter has been thoroughly ostracized for the past several years. I may have to single handedly bring it on back. Olive oil- I adore you- but butter? You must be my mistress. Browning butter is such a magic trick too. It doesn't take any great skill (only a smidge of patience), and you get this amazing thing. Who doesn't love that?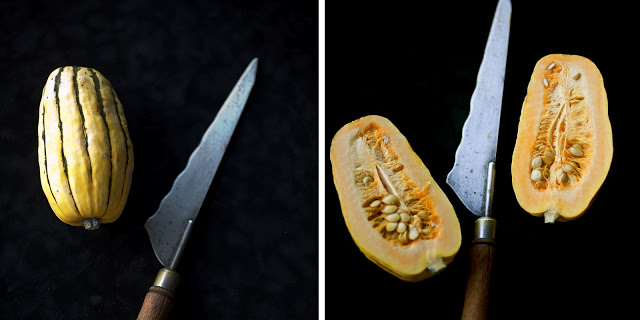 Browned Butter Maple Glazed Delicata Squash with Hazelnuts
serves 8
4-5 small delicata squash
4 tablespoons unsalted butter
4 tablespoons maple syrup (please use the real thing, it's worth it here)
generous pinch of salt
1/4 cup of hazelnuts, toasted and chopped
Slice the squash in half lengthwise, scoop out the seeds and slice into even 1/4″ slices. Set aside.
Place the butter in a small light bottomed saucepan and place over medium low heat. Melt and continue to stir. The butter will sizzle as the water is cooked out. Just as this subsides and gets quiet, you will start to smell the nuttiness and see small bits settle to the bottom of the pan. When the butter is toasty, but not overly burnt, remove from the heat and pour the butter into a bowl. This will stop the butter from continuing to brown and possible burn. This all takes about 3-4 minutes.
Add the maple syrup to the butter and the salt. Stir and set aside.
In a large skillet, prepare with cooking spray and warm over medium heat. Add the slices of delicata and cook for one minute. Add 2 tablespoons of water, over the pan with a lid, and steam the squash for 2-3 minutes. Remove the lid and cook off any remaining water.
Add the buttery syrup mixture and cook gently over medium low heat until the squash is caramelized by the syrup, about 3 minutes.
Transfer to a platter and sprinkle the chopped nuts on top.