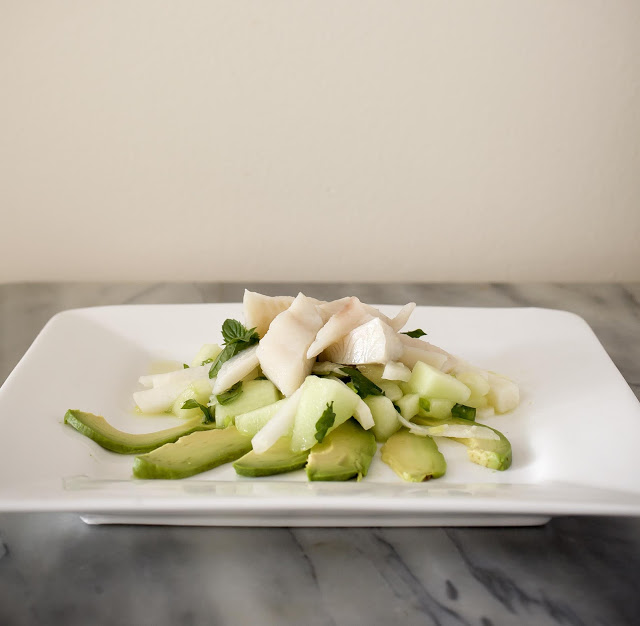 Ceviche has never been lacking in descriptives such as "light" or "delicate" but this version is so refreshing it will surprise you.
I spent some time with a good friend of mine Carol on Saturday, cruising around Brooklyn.
During the subway ride out there, Carol told me a very sad ceviche story. She and some friends had gone out to dinner earlier that week at a fairly well respected restaurant in the city. Based on the recommendation of the waiter, she opted for the Ceviche- Sea Bass I think it was… She described it as lackluster and disappointing. No chunks of fish, just shredded bits, and just.. well… eh. Which, naturally, got me to thinking.
The first time I had ceviche was in 1981, when I was 17 and a Freshman in college. During Winter break my Father and I loaded up his Chevy Van and drove from San Francisco, down the Baja, to La Paz. From there we took a ferry to Puerto Vallarta, where I spent another week, and he the rest of the cold winter months. I've not been down those roads since, but in those days it was pretty desolate and rough. Miles of scrub and cactus with the occasional oasis of a gas station or hotel-motel.
My Father, known to be a character, packed a case of Freixinet sparkling wine in the back of the van, along with our clothes, items he needed for this 2 months stay, and a mattress that lined the floor. The drive down took a few days, and in exchange for one of those matt black bottles of wine, he would convince a lowly hotel night clerk to let us stay overnight in the parking lot- where we would proceed to sleep out in the back of the van. The rest of the wine, by the way, would be used to seduce and dazzle pretty, young "Chulitas" in Puerto Vallarta to go out dancing with him. As I said, Dad was a character.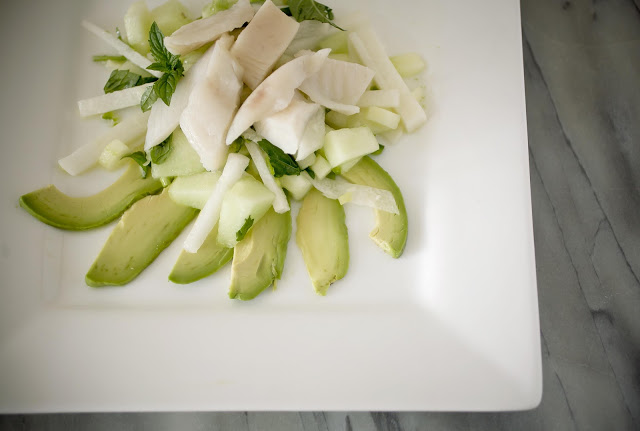 Along the drive down the Baja there would be hotels and resorts at the end of long, obscure dirt roads. Tiny rough signs would mark the main highway, with no accommodations in sight. A mile or two later, bumping over stones and maneuvering ruts, we would come upon a pretty place, nested along a river, lush with foliage nourished by the water.
It was at a place like this, which couldn't help but feel magical, that I had ceviche for the first time. We sat outside on a porch that hung out over a swift moving river, under the cool of the trees and eaves, and in a rough, handmade terra-cotta bowl was the most delicious lime soaked fish. An oddity and a delight.
Typically ceviche is made with onions and cilantro. Sometimes you find it with tomato more akin to a citrusy salsa with fish. I am a huge fan of it all- but this version, for those a little jaded, may spark a little magic again.
My wish was to create something that would put a smile back on Carol's face. Mildly sweet honeydew melon is balanced with cool cucumber, crunchy jicama and laced with mint. I put just a little jalapeño into my dressing. I like the sweet and hot combination, and just a touch of pepper gives it a nice little snap. 
This is a different taste profile than most would be used to. It's so delightful and fresh tasting. I hope you give it a try.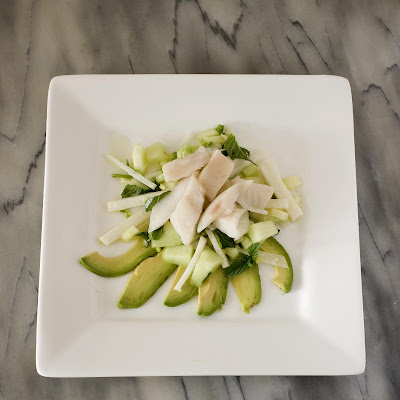 Ceviche with Honeydew, Jicama, Cucumber and Mint
serves 4 as an appetizer, 2 as a meal
1# fresh white fish fillets, sliced into 1″ pieces
.5 c lemon juice
1t salt
2T fresh lime juice
1T fresh orange juice
1T peanut oil
1 clove minced garlic
1T minced jalapeno
2c diced honeydew melon
1c diced and seeded cucumber
2 scallions, thinly sliced
1c jicama, julienne
4T fresh mint leaves, torn
Ripe avocado slices for serving
Combine fish, lemon juice and salt in a bowl and toss to combine. Allow to marinate for at least 2 hours or overnight in the refrigerator.
In a small bowl combine the lime and orange juices, oil, garlic and jalapeno and set aside.
In larger bowl combine the melon, cucumber, jicama, scallions and mint leaves. 
Drain the juices from the fish and discard. Add to the melon bowl and add the dressing. Gently toss.
Serve with avocado.