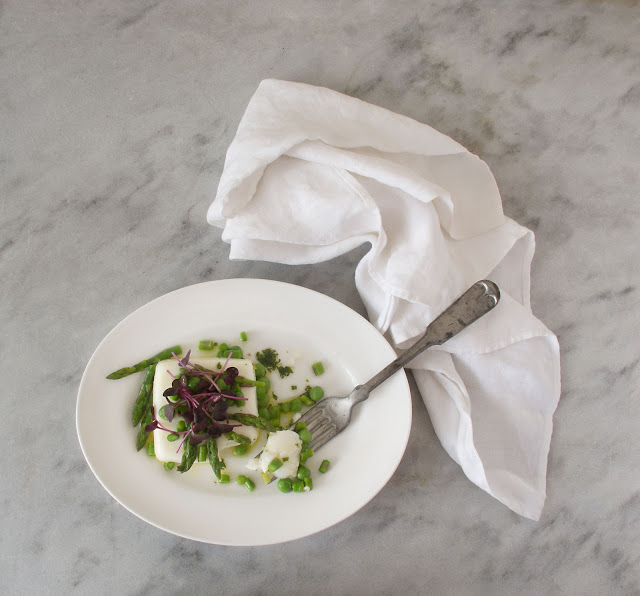 Spring is coming ever so delicately knocking at my door, though you wouldn't know it by the weather.  I set the panna cotta yesterday afternoon, not with promising rays of sun filling my kitchen, but while the sky was white with puffy snowflakes. This winter has been unrelenting, but in my heart, and in my kitchen, it is getting to be breezy and sunshiny.
The evolution of this recipe has been germinating in my brain for a few weeks now. I imagined a delicate pillow of panna cotta with fine teeny spring vegetables. Radish sprouts give this dish a little sharp bite, and fresh mint adds counter balance. It's not always the case that my imaginings turn out just so, but this one was a triumph. The texture is more like a trembleque, which is astonishing next to the slight crunch of the asparagus and the pop of the peas. Not only is it melty light and refreshing, it's also refreshing light in calories too!
The secret ingredient is a splash of grapefruit vinegar, which I concocted myself. I've been having a lot of fun creating some lovely vinegar flavors. I promise I'll be posting on the vinegars with recipes soon, I'm just working on a few other versions that I think you'll really enjoy. I am all about the finishing vinegar these days…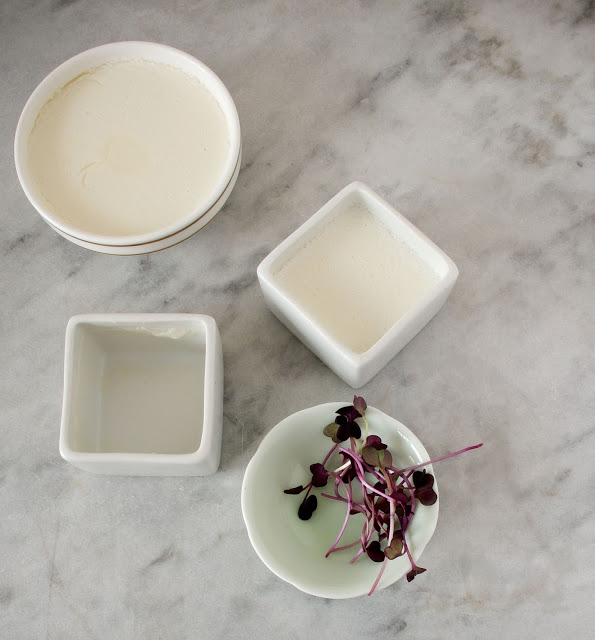 For those keeping track, I am still overwrought by the breaking of my camera. I used my traveling point and shoot today, which is… well….
Let me just say that I've been a real champ  trying to be a real champ about this. I decided to Snap to!, Stiff upper lip! and all that, but the charm is swiftly waning. I'm finding that capturing images onto this teeny sensor has been quite fine, but the lens on this bugger is NOT conducive to my creative flexings. The damn thing has such a curved lens that I struggle with distortion, which you might notice a bit of in the picture above. I crop and crop and crop, which leaves me with a less quality than I would like. *sigh*
I know I'm being a big whiney baby right now. I know that many many folks shoot solely with a camera like the one, (Canon G11), which is no slouch of a camera at all! AND great work can be, and is, created.
When I studied photography in college (back in the caveman days), I was a purist. I shot 35mm film with only a 50mm lens. I felt that you didn't need fancy camera or lenses to create Art, and for the most part, I still believe that to be true. But like a person that drove a your parent's hand me down car for a long time, and then one day you get to drive a Mercedes, well, there is just no comparison. Will they both get you to where you want to go? No question, but oh what a ride in the Mercedes.
This is how I feel about my camera. I plunked down a pile of money a few years back to buy it. It was a real financial stretch, and a personal affirmation of my dedication to photography. I promised myself that I would use it so much that it would earn it's value back many times.
And it has.
My camera is worth every penny, and I will love her long into the future once I get her back. It has been a lesson for me. Do you always need the most expensive things? Not always, but sometimes having quality and good tools can make a difference- and I have come to learn that I am worth it.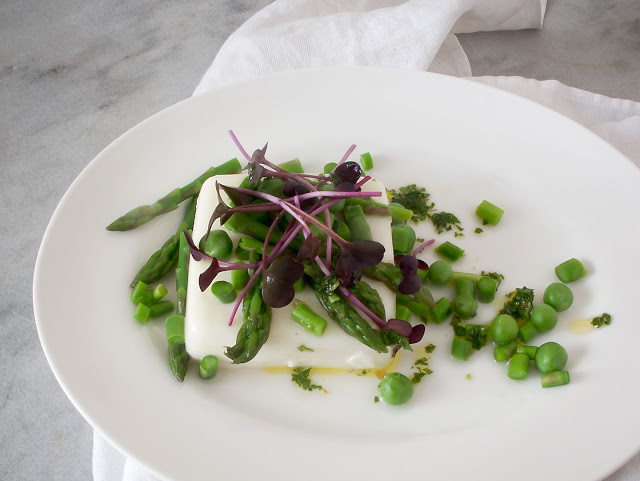 I hope you enjoy my spring treat. It really is no fuss to make, even though it looks fussy.
Happy Almost Spring!
Chèvre Panna Cotta with Mint Oil
I used some small condiment dishes I had to mold the panna cotta but any vessel will do, including tea cups, wine glasses etc. It's also possible to make one single large mold, and even double or triple this recipe to do so. The panna cotta may be made a day or two in advance and kept in the fridge.
serves 4
1.5 cup reduced fat milk, divided
1.5t unflavored gelatin
6 oz chèvre
pinch of salt
1 c asparagus, sliced into small pieces, leaving heads whole
1 c English peas
3T fresh mint, finely minced
2T olive oil
2T grapefruit vinegar, or white balsamic vinegar
handful radish sprouts
Prepare 4 molds, about a half cup in size, by lightly oiling them. Set aside
In a small bowl place .5c of cold milk and sprinkle the gelatin over the top, stirring to moisten all the gelatin if necessary. Allow to rest and bloom for 3-5 minutes.
In a blender, or with a hand blender, combine the chèvre, salt and the rest of the milk, and blend smooth.
Warm the gelatin milk in a microwave for 1 minute. The milk will be hot and the gelatin melted. Stir into the chèvre mixture and thoroughly incorporate.
Divide the mixture between the four cups, then place in the refrigerator until set, about 3 hours.
Place a saucepan with 2 inches of water and a generous pinch of salt over a high flame and bring to the boil. Add the asparagus and peas and boil for a minute and a half, or until the vegetables turn a bright green and have a tender bite to them. Immediately drain through a sieve and run cold water over them to stop the cooking.
In a medium bowl combine mint and olive oil.
To turn out the pannacotta, run a sharp knife, place a plate on the top, then flip the two over. The panna cotta will fall right out onto the plate. If it needs a nudge just give the cup a tap or two.
Sprinkle the vegetable over the top, then drizzle with the mint oil. Finish with a splash of vinegar over the top of each.
Serve with some crackers or crusty bread.
Enjoy!