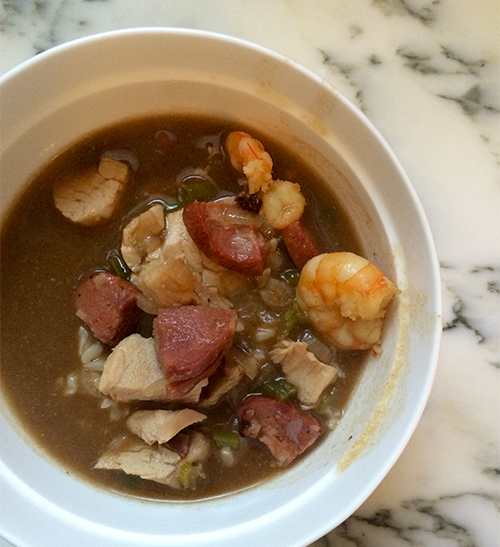 Happy Mardis Gras Y'all!
We are in the final days of Mardis Gras season here, and thawed out Yankee can tell you, it's quite the time!! For years I've heard of the madness and mayhem of the parades and bead tosses- but there is nothing- I mean NOTHING like experiencing it.
It's not just the beads (though as one friend of said, "It's amazing what a woman will do to get cheap beads."), it's not just the crazy floats and music in the streets, it's the whole vibe and energy of a town gone party wild!

I experienced my first parade, the Krewe de Vieux, in New Orleans the weekend before last. This is one of the few parades that wends it's way through the French Quarter, and it was a blast. Known for it's irreverence and political bent, the Krewe de Vieux theme this year was "Where The Wild Things Are". All along Esplanade, as we headed down to find our spot to watch, folks in costumes filled the streets and city busses. My favorite were groups dressed as Max from the book of that title, on bicycle! Tails whipping behind them as they careened down the avenue, and all around an air of frat house partying and good times.
Shreveport has it's own splendid Mardis Gras, and no less of the chaos and rapture of New Orleans. I was told that Mardis Gras is a local holiday (schools close, businesses shut down), and though I didn't doubt it, I just didn't realize how seriously folks took it. Give a Louisianian an opportunity to dance and party in the streets, and they are all about it!
In an attempt to learn how to be a good Southern Housewife, I have decided to work through and learn some of the classic dishes of the region. The first on my list was gumbo. As I started asking around about how to make a good gumbo I was struck by two major things. The first is that no two people make gumbo the same. There is a basic framework, but the techniques and ingredients can vary so much, and everyone is pretty passionate about the "right" way to do it. The second thing is I was shocked to discover that so many men carry the family tradition of making gumbo, and not so much the women. I'm not altogether sure why that is, but it's quite fantastic to speak to men of all walks of life, who otherwise don't necessarily spend much time in the kitchen, get all romantic and excited about how to prepare a good gumbo. I'm not joking! There is some serious talk about quality ingredients and taking time to make the perfect roux.
It was during one of these conversations with our dear friend Frank Israel, that he gave his tips and techniques, and guided us to Kartchner's Grocery on route 190 in Krotz Springs, Louisiana. Nothing to look at from outside, but the cases lined up along the outside wall of the place held a treasure trove of smoked meats like I've never seen.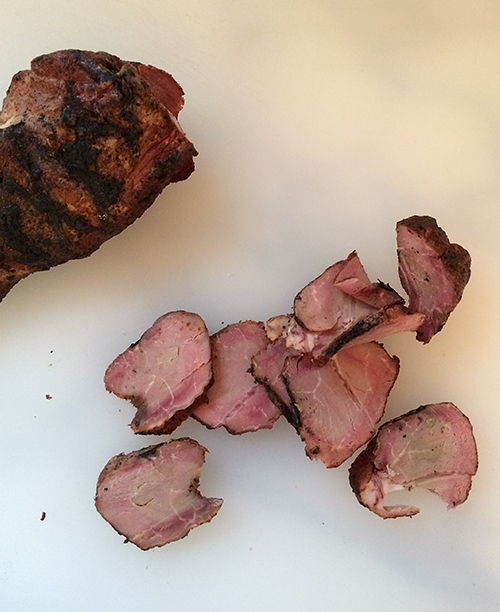 At our stop I collected some smokey tasso (shown above), spicy andouille sausage, fresh smoked bacon and some jalapeño, garlic sausage- and ALL of it was to die for. There is a rich smokey taste to all of it that I've not had before. I didn't get a chance to chat with anyone there, but I would have loved to know what type of wood they used, and how they made their meats. I promised myself the next time I pass through there I would take the time and ask.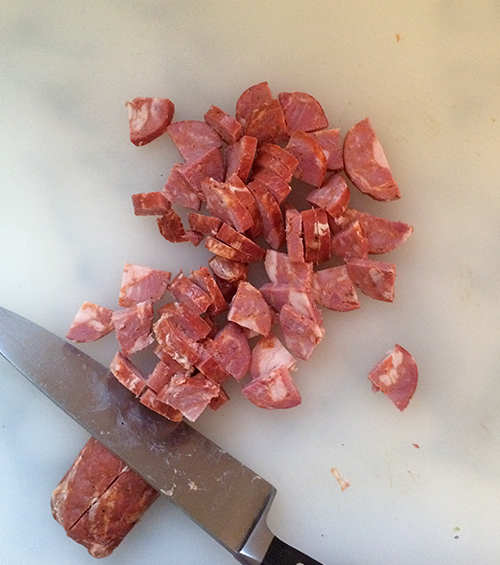 Now equipped with some of the base flavors for my gumbo I had only to pick up some fresh gulf shrimp and get to work.
A good gumbo is based around first preparing a good roux. This is another area of long intense discussion, as there are many pathways to making a roux, all of which require patience. In the future I will reserve bacon drippings to use as the fat, but for my first go round I was forced to use oil- to no detriment.

I manage to make a gosh darn good gumbo. Plenty of flavor rich thick broth, a good balance of spice and smoke, and kept the shrimp delicate and sweet. It was a bit of a challenge. I must have read a dozen recipes and spoke to half a dozen people about their methods. I decided to cull what I felt was important in a good gumbo, set my mind to a Louisiana way of doing things, and went about making a pot full of goodness.
And though I might not win any contests (what Yankee could??), I am happy to say that I am doing my best to be a good Southern Housewife.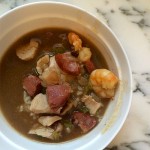 Chicken and Shrimp Gumbo
2014-03-02 17:52:55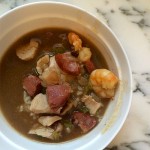 Nutrition Facts
Amount Per Serving
* Percent Daily Values are based on a 2,000 calorie diet. Your Daily Values may be higher or lower depending on your calorie needs.
Ingredients
2 chicken breasts, bone in
2 quarts chicken broth
1/2 cup all purpose flour
4 1/2 tablespoons vegetable oil
1 medium onion, chopped
1 green bell pepper, diced
3 celery stalks, diced
3 cloves garlic, minced
1 cup dice tasso
1 lb andouille sausage, diced
1 bay leaf
1/2 teaspoon dried thyme
1/2 teaspoon cayenne
1 lb medium shrimp, cleaned
4 cups cooked brown rice
Instructions
In a large sauce pan add the chicken broth and the breasts and bring to the boil. Reduce the heat and simmer until the chicken is just done, about 15 minutes. Remove the chicken to a plate to cool, and leave broth on a low simmer.
In a large soup pot, add the oil and flour and while constantly stirring, cook the roux over a low flame. The color should turn caramel, to toasty brown and ultimately to a dark chocolate brown. This take time, about 30 minutes, and patience. Take care not to scorch the flour. Add the celery, onion, pepper and garlic and cook for 5 minutes. Add the tasso and the andouille and cook another 3-4 minutes. Add 3 cups of hot broth to the pot and stir quickly to incorporate. Then add the remaining broth, the bay leaf and thyme, and the cayenne if you're using it. Turn to heat to low and simmer for 40 minutes to allow the flavors to meld. Before serving, tear up the chicken and add to the pot along with the shrimp and cook for an addition 7 minutes, or until the shrimp are cooked through.
Serve with rice and tabasco.
A Stack of Dishes http://www.astackofdishes.com/