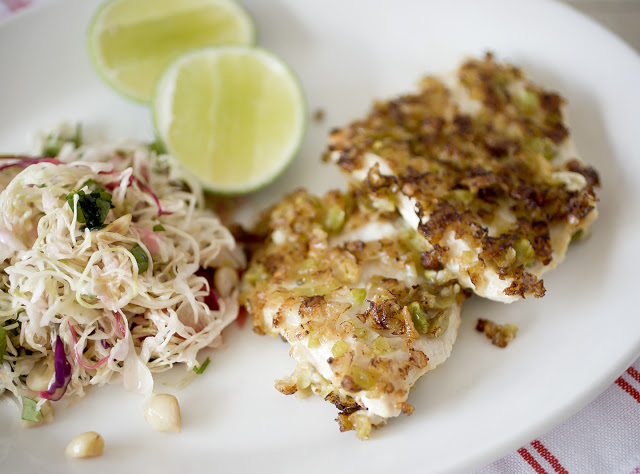 The flavors here in Thailand are a symphony compared to a song. It is not unusual to take a bite and have so many taste sensations going on at once that it can be staggering: sweet, sour, spicy, deep umami and texture.
On my first trip to Chaing Mai everything was a delight (ok, the beans on the ice cream I could have done without), but this trip I am learning more of the nuances and quality of Thai food. There are cooks and chefs, and it's apparent that it's not the ingredients that separates the two, it's the finesse, the grace and the balance.
What I can tell you is that the comparable ingredients that are available to me in NYC are not exactly the same as here. The limes I find sweeter here, and the tamarind more sour than tart- but don't let that dissuade you.  Preparing Thai food is not difficult and the results are fantastic.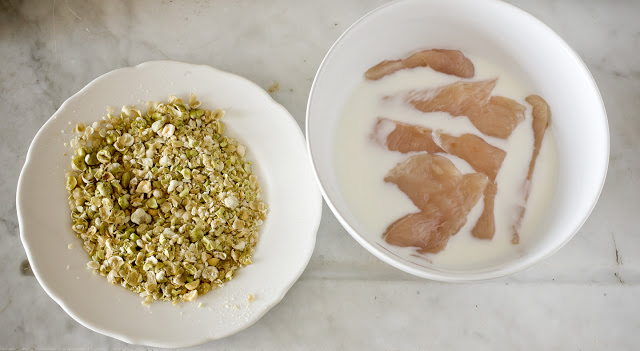 I love making this dish with the wasabi peas. The texture is fantastic and the bite of wasabi is not terrifically sharp when balanced with the chicken. My advice is the slice your chicken into thin pieces, or pound out thinly- otherwise the peas can burn before the chicken cooks through. An alternative is you can bake large pieces of chicken, such as breasts on the bone, and that would be fine.
The Thai dressing on the slaw will make you new friends. It's so simple and so delicious that I invite you to make a batch and pour it over everything you can get your hands on. A great alternative on tomatoes and cucumbers out of the summer garden for instance.
I've never been a huge fan of mayonnaise rich cole slaw, nor of it's picnic cousins potato and macaroni salad- but raw cabbage is delicious and tremendously healthy. I love this dressing on shredded cabbage. The red cabbage when mixed with the acid of the lemon juice draws out the color to a bright pretty pink. Both pretty and yummy- make more than you think- it goes fast.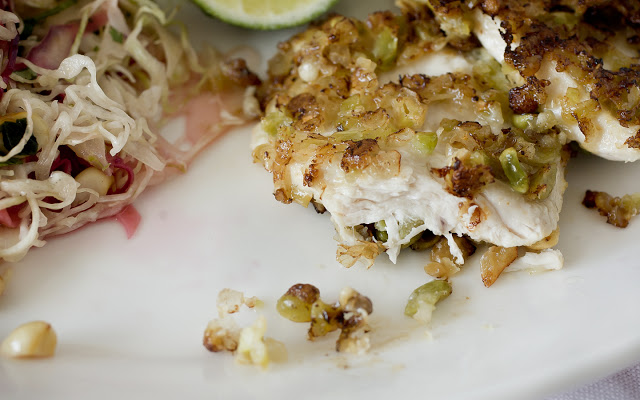 Chicken Crusted with Wasabi Peas
serves 4
2# skinless chicken breasts sliced very thin
2c wasabi peas, roughly crushed
1c buttermilk
1 clove garlic crushed
grand pinch of salt
oil for frying pan
Note on frying: get our that honkin' heavy cast iron frying pan and use it. As time goes by I am less and less a fan of nonstick pans. A well seasoned and loved cast iron pan can be a girl's best friend. I used little oil for this recipe-less than I would in a nonstick- and my chicken cooked beautifully. Buffed biceps are a bonus.
combine garlic, salt and buttermilk in a bowl and allow to sit for a few minutes to flavor the buttermilk.
Meanwhile prepare the peas and place on a flat plate or low shallow bowl.
Preheat cast iron pan over medium heat with just enough oil to cover the bottom.
slip all the chicken into the buttermilk to coat and soak.
Press each fillet into the peas, pressing hard to get good adherence.
Cook the chicken on each side about 2-3 minutes or until cooked through.
serve immediately.
Cabbage Slaw with Thai Peanut Dressing
serves 4
4-6c finely shredded cabbage
1T toasted sesame oil
2T sugar
2T brown sugar
2T fresh lemon juice
2T fresh lime juice
2T chopped fresh mint
1 small thai chili finely chopped, or 2t jalapeno (optional)
3/4 c roasted, chopped, unsalted peanuts
Combine dressing ingredients into large bowl and stir to combine and melt sugars.
Toss in the slaw and allow to sit for 15 mins before serving.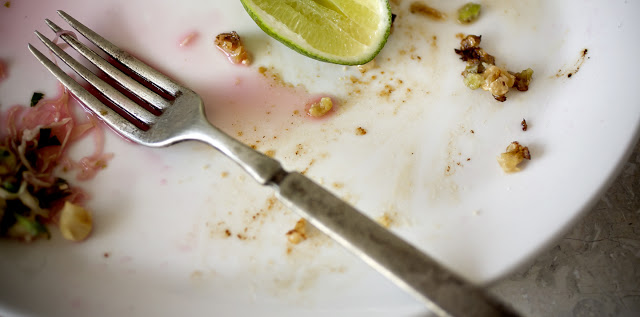 ___________________________
My partner and I are planning on organizing Thai Food cooking trips in the future. We have connections to some of the best Thai chefs. My partner is fluent in Thai and lived here for many years. The next trip will probably be in January to Northern Thailand. I would love to know if there is interest. Drop me a note if you would like to be placed on the mailing list for more information.
Sawaadii Khaa!