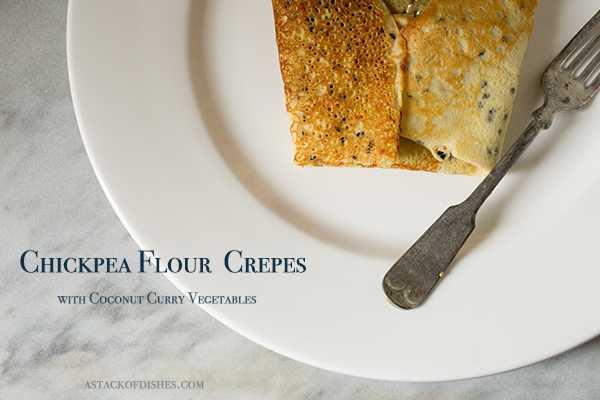 My days have been hectic here getting into the rhythm of the new business and website, A Healthy Hunger. There is nothing like the feeling of creating something from nothing. It's so exciting and powerful, and not to mention nerve wracking. I feel like I am living in a matrix of decisions with one complete thought balancing out, or influencing, another. I find myself getting lost in thought at random moments as I think through ideas and try them on for size in my mind. It's heady fun stuff, and my friends that know me well know that this is my best playground.
Pam and I have also decided to fulfill a bucket list dream: to hike Machu Picchu. We will be doing the 4 day hike later this Spring. I am told it will be a tough (but not impossible) hike. As a result, Pam and I have flung ourselves headlong into long workout and conditioning plans. I love having a goal, and as a past marathoner and triathlete- I LOVE the challenge. As much as I love writing, the payoff is many hours sitting at my desk, and this past year while I finished my Master's work, I was sitting more than ever. Now, once again, I am sweaty more days than now and my laundry loads are mostly workout wear.
The first weeks were creaky and stiff as I geared these aging bones back up to speed. Which, by the way, has given me renewed respect for anyone at ANY age starting and sustaining a workout plan for the first time. After about 4 weeks of fatigue and heaviness, my muscles are now responding and I find myself not only looking forward to gym time, but actually craving it. Yes! I've finally reached the zone. Like an airplane on take off, I've pulled through the turbulence and now at a cruising altitude. Still lots of work, but I've got some loft now.
Healthier eating is naturally on the top of our list too. While Pam plans our workouts I am in charge of our nutrition. Lots of vegetables and lean proteins, and plenty of herbs and spices to help with building our muscles and curtailing inflammation. We are growing leaner and meaner.
Our main meal is lunch, or more precisely post workout. This dish is something we would eat in the evening along with a green salad. Pretty too, don't you think?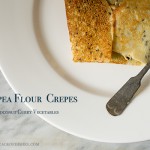 Chickpea Crepes with Coconut Curry Vegetables
2014-01-16 10:31:12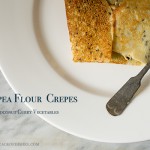 Nutrition Facts
Amount Per Serving
* Percent Daily Values are based on a 2,000 calorie diet. Your Daily Values may be higher or lower depending on your calorie needs.
Ingredients
1 cup garbanzo bean flour
1 cup water
2 Tablespoons olive oil
1/4 teaspoon ground cumin
2 tablespoons black sesame seeds
1/2 teaspoon salt
For the filling
1 tablespoons canola oil
2 cups diced eggplant
1 cup diced carrot
2 cups cauliflower
1/2 cup diced onion
1 tablespoon grated ginger
1 tablespoon Madras curry powder
1 clove garlic, minced
1 can low fat coconut milk
Instructions
In a blender combine the garbanzo flour, water, oil and cumin. Blend until smooth. Add water to make a heavy cream consistency and then add the black sesame seeds and salt. Set aside to rest 10 minutes.
To make the crepes: heat a small nonstick frying pan over medium/high heat. Coat with cooking spray. Add 4 tablespoons of batter to the pan and swirl to evenly coat the bottom. Cook until the batter sets, then flip over and cook one minute on the other side. Turn out onto a plate. Repeat with the remaining batter.
To make the filling: In a large sauté pan, warm the oil over medium heat. Add the vegetables and cook gently for about 5 minutes. Add the ginger, garlic and curry powder and toss with the vegetables for 2 minutes. Add the coconut milk and bring to the boil. Reduce to heat to a simmer and cook unit the sauce has thickened and the vegetables are tender.
To serve: lay down a crepe and place about a cup of mixture in the middle. Fold up the bottom then the two sides. Serve with yogurt if you desire.
Notes
You may use any combination of vegetables here. String beans, asparagus, squash, etc., all work equally well. For extra oomph you may also add tofu or tempeh.
A Stack of Dishes http://www.astackofdishes.com/