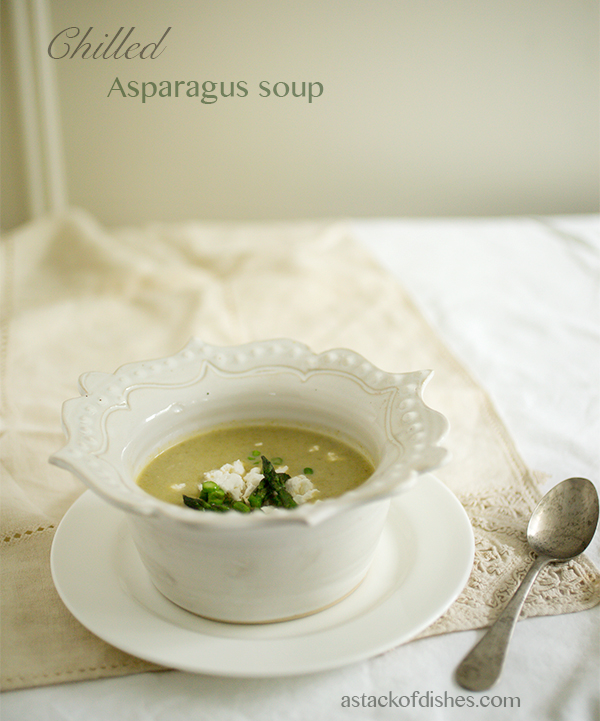 Sultry.
Such is the perfect word to describe these dog days of summer. The morning starts out warm but with a touch of breathable coolness in the air. As the day broadens, the heat swells. It rolls in like an invisible fog that slinks in around you with long puffy arms which envelop you from the ground up and settles in around you, until suddenly you realize- yep, it's hot.
Growing up my summer days were spent tearing up the yard with games and adventures. Waving sprinklers were set up to run through, trees were climbed, bugs were collected in jars, and homemade popsicles were for after dinner as the day faded.
The difference here is the quiet of the day. As the sun blazes on the lawn mowers remain dormant, reposing is contained within cooled homes-shutters closed, while the summer song of the cicadas (locusts here) CHCHCHCHCHChhchchchch…. chatter in the trees in sound waves that rise to a rousing crescendo, then dissipate once again into the close quiet.
Southern summer quiet.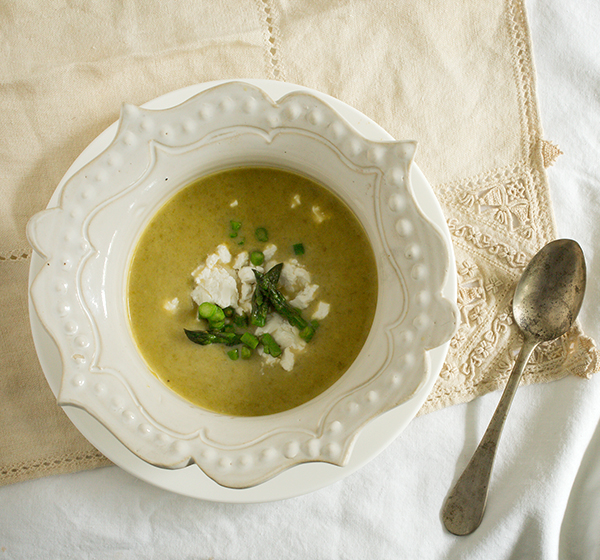 Light meals are preferred and sipping cool soup is a delight. Delicate asparagus is coddled in creamy Greek yogurt and made zesty with some tangy goat cheese.
Summer ease.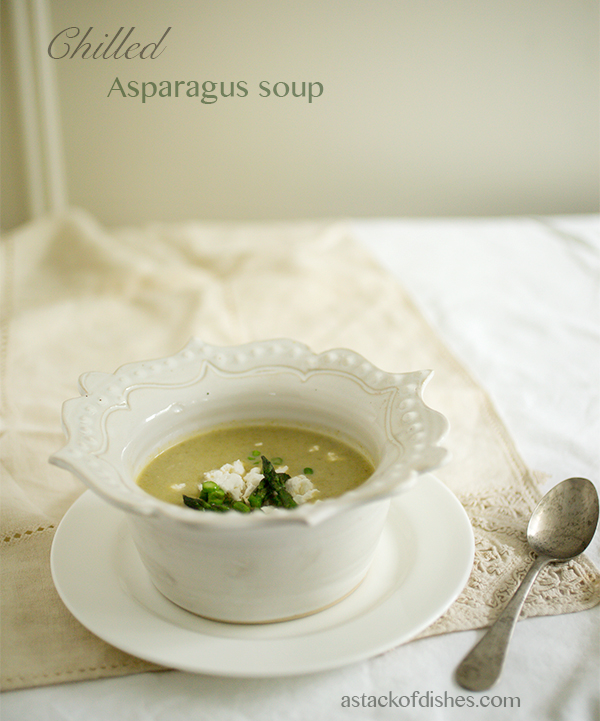 Chilled Asparagus Soup
2013-08-05 05:22:16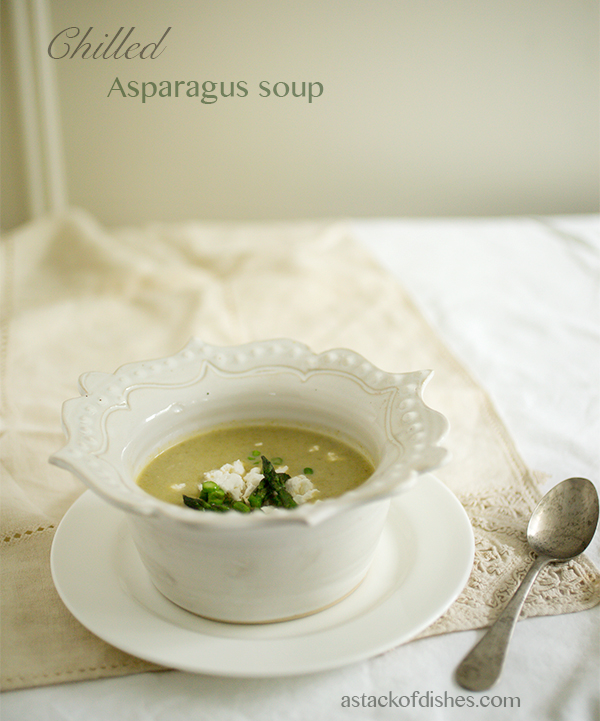 Greek yogurt adds the creaminess and a sense of richness, but the goat cheese adds a zing that keeps that spoon dipping.
Nutrition Facts
Amount Per Serving
* Percent Daily Values are based on a 2,000 calorie diet. Your Daily Values may be higher or lower depending on your calorie needs.
Ingredients
1 1/4 pounds of fresh asparagus, rough chopped
2 tablespoons olive oil
1 small yellow onion, diced
2 cloves garlic, minced
2 tablespoons flour
2 14oz cans of low sodium chicken broth, warmed
1 bay leaf
1/4 cup chopped parsley
1/2 teaspoon salt
1/4 teaspoon freshly ground black pepper
1 cup plain nonfat Greek yogurt
2 ounces chèvre to serve
Instructions
In a medium to large sized pot over medium heat, warm the oil then add the onions and garlic and gently cook to release the aromatics and soften the onions. Take care not to brown the onions.
Add the asparagus and sauté for 3 minutes. At this point you may remove some of the tips and reserve as a garnish.
Add the flour and cook for a good minute, stirring constantly.
While stirring vigorously to avoid lumping, add half the broth and stir smooth. Then add the remaining broth and the bay leaf.
Set on a low simmer for 15 minutes until the asparagus is tender and the bay is infused. Add salt and pepper.
Remove from the heat and cool until warm to the touch, about 30 minutes- or chill overnight.
Remove the bay leaf and add the parsley. Puree in a traditional blender or with a hand blender until smooth. Add the yogurt and blend again until thoroughly incorporated. Adjust seasonings if needed.
Chill until cold, or you may serve at room temperature. Divide equally amongst four bowls and add the goat cheese and reserved asparagus tips.
A little drizzle of earthy olive oil on top is a nice finish too.
Notes
The soup may be made in advance and kept in the fridge for a day or two.
A Stack of Dishes http://www.astackofdishes.com/