It's not surprising to have hot days in August, but man oh man!, has it been brutal lately here in NYC. On top of this, lately my days are filled stomping up and down the concrete canyons of the city. This means that if not prepared I'm catching meals on the go. Often this translates into wasted time searching expensive tasteless food, which I often regret. These cold soba noodles are quick to make, easy to transport, and fantastically soul satisfying.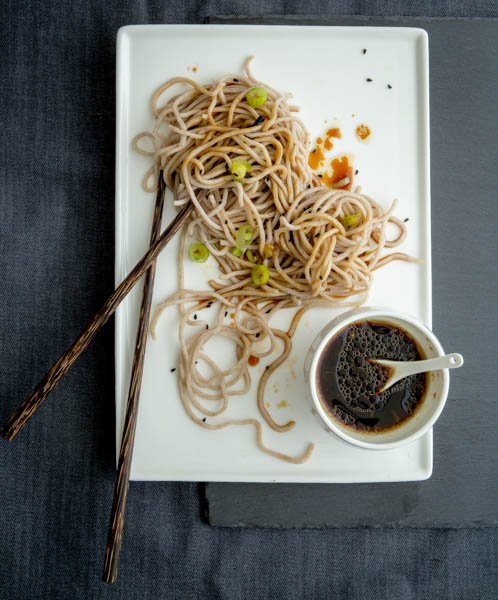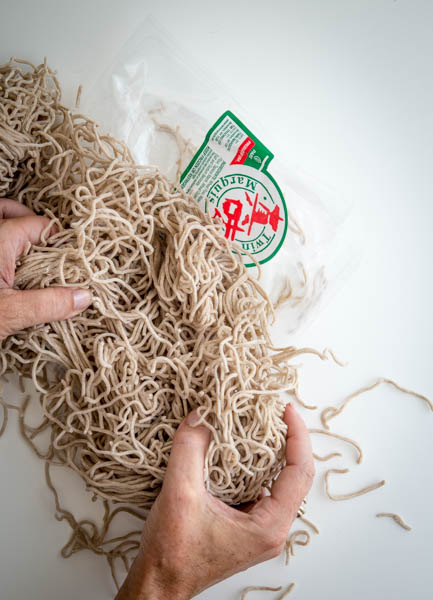 I purchase my noodles fresh, which oddly I find are less costly than the dried versions. Even better is the fact that they cook up in just a few minutes. So pot on, water to boil, toss in for 3, and boom! Good to go. How how cool is that?
At first I thought I would make a peanuty version of cold noodles. You know the kind, with the cucumber chunks added to it. Truth be told, when I first arrived in NYC eons ago, those noodles were my mainstay. Cheap and so comforting, and a carton would last me at least two days. With the unbearable heat I needed more delicate. Nothing to weigh my already lumbering self down. So here we go, fresh and light.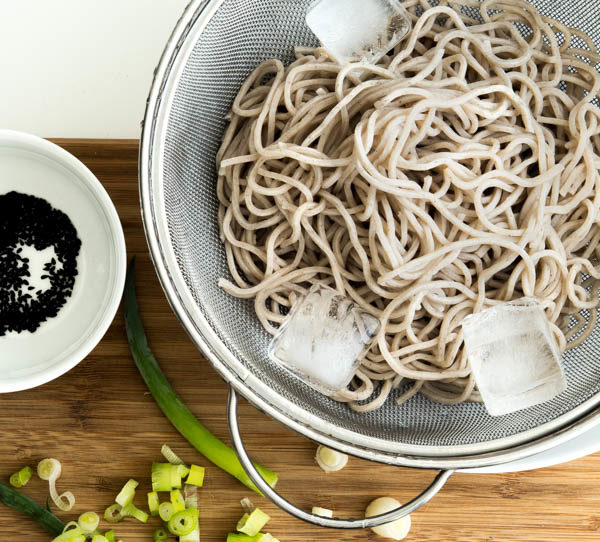 Soba noodles are made with buckwheat flour, which is great if you are avoiding gluten (which I don't). They have a slightly denser texture than wheat pasta, but I really like that slight chewiness. They are definitely more earthy tasting, which to me means I don't have to drown them out in sauce. Soba are also half the calories as wheat pasta, and have more protein and minerals. They are still a starch, so one must be careful about that, but then who doesn't these days?
Cold Soba Noodles with Asian Sauce
4 cups cooked soba noodles, chilled
1/4 cup low sodium soy sauce
2 tablespoon tasted sesame oil
1/4 cup mirin
1 tablespoon lemongrass paste
1 teaspoon grated ginger
2 teaspoons black sesame seeds
1/4 cup diced scallion
Combine all the ingredients, except the noodles, sesame seeds and scallions, in a small bowl and stir to combine. Pour over the noodles, add toss on the scallions and sesame seeds.
Pack in a container and turn over once or twice to allow the sauce to really get in there and soak into the noodles.
*add hot sauce if you're daring like me