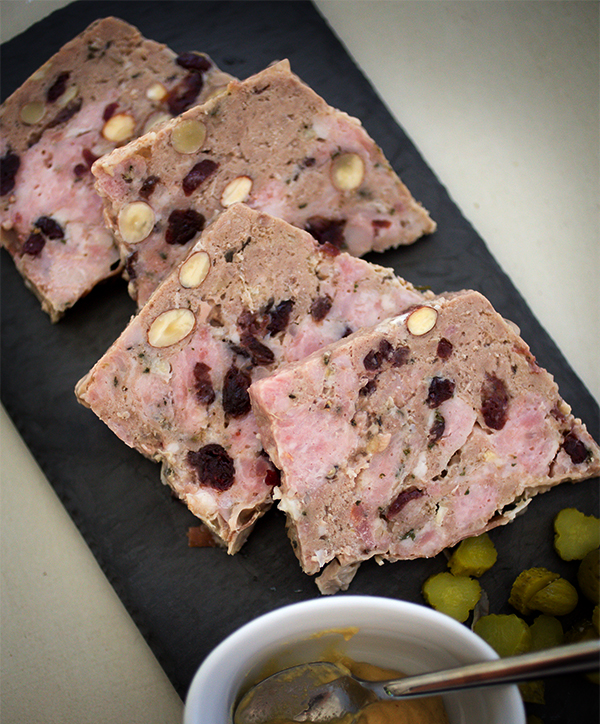 The cooler weather is finally settling in to Louisiana. I should hardly say a thing about it since some of my Northern friends are already suffering storms and foul weather. "Cooler weather" here means the horrible chore of having to put on a jacket, and I hate to tell you that a scarf is non unheard of at 66 degrees. (Yes, 66 is considered nippy to me now. *sigh*) Be that as it may, this is where we are at, and we must all flow where we are.
As the days shorten The Wife and I find ourselves pulling together dinner parties in lieu of the sunset cocktails on the porch. This is a wonderland for us. The Wife is in charge of the family "wine cellar", a job that she takes on with passion and with great talent. Me, I have the joy of delving into the kitchen and creating more complicated and time intensive dishes.
Recently we had a small dinner party. The Wife chose a gorgeous Italian Prosecco to serve to our guests as they gathered and settled. We have learned that some of the best evenings start off with a little sparkle. As an accompaniment, my mind went to something earthy, something savory, with a hint of sweet to offset the wine. I wanted something special and yet, not overly stuffy. When I lived in Manhattan there were plenty of options for pre made pates of several types- but that's not so much the case here. I also discovered when discussing this idea with a few friends was that not so many folks are as keen on liver as I am. This I find not surprising, but just so sad. I simply adore liver pate and could easily overindulge with abandon.
When I first moved here I found the lack of provisions an obstacle, but these days I have come to accept it as de rigeur. I remind myself not to complain when there are so many other wonderful things about living here. Besides, it has forced me to become more honed to the basic kitchen arts, which does my heart good. The art of making pate however does not demand fine skills. I would say the challenge lies less in the technique and more in the balance of flavors.
Country Pate may be made from any type of meats, and may or may not contain liver. When liver is used it tends to be more of an accent flavor rather than the main event. There are a myriad of flavor combinations, mostly due to the fact that the French housewife most likely used the bits and ends of things to create this dish. This may sound horrid, but let me not confuse you, this is not a dumping ground. This gorgeous dish harkens more from the, "let's not waste a bit of this delicious _____" aspect of cooking. Ground meats, herbs, spices, dried fruits, nuts, cognac- all come together to create a sum far greater than its parts.
My version consists of ground turkey, ground pork, dried cherries, toasted almonds, herbs etc and a splash of port. The result is a flavorful treat that did not weigh down my guests before the rest of the meal. I also have to say the presentation is lovely too.
Pate may look all fancy and exotic, but trust me, it's simple and magical. So easy in fact you will be glad for the cool weather so you may spend a little time in a warm kitchen.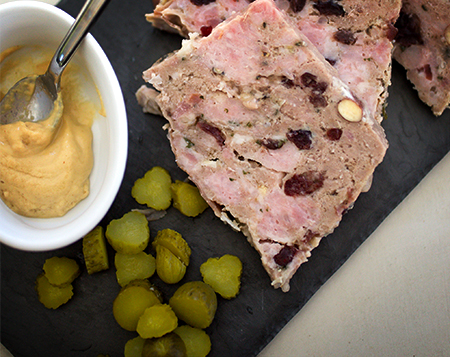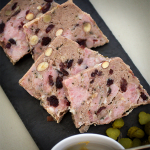 Country Pate with Pork and Turkey
2014-11-04 19:33:00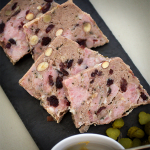 A rustic pate with no liver. Make the day before to allow the loaf to cool and set overnight.
Nutrition Facts
Amount Per Serving
* Percent Daily Values are based on a 2,000 calorie diet. Your Daily Values may be higher or lower depending on your calorie needs.
Ingredients
1 1/2 lb ground dark turkey
1 1/2 lb ground pork
3 strips smokey bacon, minced
3 cloves garlic, minced
2 tablespoons rosemary
1 cup dried cherries
1/2 cup toasted whole almonds, rough chopped
1 tablespoon salt
2 teaspoons freshly ground black pepper
1/2 cup port
3 large eggs
To serve
cornichons, pickled onions, mustard, fruits, relishes, chutneys along with rustic crackers or baguette.
Instructions
Preheat oven to 350 degrees. Place the turkey, pork, bacon, garlic, rosemary, cherries, almonds, salt, pepper, port and eggs in a large bowl. Using your hands mix to combine, taking care not to overwork.
Grease a 11"x4 1/4" x 3" loaf tin. Press the mixture into the pan and level the top. Cover with foil and place in a deep pan and pour enough near boiling water to come halfway up the sides.
Bake for 90 minutes or until firm. Remove from the water and slightly cool.
Cut a board or use another tin and place on top, then put heavy cans to create an even pressure on the loaf. Place in the fridge overnight.
Before serving run a knife around the outside of the loaf and tip to remove from the tin. Slice thinly. Serve with cornichons, pickled onions, chutneys, mustard, fruits along with rustic crackers or baguette.
Notes
A properly cooked terrine will have a slightly pink color.
Store leftovers tightly wrapped for up to 5 days.
Adapted from Donna Hay
Adapted from Donna Hay
A Stack of Dishes http://www.astackofdishes.com/