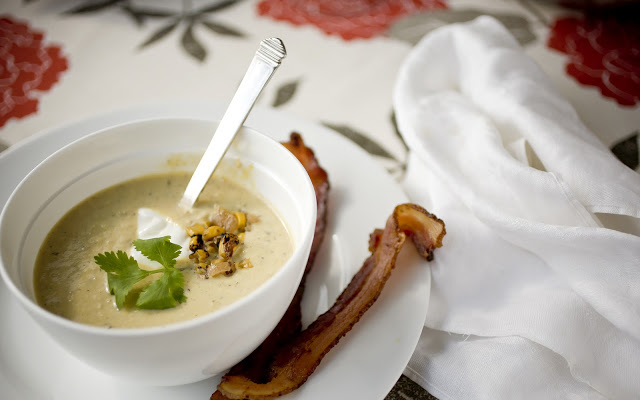 Smokey Corn Soup with Apple Bacon on the side
Though this has been quite a balmy Winter here in the Northeast, I still enjoy a hearty chowder like corn soup. I love a rich creamy-sinkmyteethinto-soup this time of year. It's also a way to get some vegetables in when it's hard to find decent green things. I would love to tell you that I roasted ears of corn on the grill. It's easy to imagine charring the kernels while the silks and leaves hung off the side of the stove. Seriously I could of, but I didn't. Nope. I used frozen corn. And no noses in the air please. It's really the way to go here.
Frozen corn has great flavor and decent nutritional value. To give it some real depth and character I laced this soup with a hearty pinch of chipotle giving it a smokey kick. Cream and cilantro finish it off with a squeeze of lime, which balanced out the creaminess with some cool and a twinkle of brightness.
But I'll let you in on another even BETTER secret. I didn't use any cream here either. My big reveal: silken tofu.
I got into using this when my Dad was sick and I was struggling to get nutrition into him. He could only manage small (I really mean teeny) cups of soup at a time. I did my best to make them as digestible and as power packed as possible. Dairy bothered him due to his medications, but not the tofu. He loved it, and so does everyone I make it for.
I usually don't say it's tofu just because folks get all incense and crunchy looks in their eyes- so what they don't know is actually good for them.
I did use some of the bacon fat as the grease to sautee my garlic and onions- so a little bit of evil there- but roughly a tablespoon in an entire pot is no great sin. And just to be fair, I serve the bacon on the side- which gives the option for those with concerns to partake or not.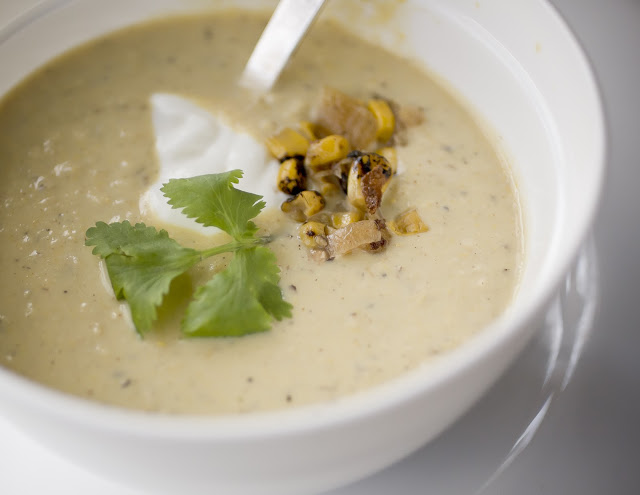 Creamy Roasted Corn Soup
serves 4 as a meal or 6 as a starter
1# bag of roasted corn kernels, regular is fine
4 strips natural smoked bacon
2 cloves garlic, minced
1 medium yellow onion chopped
2 14oz cans of chicken broth
1 block of silken tofu
.5t chipotle powder
S&P
Fresh cilantro, lime wedges and lite sour cream to serve
In a large frying pan cook the bacon slowly to render as much fat as possible. Reserve the bacon.
Allow all the fat to drain off the pan, leaving behind a nice layer and some of the bacon bits
Sautee the garlic and onion over low/medium heat to release the flavors until the onion are translucent and soft.
Toss in corn and warm the melange through. Reserve a half cup of corn mixture. 
Add one can of broth, tofu roughly broken up, and chipotle powder. Allow to simmer for 10 mins.
In batches, puree the soup and pour into a saucepan. Once fully pureed add second can of broth, stir to combine and allow to simmer until heated through.
Taste and adjust salt and pepper.
Serve with fresh lime wedges, a dollop of light sour cream, and fresh cilantro. Spoon some of the reserved corn mixture on top that has been warmed.
Enjoy!