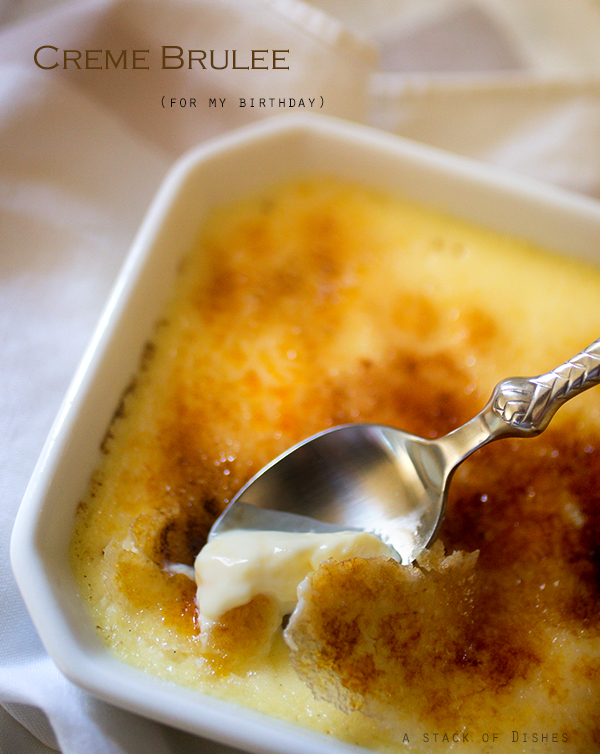 I am skilled at making many things, including some pretty faboo cakes. The result is my birthday is often a conundrum for my loved ones. Who can/will make a cake for the baker? For most of my adult life I felt frustrated by always being the baker and not being on the receiving end as much. Now that I have retired from the cake business things are getting better. My beautiful Mother in Law is an excellent baker, and does not shy away from baking for me. One of the many things I love about her.
This year she made me a gorgeous and delicious coconut pecan cake, that I absolutely adored and devoured. But somewhere along the line it occurred to me that I actually could make myself anything- I mean ANYTHING- that I wanted. Heck! Why not indulge myself? Who's to say no? and I am free to cook without having to please anyone but little ol' me!!
It didn't have to be the quintessential cake, or treat, or anything like that- just plain old "what am I in the mood for right now?" And Voila! This is what I came up with.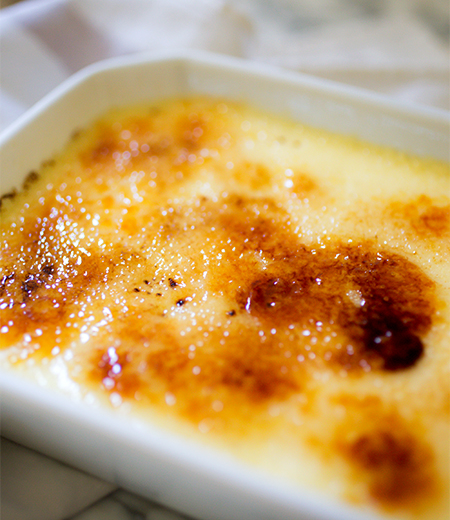 I know this might all not seem particularly remarkable- but there was something liberating and deeply spiritually delicious about indulging myself for no real reason. It was so awesome!
Creme Brûlée is not particularly difficult to make. It's just a matter of blending the custard, coddling it appropriately while it bakes and then finishing off by caramelizing the sugar.
There are several methods for achieving this. A broiler works well, and I've seen but never used- caramelizing irons, but I used a kitchen torch
. This gadget certainly falls into the "for the cook who has everything" category, but I love having it amongst my tools. For a larger span, such as this one, it works well enough, though it most definitely worked best on smaller individual portions. The hand torch runs on butane and it's easy to fill and safe to use. Fear not, you cannot get into trouble, and a tough little release knob will prevent inquisitive young ones from getting into trouble. Got someone on your holiday list that loves to play in the kitchen? This could be just the thing.
My birthday is a bit passed now, but the thrill still remains with me. Happy birthday to me! I raise my glass to you all and invite you (and give you permission) to indulge yourselves!!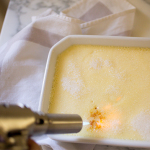 Classic Creme Brûlée
2014-11-19 13:41:08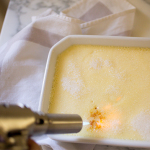 Nutrition Facts
Amount Per Serving
* Percent Daily Values are based on a 2,000 calorie diet. Your Daily Values may be higher or lower depending on your calorie needs.
Ingredients
2 cups heavy cream
2 cups 2% milk
1 teaspoon quality vanilla
1 cup sugar- divided
8 egg yolks
pinch of salt
Instructions
Warm cream, milk and vanilla to almost boiling. Set aside and separate eggs. Add the sugar and salt and beat until the mixture is thick, lightened in color and smooth.
Add a half cup of hot milk to the eggs and stir to combine. Add another cup and do the same, then the rest. This system of slowing adding the hot milk will temper the eggs and prevent them from curdling.
Strain the mixture and pour into 8 5oz ramekins or larger ceramic baking dishes to a depth of 1".
Place into a roasting pan and bring boiling water halfway up the sides of the pan.
Bake until the custard is set, about 30 minutes. The center will feel jiggly but set.
Remove from the oven and carefully remove the custards from the water (do not cool in the water bath). Refrigerate until cold or overnight.
Right before serving sprinkle remaining sugar over the tops of the custard and using the torch, caramelize the sugar.
*note that the sugar will continue to darken as it cools, so don't be tempted to overdo this. Also, do not be tempted to add too much sugar. You want a thin, crunchy shell, not a slab.
Notes
The cooked custard may be prepared up to 3 days in advance.
A Stack of Dishes http://www.astackofdishes.com/