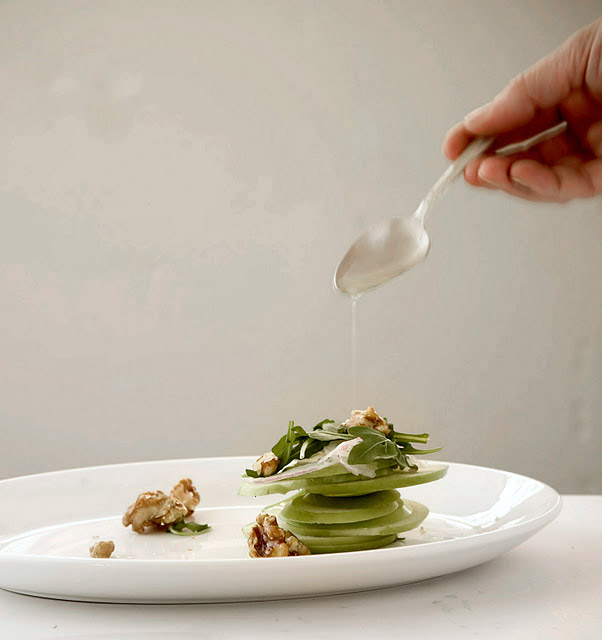 This is a tremendously simple salad to make with a complexity of texture and tastes. Crisp juicy Granny Smith apples are thinly sliced and tossed with a lemony vinaigrette and garnished with chunks of strong bleu cheese and candied walnuts.
We get so busy with our lives that there are times when it's important to make the simplest thing sublime. It takes just a few extra seconds to pull out the mandolin, make a salad dressing from scratch, and arranging a plate to look like a waiter has placed this dish before you as opposed to tossing things together next to the sink.
Preparing the nuts is the most time consuming part of this dish, but worth the effort. If it's all too much you can just toss on toasted nuts. Though really, they are super easy to make as long as you keep and eye on the sugar so as not to scorch it. The batch yields a good 3 cups of candied walnuts- which are also a fantastic addition to any frozen treat bowl you got going on, as well as a terrific accompaniment to a cheese platter. Just store in an airtight container and dole out as needed for up to 6 months.
The vinaigrette recipe is absolutely my favorite. It uses lemon juice as the acid with the added touch of grated rind. Whenever I serve this dressing inevitably someone asks me for the recipe. You will love it and find it one of those "go to" recipes from here on out.
The crisp tart apples, with the earthy cheese, the sharp snap of the onion with the spicy vinaigrette and arugula is topped off with the sweet crunchy nuts. Heavenly…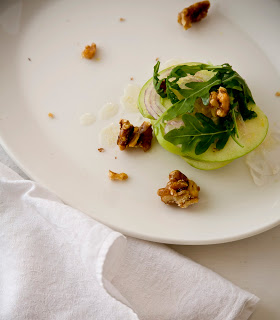 Candied Walnuts
.25 c of white sugar
2T water
.5 c walnuts, either whole or pieces
Prepare a baking tray by greasing with butter. A silpat mat also works well.
In heavy small saucepan combine the water and sugar and put on medium high heat.
Cook the sugar slurry until it boils and turns golden brown. This can take 10 mins or so. Once the color starts to turn it will come up quickly. If you have hot spots in your pan as evidenced by one area turning darker before another, swirl pan to even out the heat.
The sugar will continue to deepen after it has been removed from the heat, so pull the pan off the flame when it is one step BEFORE the color you want.
Off the flame toss in the nuts. With a wooden spoon stir the nuts to evenly coat. Then pour mixture onto prepared sheet pan and spread out.
DO NOT be tempted to touch the nuts until they are COMPLETELY cooled. I know you're going to want to, they're beautiful, smell great and look innocent- but they can seriously burn you, so please-please, give it a good 10 mins to cool if not longer. 
Once cool you can break up the nuts into pieces. Store unused portion in an airtight container in a dark, dry, cool place. Not in the fridge.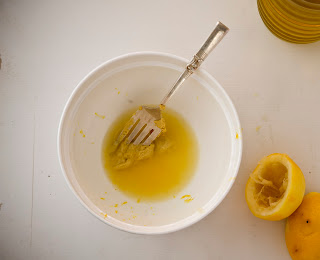 Lemon Vinaigrette "Watson"
1-2 lemons
grated zest from one lemon
spoonful of Dijon mustard
1clove crushed and finely minced garlic
good quality olive oil
salt
The reason for the vague ingredient amounts is I base my proportions on the amount of juice that comes out of the lemon(s). 
Into a small bowl first grate the zest of one lemon. Then juice the lemon into the bowl. You will want at least 3T of juice, so if the first lemon is short, go ahead and juice the second lemon in it's entirety. It's ok to have more than you need.
Then add into the bowl one teaspoon of dijon for every 3T of lemon juice. It's ok to eyeball this. Use more dijon if you like your dressing on the spicy side.
Next add garlic and stir all together just a bit to break up and combine the mustard. Err on the side of lesser garlic as this dressing will get stronger as it sits.
Either using a fork or a small whisk, slowly dribble in the olive oil while continuously stirring the lemon mixture. The ratio is 1:3 juice to oil approx. You will notice as you are mixing that the dressing will begin to emulsify.
I taste test my dressing as I go along. If I need more oil I add it. It's done when you can sense a balance on your tongue. Add the salt.
It has also happened that I will go back and taste the dressing one more time before I use it and balance it again.
Store unused dressing in a tight lidded container in the fridge for a week.
Apple Salad
serves 2
2 medium granny smith apples
~.25c red onion
1c baby arugula leaves
1oz high quality bleu cheese
small handful of candied walnuts
lemon vinaigrette to taste
S & P to taste
Using a mandoline or slicing tool if you have one, slice apples very thinly. Alternatively use a very sharp knife. First take a small slice out of the apple and lay that side down on the cutting board for stability. They very carefully slice the apples as thinly as possible.
Toss the apples with a small amount of dressing.
Slice the onions the same as the apples.
On a serving plate arrange the apples in an attractive stack. Atop the apples add some of the sliced onion and then some arugula. More arugula can be place on the plate alongside.
Sprinkle the stack with the nuts and cheese. Then drizzle more dressing over the top to taste.
Add a crusty bread and a glass of Verdiccio and you've got a lovely first course.