Let's be honest, it's not like I'm making a batch of snacks all the time. If you have company coming though, these crispy root chips are not tough to make and will make your guests feel oh so spoiled.
What I'm really imagining though is a cold Winter's day where you decide to have a few pals over to sip and chat. It's helpful that the oven will warm the house, and there is nothing like coming into a home where something good is cooking. I used parsnips and turnips here, but any ol' roots kicking around your kitchen would work. Got a carrot or two in the drawer? How about a sweet potato, rutabaga and the golden child, regular potatoes! They don't have to be the freshest either, so you would get a Home-Ec gold star from me from using all those latent bits in your veggie bin.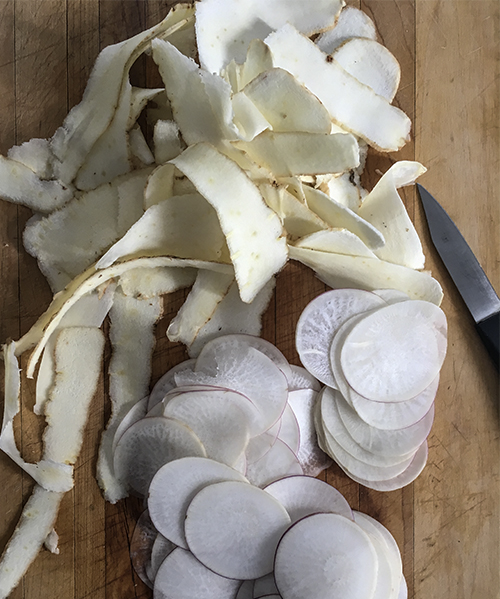 At first I thought I would slice the turnips with my favorite knife, but I then decided for best even cooking I should use my mandolin. So completely worth it. Whip whip whip and they are done. I was happy to cook and eat some turnips too. Who really eats those these days? I happen to love them roasted, but I can't say they are anywhere near the top of my veggie hits list. Why is that? Perhaps I should do a turnip series, that could be fun…. parsnips are pretty miraculous too. The sophisticated cousin of the carrot. So refined, pale and delicate. They need to get their due also.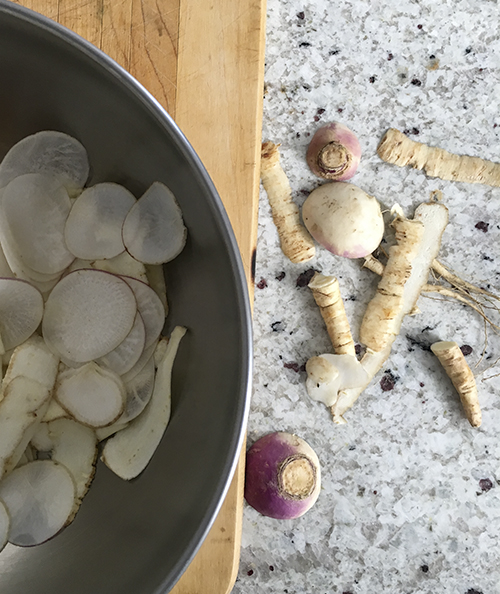 So into a bowl they went, along with a healthy dose of melted coconut oil, salt and white pepper. Then onto a tray that slid right into a 375˚ oven. After 10 minutes I gave them a turn and toasted them another 10 or so. I kept a keen eye so as not to scorch them (too much). Another splash of salt right out of the heat and a sprinkling of minced fresh rosemary.
That's all it takes! Eat up!