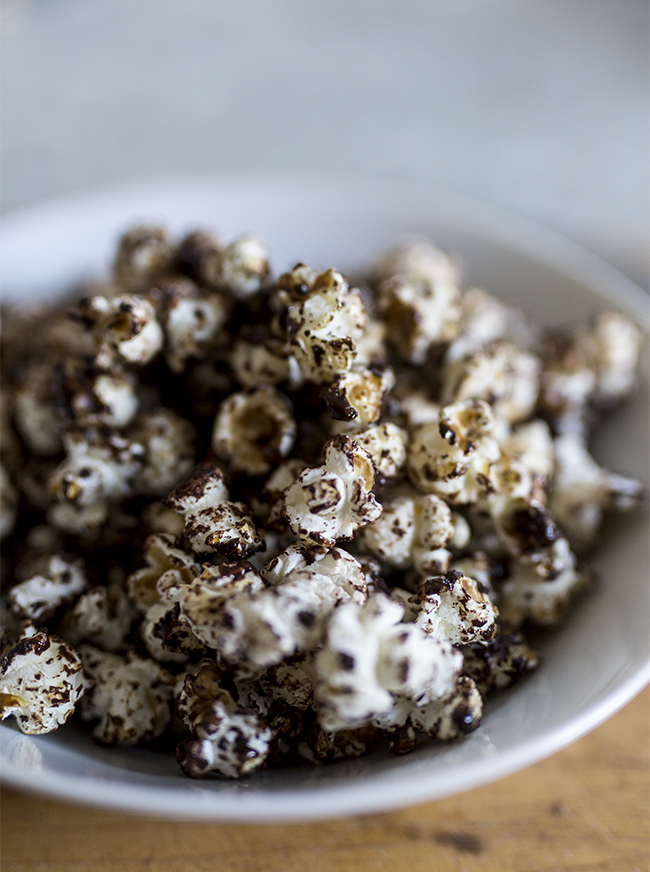 In anticipation of next weekend's big game I decided to get my groove on and make some dark chocolate popcorn with sea salt and peanuts. As you can imagine, watching the game is more of a social event than a die hard fan thing. Don't get me wrong, I love to watch football. In fact, I was Captain of my cheerleading squad in high school- so I'm pretty sure I have the rules down. I'm just not much of a sports chick- I'm interested, just not involved.
So my "game on" is what ends up on the cocktail table in front of the TV. So why not some jazzed up popcorn? All that game day food is usually pretty cheesey, greasy and heavy on the gut. Who doesn't love it- I just want some fresh ideas out there.
Making popcorn certainly is not the same as when I was a kid. There was real reverence and hard core focus when it came to making popcorn. It was a bit of right of passage for us kids. We had a certain pot we used only for popcorn making. We knew just how much oil to put in, how high the flame, and a capful of kernels was the perfect amount for the pot. Standing on a chair it was sacred duty to shake the pan relentlessly during the furious popping stage, and then came the fine art of knowing when to remove the pan from the heat to get all the kernels popped without scorching the pan. Ain't nothing worse than burnt popcorn. Not Pleasant.
When my kids were little I liked the idea of microwave popcorn. Let's be real. Making scratch popcorn can be a little scary and dangerous. But as I've gotten older I've come to really detest microwave popcorn. I'm not a fan of the chemically butter taste, nor the tricky bags that tend to steam burn my fingers every single dang time. Not only that, but making old timey popcorn makes me feel more inclined to do something fancier that just plain. If you've never done it, let me tell you this- melting fresh butter in a pan and pouring over your popcorn is a thousand trillion times better than anything Orville can dish out. After butter can I tell you my real favorite? A lovely drizzle of truffle oil and some flake salt. Just. So. Wonderful….But for now let's focus on this version.
Another thing about MW popcorn is that you can only get that small ruffly type of corn. My favorite popcorn is called mushroom. It puffs into that gorgeous globe-like orb, which I like better for this. If you're going to make anything popcorn fancy it's worth getting yourself a bag.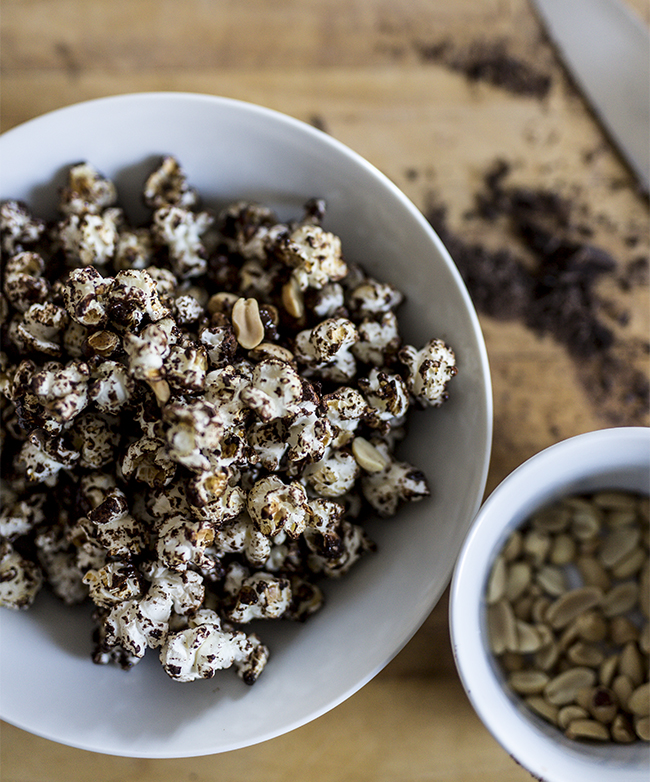 Making Popcorn with Dark Chocolate, Sea Salt and Peanuts
3 tablespoons vegetable oil
4 tablespoons mushroom popcorn
2 oz dark chocolate finely chopped
2 large pinches sea salt
1/2 cup roasted unsalted peanuts
Before you start make sure you have everything ready and easy to reach. Make sure little hands are out of the way, nor underfoot.
Place the oil in a large pot with a tight fitting lid. Add a couple of kernels and place over medium high heat.
When the kernels pop add the rest of the kernels and start shaking. As the popping gets going keep a good ear open. When the bulk of the
fireworks has subsided, but there is still some life in the pot, turn off the heat and allow the residual heat to finish off the pot. Keep shaking!
When the last kernel has exhausted itself, open the lid and dump in the chocolate. With a wooden spoon stir it all together until the kernels are coated.
Sprinkle over the salt and peanuts and give it another good toss.
And there you have it! Dump all the chocolately salty goodness into a large bowl and enjoy!