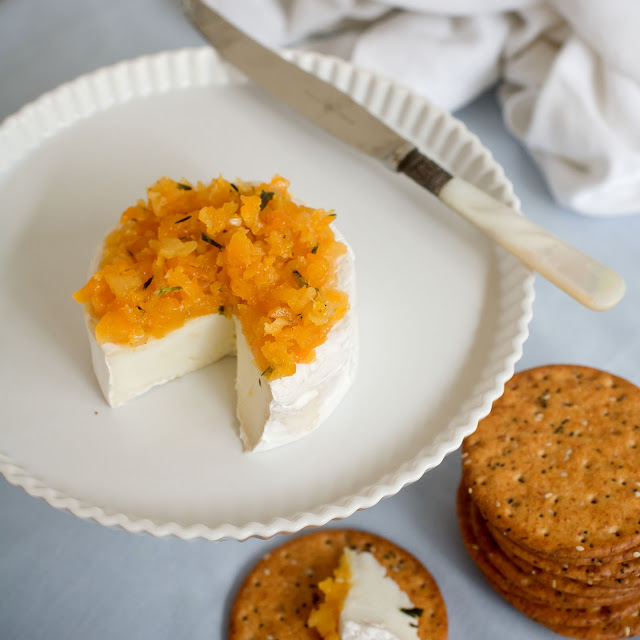 Apricot Rosemary Tapenade served with Goat Cheese Camembert
Using apricots is not a typical go to for this time of year, everyone is so into cranberries. I do love me some cranberries, but I also love this bright orange color as a change. This is a surprising taste combination and I like that too. The apricots are not terrifically sweet. Paired with rosemary and garlic makes it a real delight and the olive oil makes it glisten like a jewel.
I paired it here with a gorgeous wheel of Goat Cheese Camembert that would make a fantastic hostess gift to bring along to a party. Easy to keep stashed in the fridge and assembled last minute- this will make you look like a rock star.
Jarred and gifted Apricot Tapenade is delightful spooned over a pan roasted pork chop. It's also great on sliced cold chicken in a sandwich, which these days, as the holidays draw closer, is becoming more common in my house. So when standing-door open- in front of a fridge and you're looking for something magic to jump out at you, this can do it for you. This bright orange jem will save the day.
Now let me say, if you are really feeling the need for red on a holiday table, the aprictos can easily be swapped out here using dried cranberries or dried cherries.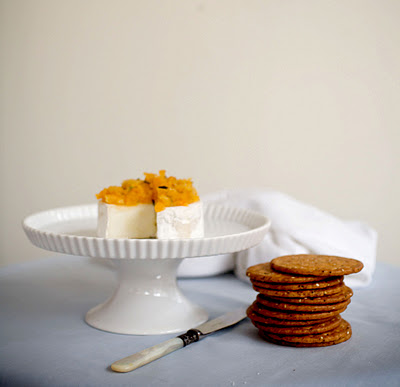 Apricot Rosemary Tapenade
makes ~ 2 c
1.5c dried apricots, soaked in warm water 10 mins
2 stalks of Fresh Rosemary
.5c Olive Oil
Juice of half a lemon
1 large clove of garlic rough chopped
S & P
Drain the apricots and remove leaves from Rosemary stems
Place all the ingredients into a large processor and pulse until you reach a chunky but even consistency. You don't want puree.
Adjust salt and pepper to taste
Store tapenade in a jar and top off with Olive oil just to cover the top to preserve it.
best served at room temperature