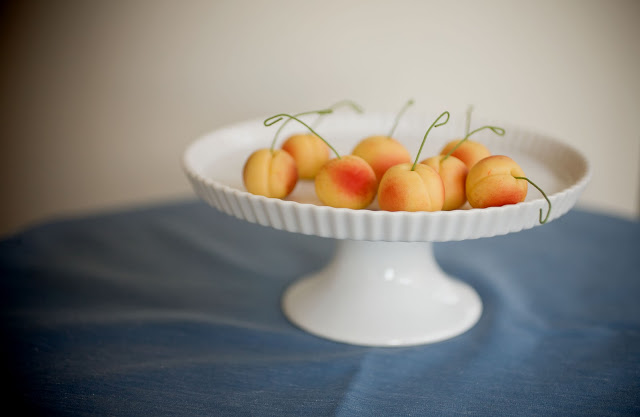 Marzipan Cherries

The tradition of modeling marzipan (almond paste candy) for the holidays is an old one and if found in many different cultures. The Italians make it and so do many Northern European countries-Germany, Sweden etc.  Hand made marzipan is an art that has sadly waned. Most that you see these days is machine made and with a low quality of almond paste. The colors are sprayed on and for the most part they are just ghastly.Hand making marzipan is not difficult to do and a fantastic thing to make with kids as it doesn't require a stove or oven- and mistakes can just be nibbled out of sight.

Years ago I had a marzipan business with a woman named Kim Jurado that we called Bella Dulce. We made gorgeous marzipan that we put into small rustic wire baskets from artisans in Mexico, or tiny wooden crates to look like imported fruits. One of my favorites was to build the marzipan into topiaries that brides would use as centerpieces. Stephen Spielberg had us make tall gorgeous topiary cones for his movie Armistad and our beauties also made it into Dean and Deluca and Williams Sonoma catalogs. In those days we had a legion of workers hand making marzipan. All day long hands were rolling, shaping and dusting lumps of almond paste into rows and rows of beautiful bright almond candies. It was an artisanal business before it was vogue.

Marzipan is made from blanched almonds and sugar into a dough. It's possible to make it from scratch, but to be honest, I don't find it time or cost effective. I've tested a lot of marzipan over the years, and by far the best is made by American Almond (see Holiday Resource page). A lot of marzipan out there has a high sugar content, leaving it super sweet and lean on good almondy flavor. American Almond has the highest almond to sugar ratio which makes it heavenly. Marzipan does not come cheap but most fruits are about a half to one ounce each, so a pound goes a long way.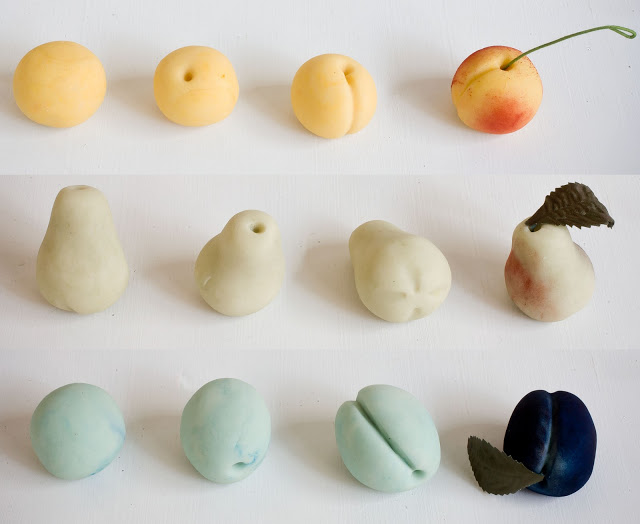 There are simple tools needed to shape the dough, but mostly you can get by with what you have around the house. Toothpicks, a knife and a dowel stick work well- or you can purchase modeling tools that are typically used for clay. What you will need to get is powdered food coloring and gel food coloring, paint brushes, cloth covered wire and paper leaves- all of these things can be purchased at NY Cake and Baking Supply.
Marzipan is such a great medium that you can do many other things with it. The fruits are classic, but little Santa hats are awesome, or Xmas light bulbs. It's great for making leaves and mushrooms for Buche de Noel or reindeer antlers for cupcakes.
Unused marzipan can be saved for future use if stored properly. Wrapped tightly and put into an airtight container it will keep it for several weeks. For longer keeping it can go in the fridge.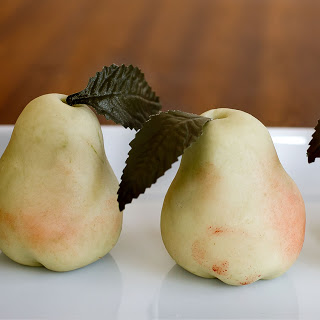 How to Make Marzipan Cherry, Pear and Plums
yields 20-30 fruits depending on size
1# American Almond Marzipan
juniper green food paste
golden yellow food paste
royal blue food paste
red powdered food coloring
purple or burgundy powdered food coloring
soft paint brush-like a blush brush
cone tool (or rounded toothpick)
veining tool (or butter knife)
green florist wire 24 gage
small paper rose leaves
Queen Anne Cherry
Paste food coloring is very intense, so start out with tiny dots and add on from there. You can always add more. Use a toothpick dipped into the color pot and dot the marzipan then knead through.
The cherries should have a soft golden yellow color.
Next follow the grid above. Pinch off a small chunk and roll between your palms to make a ball, then using the cone tool make an indentation on the top- or use a toothpick to ream in a dent. Then with the veining tool or the back side of the butter knife, draw down from the hole and make the crease of a cherry cheek.
To color tap out a small amount of red powder color onto a plate. Using just a small amount dab the brush into the color, just as you would if you were applying powdered blusher. With a circular motion paint on the "cheeks" of the cherries.
Finish off with a 3″ length of wire. Fold down one end to make a knob and then curve the stem into a natural shape. Tuck into the hole in the top.
Pear
I used the juniper green for the paste color. Follow the directions above to tint the marzipan.
To make the pear shape first roll a knob of dough into a ball. Then, using your fingers coax one end into the neck of the pear. Then give a little tap on the bottom to square it off just a little bit.
Pierce the top of the pear to make the stem dent. Then on the bottom of the pear create four dents which create that round bottom look a pear has.
Dust just a liiiiiiitle bit of red onto the sides of the pears and finish off the top with a paper leaf.
Plums
Plums have an ashy blue grey line in the crease which I personally love. Color the marzipan a soft blue using the royal blue paste.
Then roll the marzipan into a ball and then into an oblong ball.
As with the cherry make a dent at the top and crease down the length of the plum. Plums have deeper creases though. I make a fairly keep crease and then soften the cut edge with my fingers. I then pinch the seam closed a little to give that cheeky look.
Dust the plums with the color and for these it takes a lot, avoiding getting color into the crease. Finish off with a paper leaf.
********************
Once made the marzipan can be left out to dry a little. Left out indefinitely they will turn to stone. If you intend for them to be eaten, or given as gifts, keep them under plastic or present in a clear plastic box or cello bag. Both of these can be purchased at Glerup.
*see resource page for links to Glerup, NY Cake and American Almond*