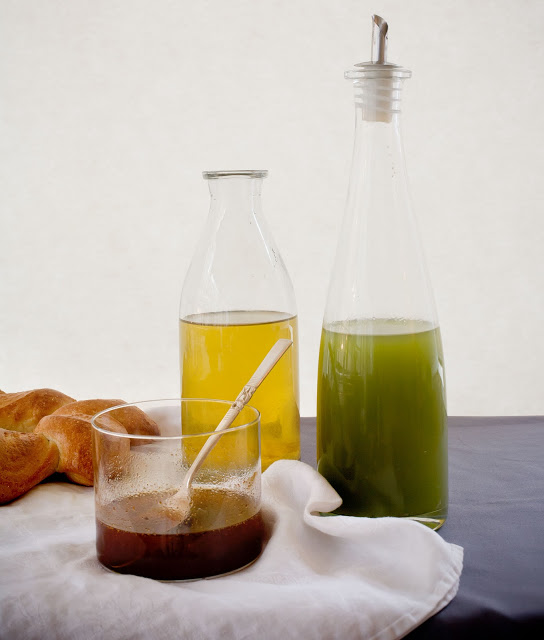 When the day has been long and that chicken in the fridge just looks so, well, geez- another chicken? A splash of flavored oil can make the simple sublime. Mashed potatoes get beautiful chartreusey green puddles of yum with basil oil, take a weeknight pasta and drizzle it with smoked paprika oil and the next time you feel like popcorn- make it the old fashioned way on the stove and use a lemon or rosemary oil to pop the corn and then splash some more on top instead of butter. Sensational in a snap. Love it.
The best part is that flavored oils not only are a great go-to, but easy to make and easily makes smiles when you give them away. Three versions here today, lemon, basil and smoked paprika. I know, sounds way too simple right? why not Thai basil with vanilla and chilis? Because these are the staples, like I said, the go-to's, the good pals that are there when you need them. From here all things are possible and limitless, but feel free to be creative, I won't mind. Take these oils as a base and feel free to add to them.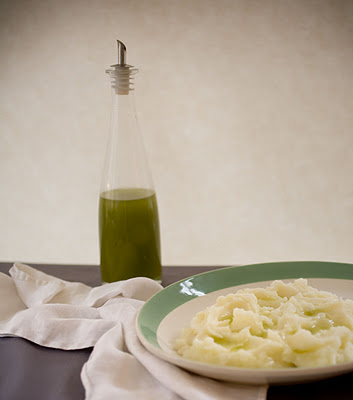 There are two methods to adding flavor to oil, both simple. The hot method: warm oil, add flavoring in the form of herbs or spices and allow to steep, then filter and bottle.  The cold diffusion method requires just adding the flavor to the oil and give it plenty of time to steep. I made the lemon oil this way which infused a brightness from the lemon that is just out of this world.
If you decide to leave leaves, or zests or especially garlic in your bottles- be sure that they be stored in the fridge. Weird things can start growing and that is just not a good thing.
I bottle mine in smaller bottles when giving them away. They can be tucked into bags with other treats, given as pairs or sets, and it doesn't impose the receiver to give up too much fridge or counter space. Besides, little jewels are also so much more delightful, and who doesn't like jewels?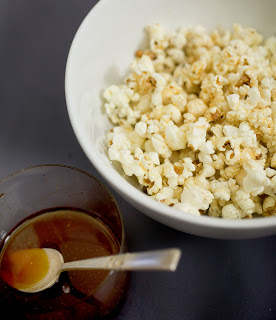 Hot Oil Infusion Method
No quantities here, this is by your taste- but a good start is one bunch of fresh herbs to every quart of oil or 3T of spices. Use a mild olive oil over a plain vegetable oil.
Warm oil to 185˚ in a heavy duty saucepan.
Add bruised fresh herbs or combine all in a blender for more intense and faster results.
or add spices that have first been dry toasted in a pan stovetop. Toasting releases the oils and aromatics to get the party started.
Once cooled  and rested overnight, taste the oil for flavor balance. Add more oil to the batch if it's strong or rewarm and add more flavoring. The flavors do take a few days to develop so don't expect too much at first, by day 3 or 4 you are truly there.
Cold Oil Infusion Method
Take bottle, add herbs or spices, pour over oil. Done. Good. Mostly.
I made the lemon oil by whizzing a cup of oil with the zest of one lemon in a blender then added it into a quart of oil. All that beating and battering released more oils into the base and can I tell you? divine. It left the oil cloudy at first but a few days later- sparkling lemon flavor and a clear oil.
Bruise any fresh herbs first, let them steep in the oil in a bucket or large jar for at least 2 weeks and then strain. If you like the look you can put fresh pretty herbs and spices into the gift bottles for a nicer presentation.