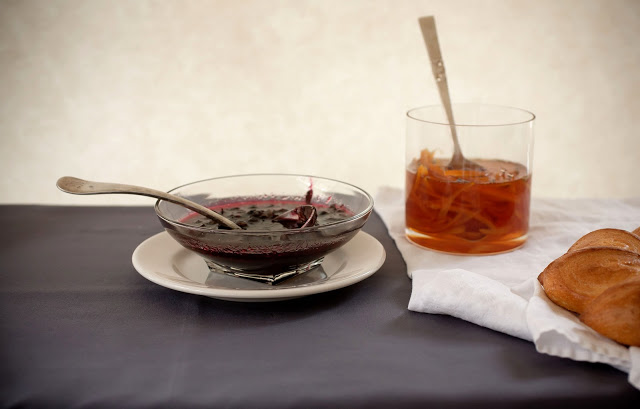 I love me some Jam, but I truly adore and delight in compotes. To me they are like the unruly stepchildren of the jam world. Born of the same genetics but never quite pulled themselves together.
What I really love about  compotes though is the syrupy texture, and in the case of the berries, a sassier taste from not cooking the fruit into total submission.
Compotes are quicker and easier to make and can be used in a so many fantastic ways. In every circumstance that you would use maple syrup a compote would be great. I use mine on waffles or pancakes, on my morning yogurt, or as is our family Christmas morning tradition, it's warn berry compote over freshly made blintzes.
But not just for the morning. A jar of compote on hand can be ladled over Angel Food Cake to make a snazzy last minute dessert and, of course, ice cream or frozen yogurt is a natural.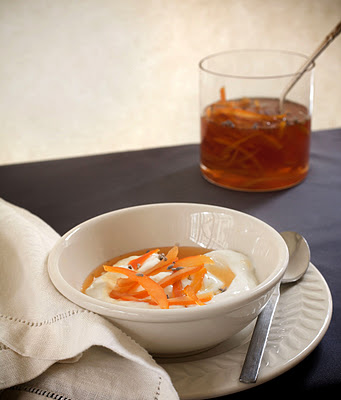 Orange Compote with Lavender Flowers atop Greek Yogurt
I'll tell you a secret too, which is that I pretty much always use frozen fruits. Either directly purchased from the market, or from my freezer bin. I keep a plastic lidded bin in my freezer at the ready. From time to time my fruit loving eyes are bigger than my stomach and fresh berries wait for no one, so as they start to demonstrate their diminishing rein, I'll toss them into the bin. From there comes smoothies or as in this case, compotes.
The combinations are limitless, but these are my two favorites.
I'm not a fan of canning compotes and feel they are best put up and refrigerated. They should be sooner eaten than later, and you'll want to.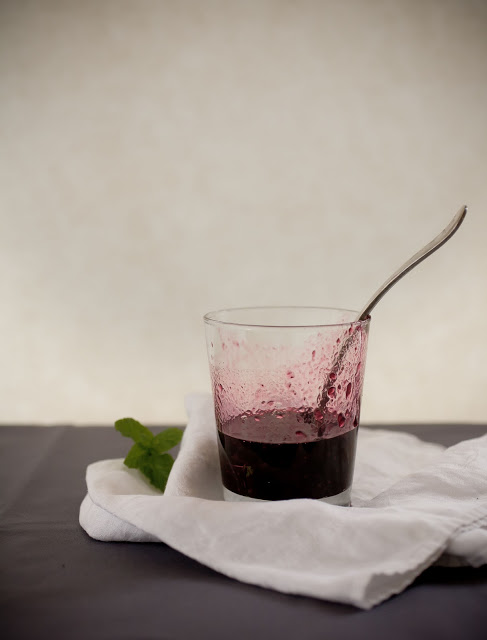 Orange Lavender Compote
makes ~6 cups
6 large oranges, peel removed and sliced
Juice of the 6 oranges
1 lemon, peel removed and sliced
Juice of the lemon
8 cups water
9 cups sugar
small handful of lavender flowers
In a large heavy bottom sauce pan combine all the ingredients except the lavender.
Bring mixture to boil and simmer for 50 minutes. The volume will reduce by half and the peels will become tender.
Add lavender flower and simmer 5 more mins.
When cool transfer to clean jars and store in the fridge. Keeps for 5 weeks.
Blueberry and Red Raspberry Compote with Mint
makes  ~8 cups
5c blueberries
4c red raspberries
1c lemon juice
8c sugar
1 bunch fresh mint, finely chopped
In a large heavy bottom sauce pan combine all the ingredients except the mint
Bring all to a boil and then lower heat and simmer 20-30 mins. 
You can test the compotes readiness by chilling a plate in the freezer. Drop a small amount of syrup on the plate and tilt. Run your finger through the drip. If it holds and leaves a clean swipe, it's ready. 
Compote should be on the syrupy side and not too jammy, but there does need to be a fair amount of viscosity.
Remove the compote from the heat and allow to cool 15 minutes, then stir in fresh mint.
As the compote continues to cool give it a stir to draw out and incorporate the mint flavor.
Transfer cooled compote into clean jars and store in fridge. Keeps for 3 weeks.