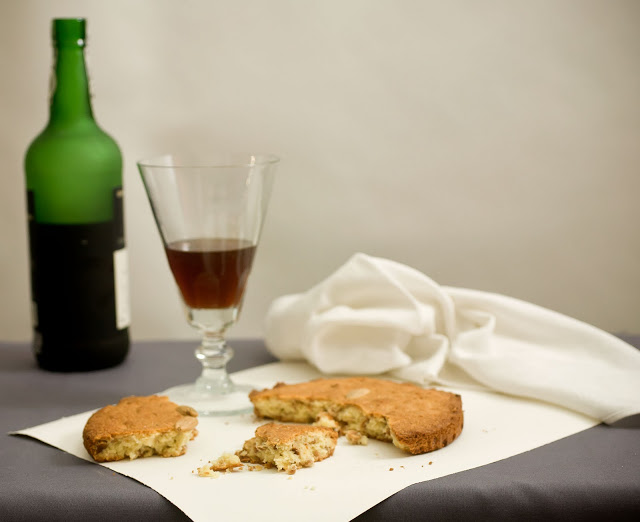 Crunchy Fergolotta enjoyed with some after dinner port

Fregolotta was a word that had never passed my lips until my lovely Lauren told me about it. It's a lightly sweet, crunchy, nutty, biscuit cookie that is often served at the end of the meal in the Veneto region of Northern Italy.

Now allow me to digress about Lauren for a moment. Beautiful, fair curly haired Lauren has been my business partner at

A Simple Cake

for the past year and some and one of the best persons to ever happen into my life. She not only is so tremendously talented as a baker and an artist, but she is also an incredibly beautiful person, both inside and out. She and I share a similar passion for food, which has lead to some tremendous discoveries for me- as in the case here.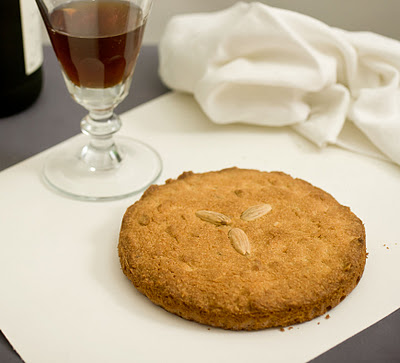 Lauren described to me this thin crackery treat and it was all new to me. Fregolotta is not just a treat, but an experience as well. It is meant to be broken at the table and eaten. The hard cookie is balanced on a reserved almond, and then with the back of a coffee spoon, tapped until it breaks into bite size pieces. She told me the story that is was her Mother that makes it in their family.
While traveling through Italy, Betsy Bohl and her husband became enamored with this treat when after each meal it was presented along with the coffee cups. No two restaurants made them the same, which is so typically Italian in my mind. Some more cakey, and some more grainy and powdery. Each baker made it to his or her own taste, following no rules. Betsy returned home and after researching several recipes, changed the balances to get the right texture and taste that suited her.
Thank you to Betsy for sharing her recipe with me, which I believe is an adaption from Lydia Bastianich. Fregolotta is packed with chopped almonds, but it's the inclusion of corn meal that gives it a unique gritty crunch that is so satisfying.
The recipe called for spring form pans, but I used regular pans and lined the bottom with a paper doily. The cakes slipped out without any resistance. I used 6″ pans and the recipe called for 5″. Due to the way I divided the dough my cakes were a little on the thick side, so next time I would divide them into thinner batches. To transport and package them I would set them in a box, or place a cardboard round underneath to keep it from breaking. Be sure to include a little note on the cracking and almond technique.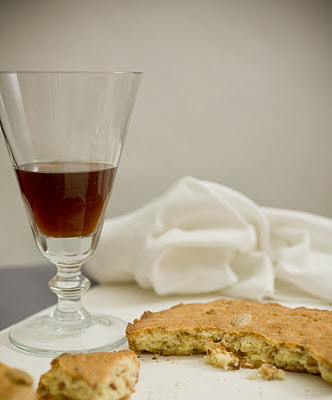 Besty Bohl's Almond Fregolotta
makes 4 5″ cakes
1.5c toasted almonds, chopped
.75c sugar
1c flour
.75c corn meal
.25t salt
1.5t vanilla
10T butter, softened
1 egg yolk
2T heavy cream
Preheat oven to 350˚. Grease pans and line with parchment or paper doily.
Combine almonds, flour and cornmeal and salt in a bowl.
In a mixer combine the butter and sugar and beat smooth. Add egg yolk and vanilla and stir.
Add butter mixture to the flour mixture and toss together with a fork to blend. It should be crumbly. Add the heavy cream to make a shortbread like dough.
Divide the dough between the pans and press lightly into an even layer.
Bake for approximately 20 mins and then check for doneness. The cakes should be nicely browned and pull away from the sides of the pan
*****************
Though wonderful just on their own, these are also fantastic served with ice cream or fruits. I can see grappa along side these or a nice demi tasse of espresso.