Donna Hay White Bean Salad
About 3 weeks ago I was perusing an older issue of Donna Hay Magazine (#42 Dec/Jan 2009) and I spied this recipe for White Bean Salad. I thought what a great thing to make and shoot. It was then the very next day that I happened upon the blog
Jungle Frog
who was offering up a
challenge
using the exact same recipe! As I am one to listen to the Goddesses when they try to tell me something- I decided to give it a go.
The idea was each month to replicate a recipe from one of
Donna Hay
's publications, not only the recipe, but the photography as well. I've always loved the style and the beauty of the images in the magazine, which I can prove by the stacks of every past issue I ever purchased that populate my apartment. As a side note: I am paring down my belongings in preparation of my move to Louisiana, but every single one of those babies are going with me.
The photography, like the food, is very clean, uncluttered and ethereal- and it was a bit trickier to produce than I thought. This was shot by
Chris Court
, who's work I really adore.
I shot this using daylight continuous light bulbs through frosted paper. Though I have boatloads of sunlight in my apartment, I had to shoot this before the dawn this morning. I use a Canon 5D (LOVE my camera) with a 50mm, 1.2 lens. I shot it at f11 and used a folded white card for bounce back. I shot it on a pale blue paper because though her photographs often have a cool tint, it appeared to me in the photo that the plate was not cast. I did a little tweaking in Photoshop to bring out the midtones and lessen the contrast a touch. I also adjusted the white balance to make it tiny bit cooler as well.
This was a great exercise for me and the recipe is pretty fantastic too. I used ricotta that I had made from scratch last week and a lusciously fragrant Olive Oil. My daughter stopped over for lunch today and she tucked into a generous mound and loved it.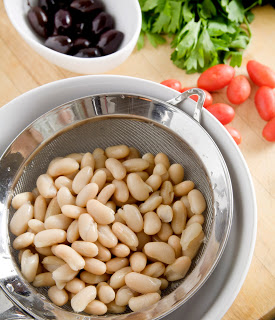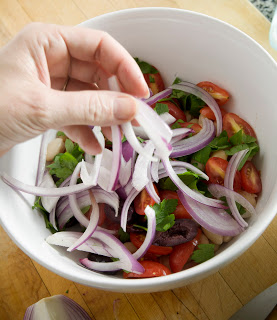 Donna Hay's Ricotta and White Bean Salad
1 can white beans- cannellini-rinse and drained
1 small red onion, thinly sliced (I did a French cut)
1/4 c black olives, halved
1/4 c flat leaf parsley leaves
1c grape tomatoes, halved
S & P
several spoons of fresh ricotta
2T extra virgin olive oil
2 t red wine vinegar
Combine beans, onion, olives, parsley, tomatoes and seasoning. Gently toss.
Divide onto serving place and dollop with ricotta.
In separate bowl combine oil and vinegar then spoon over salad.
Serves 2