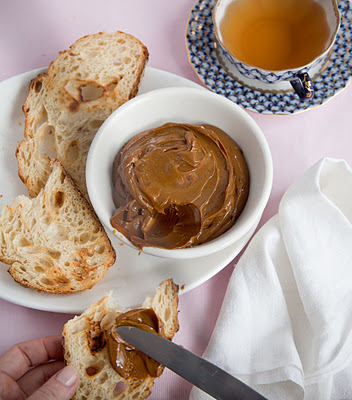 Not Valorie's table- but a taste of heaven in my home.
In celebration of my recent birthday my dearest Pam and I trucked on down to New Orleans for the weekend. It was our first road trip with our new Mazda Miata- and let me tell you- two girls traveling in a car with a trunk the size of a Barbie suitcase has it's challenges, but not without laughs and good times.
After a few days on our own enjoying a romantically fantastic and culinary time, we toddled over to my dear friends Valorie and Alberto's house in the Irish Channel. Val and I go way back to our early years in the
wedding business
. She was an exceptional floral and event designer and we made instant friends when we met during a set up for a wedding in a big NYC loft.
She is now an even more exceptional interior designer in NoLa and you may know her as
The Visual Vamp
. Her blog is chocked with great thoughts, ideas, Val's great writing and her sense of joy and life living. When you have a minute it is a must read. You may also know she and Alberto, her Argentine husband, as US National Tango champions and instructors. And let me tell you darlings- this is only a small scratch into Val's fabulousness.
The last time we visited we woke to one of Val's beautifully set breakfast tables. A small table tucked into the kitchen was covered in a beautiful linen cloth. Stack of china, silver, pots and plates of goodness and "objets" covered the table and made it too beautiful to think about making a crumb amongst. However Val's tinkling laugh, ease and grace made this fantasy feel like we've always belonged here. So with napkins on laps and Cholo, their King Charles Spaniel, at our feet- we dove right in.
Amongst the delights was a luscious bowl of dulce de leche that had come from Alberto's Argentina from their last trip there to Tango. Val toasted up some chewy sourdough bread and with the dulce de leche on top it was divine….. Sweet and creamy on top of crunchy chewy and the tang of the sourdough made it heaven. Such a simple thing elevated- such is the magic that is always Valorie.
Homemade Dulce de Leche
makes approx 1c
I dusted off my crockpot for this. The slow low temp cooking is perfect and no need to keep an eye on it.
Take 1 can of sweetened condensed milk and remove the label.
Submerge the can in water in your crockpot and set on low.
Leave to work it's magic for 8 hrs. Cool before serving.
No fears about bursting cans but if it concerns you alternatively you can empty the contents of the can into a small heatproof bowl and cover with foil. Add water up the edge of the bowl and proceed as above.
If you don't own a crockpot you can use the alternative method in a pan and place into a low oven- as low as it can go for 5-7 hrs.