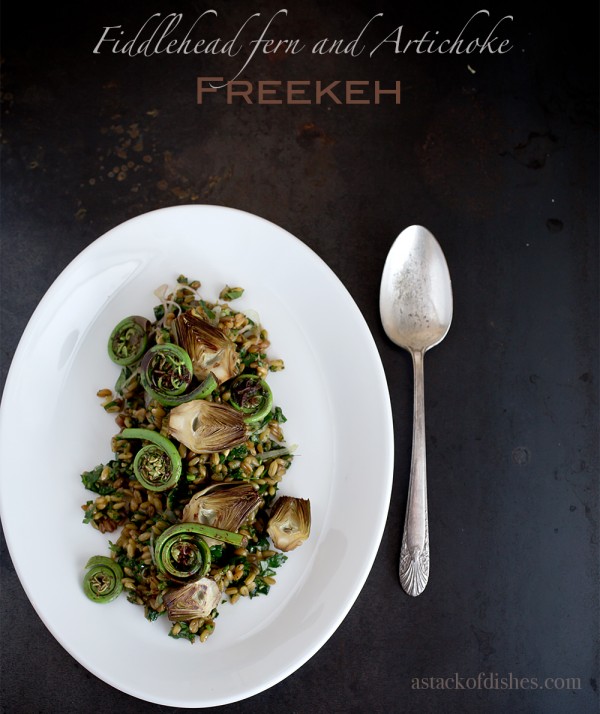 Behold- the latest ancient grain to start popping up on menus- Freekeh. For those who are not in love with the texture of quinoa, you may have found something to get excited about. Freekeh has a similar consistency to wheat berries, but a slightly less chewy texture- and a delicious taste.
Compared to brown rice and quinoa- a half cup serving of Freekeh has slightly less calories, more than twice the fiber (6 grams!) is high in protein and also offers calcium and iron. It's also rich in lutein, which is important for eye health, and it falls into the low GI category. The glycemic index is only 43, compared to 83 for rice- making it an excellent grain for moderating blood glucose levels.
I had been hearing a lot about this new grain on the block from some of my dietitian friends, so I was excited to receive a sample from Freekehlicious (who has not compensated me, nor asked for this post).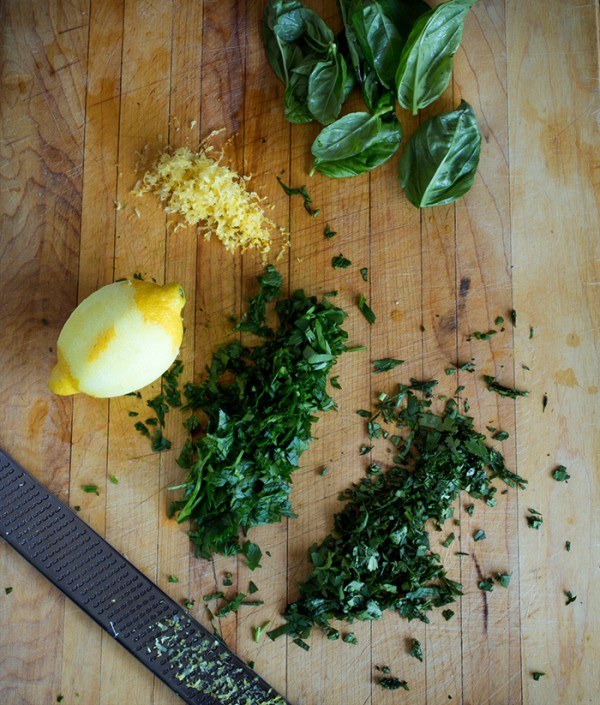 The grains have an interesting greenish color, which I found to be very beautiful. They cooked up easily and have great body and texture to them. For those dieting it can offer that nice chewy bite that makes you feel like you're eating something substantial and tricks your mind into being more satiated.
Now that we're finally into Spring, the thought of hearty grains is less appealing, so I made a light and tangy dressing and piled on some herbs to give it a bright taste.In my kitchen this is definitely going to replace brown rice and it will be a refreshing change from quinoa. It's great lunch box or picnic fare too.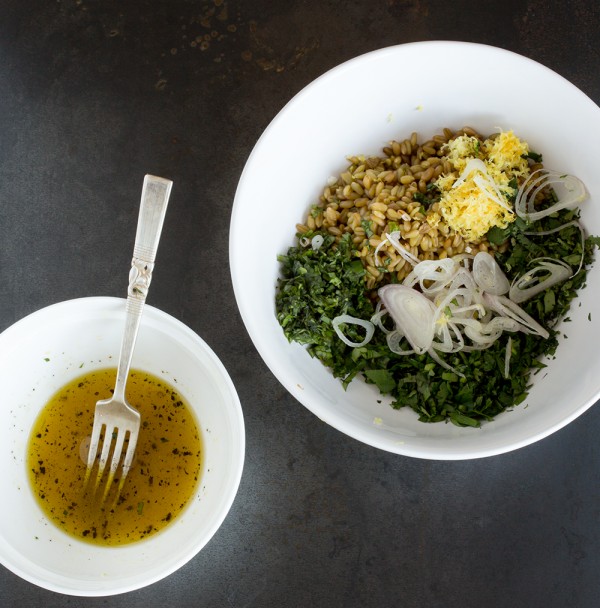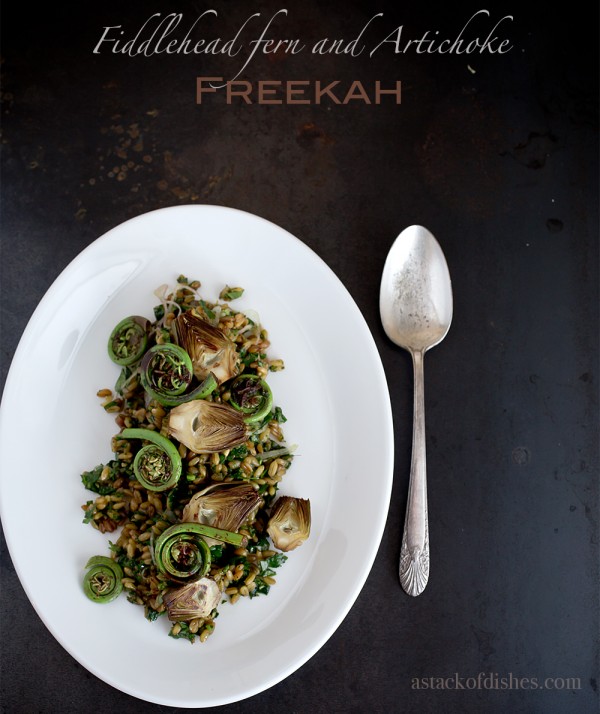 Freekah with Fiddlehead Ferns and Artichokes
2013-05-07 06:36:16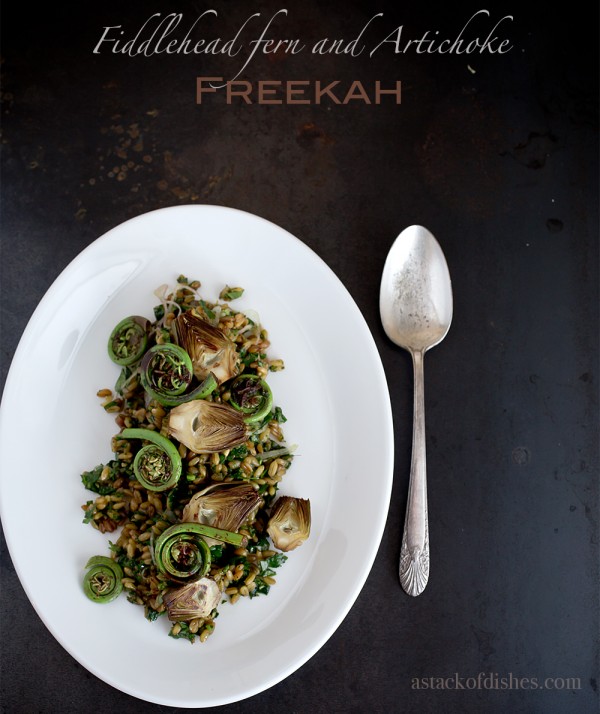 This is a hearty and delicious salad that you can easily take on the go. Asparagus can easily replace the ferns if you cannot find any in your market. This salad may be served warm or cold. Makes 4 servings
Nutrition Facts
Amount Per Serving
* Percent Daily Values are based on a 2,000 calorie diet. Your Daily Values may be higher or lower depending on your calorie needs.
Ingredients
1/2 cup freekeh
1/2 pound baby artichokes- fresh or frozen
1/2 pound fiddlehead ferns
1 teaspoon canola oil
1 clove garlic, minced
1 lemon, zested and juiced
1 teaspoon dijon mustard
1 teaspoon agave
2 tablespoons olive oil
1/2 teaspoon salt
1/8 teaspoon freshly ground black pepper
1 medium shallot, sliced very finely
1/2 cup chopped fresh basil
1/2 cup chopped fresh parsley
Instructions
In a saucepan combine the freekeh with 1 1/2 cups of water and a pinch of salt. Bring to the boil an them lower heat to a simmer for about 30-35 minutes, until the kernels are tender. Turn off the heat and cover, allowing the steam to finish off the cooking. After 10 minutes remove the lid to allow the grains to cool slightly.
Clean and trim the artichokes and ferns. In a large fry pan warm the oil over medium heat. Add the vegetables and the garlic and sauté for 3 minutes. Add 3 tablespoons of water to the pan and cover with a lid to steam the vegetables. After 2 minutes remove the lid and continue to cook until all the water has evaporated. Remove from the heat and set aside.
In a small bowl combine the lemon juice, mustard, agave, oil, salt and pepper.
When the freekeh has cooled but is still warm, place into a large bowl and toss with the dressing. Add the herbs, lemon zest and shallots and toss together.
Top with the ferns and artichokes, and a spritz of fresh lemon juice if you prefer.
Notes
Dressing the freekeh when warm allows the flavors to absorb into the grains, while allowing the herbs to remain fresh.
A Stack of Dishes http://www.astackofdishes.com/