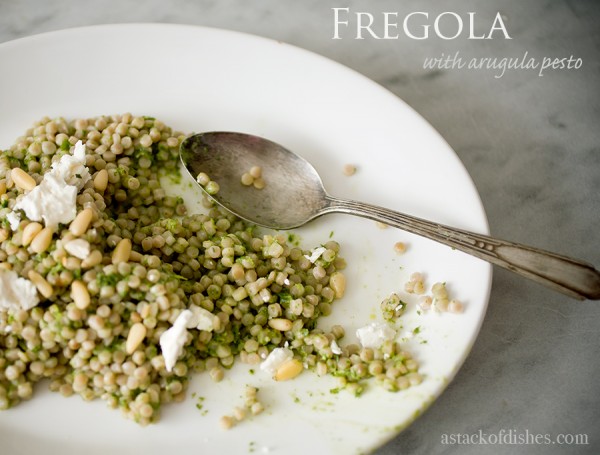 Looking for some inspiration for your lunch box or picnic basket? This fregola with arugula pesto comes together in a jiffy. I think you'll find that the peppery taste of arugula, with a spark of lemon, is a refreshing change from your usual pesto and pasta.
Fregola is a lesser known pasta, it's extremely similar to Israeli cous cous, so feel free to interchange if that's all you can find. The round beads of pasta are delightfully comforting on the tongue. It's very easy to get addicted to these pearls of goodness.
Arugula has always felt more to me like an herb than a lettuce green. I find myself tossing the tender leaves into a bowl of hot pasta the way one would with basil leaves. They delicately wilt into the dish and add a bright bite that I really enjoy. These days arugula is easy to find, especially the baby arugula leaves, unlike basil that tends to come and go. Far less of a hit on the wallet too- and I find it more versatile. It always pains me when I purchase a fragrant bunch of basil only to have it wither in the fridge.
Luckily for me I will soon have an herb garden in the new house. I have sing song-y visions of skipping out the back door to snip and clip fresh herbs for our meals. Cannot wait. I grow herbs in my NYC apartment, such as thyme, oregano, sage and mint. They do beautifully, but basil struggles. I think it needs more elbow room than my shallow window boxes can provide.
This simple dish is perfect for your lunch pail (you have one of those, right?), or to bring to a pot luck event. It also makes a wonderful side dish to a store roasted chicken, or just about anything- fish! So really, you can't go wrong.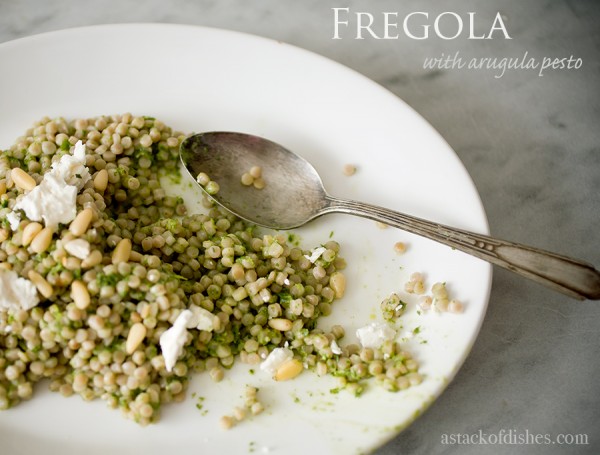 Fregola with Arugula Pesto
2013-04-18 06:31:44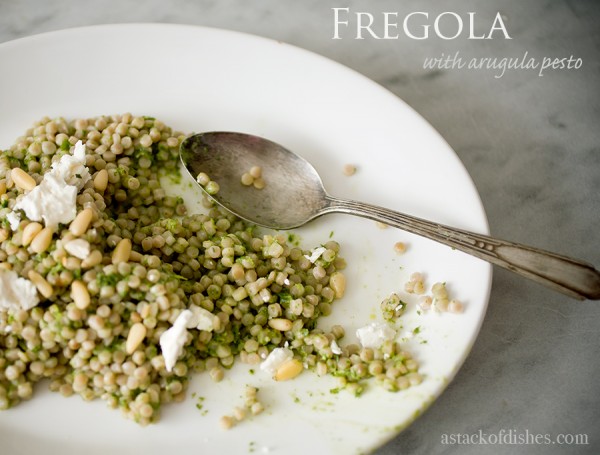 Pearl shaped fregola can be exchanged with Israeli Cous Cous if need be, or any fine pasta. The arugula adds a peppery bite to this dish that I find very refreshing. Makes 6 servings.
Nutrition Facts
Amount Per Serving
* Percent Daily Values are based on a 2,000 calorie diet. Your Daily Values may be higher or lower depending on your calorie needs.
Ingredients
1 pound package of fregola
4 ounces of arugula, about 6 cups
1/2 cup olive oil
1 lemon, zested and juiced
1 clove garlic, rough chopped
1/2 teaspoon salt
3 Tablespoons pine nuts, toasted
2 ounces of feta cheese
1/4 teaspoon freshly ground black pepper
Instructions
Bring a large pot of salted water to a boil and cook fregola until tender, about 10 minutes. Drain and run under cool water to remove starch and cool down. Set aside to drain.
In a blender, combine the arugula, olive oil, lemon zest and juice, garlic and salt. Puree until smooth. If necessary to get a thinner sauce add water one tablespoon at a time until you get the consistency that you like.
Toss the pesto sauce with the room temperature fregola and taste, adding any extra seasoning if needed.
Add the pine nuts and feta cheese, and finish with a fresh grind of black pepper.
Notes
This will keep for 2-3 days in the refrigerator and is a wonderful companion dish to roast chicken or fish.
A Stack of Dishes http://www.astackofdishes.com/