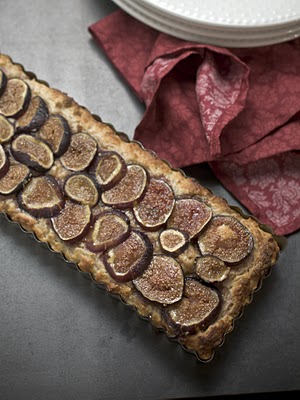 Is there anything more elegant than a fig? I just love the deep purple color of it's delicate skin giving way to ruby fruit inside. They say that when figs are ripe on the tree that they drip their sweet juice. How sensual is that?
Though what I really love about figs is that my Maternal Grandmother, Louisa, had a tree growing right outside her kitchen door. My Grandparents had a modest house in suburban New Hyde Park, NY. I remember coming in through the side gate into the patio along the side of the house. One would pass that tree as you took the steps up into the kitchen. As a child I couldn't help gently touching those big mitt shaped leaves.
My Grandfather, Joseph, who died when I was a wee babe, was an avid gardener and worked that backyard himself. There are old faded snapshots of him- a very smart, proud and sincere man who emigrated here from Spain at the young age of 16, tending to his rows of vegetables. Many of the photos of my Grandfather show a serious man, but the pictures of him in his garden, wearing white shirt and suspenders, were relaxed and happy.
His family were grocers back in Valencia. They sold cured meats, pickles, olives in the great market. The market is still going strong today, though the family no longer has a stall. There was no family from Spain here, but my Puerto Rican Grandmothers family was. I am told that he would cook Sunday supper for everyone. The cousins, mostly from The Bronx, would gather and he would make paella. In the Hispanic culture big Sunday gatherings are hugely important. Long afternoons after church are spent relaxing, eating and drinking until the day ran out and it was time to put sleepy children into the back seats of cars and head home.
He had a legacy of sharing his hard work and success with this family. Unbeknownst to my Grandmother he sent money to the family in Spain who desperately needed it. It kept them from starving, it sent children to school and to college. For his wife and three children he moved them out to Long Island, Nassau County, which was big doings in those days. To live out of the city in the suburbs was moving up and a real accomplishment for a man who came to this country as a boy penniless.
It was he, that strong, stern, purposed man that planted that tree for my Grandmother. Tender acts of love. I wish I had known him.
So when rich purple jeweled figs appear in the markets I am more than compelled to reach for a basket and place it in my cart.
As a cake baker by trade it's not in my habit to make cake for myself to have around the house. I do like scones though, and tea cakes and things of that sort. I have hankering for some scones, but somehow didn't want individual blobs. I had noticed my long tart pan in the cabinet that hadn't been used in awhile and thought it would be fun to make something in that.
Poking around I came across Heidi Swanson's recipe for Buttermilk Cake in her latest cookbook,
Super Natural Everyday
. She made hers in a tart pan, (round), and used plums for her fruit. If you don't own this cookbook than, uh…why not? Heidi is awesome, everyone says so, including me.
The cake is not overly sweet and made with whole wheat flour and a zing lemon zest. I made a few tweaks with my version, but it's essentially the same. (it's just so hard to EVER tell me what to do.)
The result was just what I was looking for. A simple easy eating treat that showcased my figs. The lemon zest gave it a refreshing lift to offset the earthiness of the whole wheat. Thoroughly enjoyable.
Enjoy!