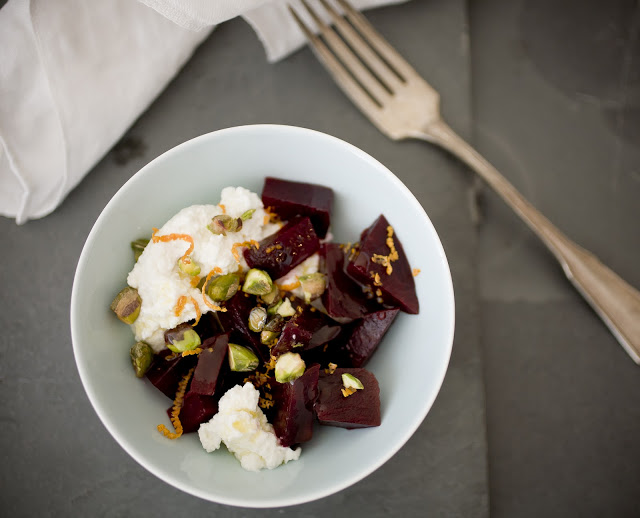 Fresh made Goat Milk Ricotta with ruby beets and pistachios

A little disclosure is that I would really love to learn how to make cheese. It's probably the mad scientist in me, but there is something about the alchemy of it all that is just fascinating. My friend Cathy Wheelbarrow-you may know her as

Mrs. Wheelbarrow

– taught just such a class this past weekend in DC.  Together this class made all of my favorites: Ricotta, creme fraiche, fresh chèvre and fresh mozzarella. Though aged cheeses are intriguing, a girl could keep herself pretty busy with these.

It's no secret by now I can get into making

ricotta

at home. It's pretty simple and I find it so remarkably rewarding. Though this past week I found myself wondering how goat milk ricotta would taste. Would the tang play though, or does it need aging?

This brought back to mind a trip that my family took one wintery weekend when I was a kid of about 9 or so. Some friends of the family had chosen to escape the corporate rat race and bought a goat farm up in Rheinbeck, New York. They lived in a rickety, drafty, old house warmed by wood stoves that was back into the woods down a winding country road. It was all so beautiful except for the frosty air that hit us when we climbed out from under piles of quilts the next morning. Shivering at the breakfast table all bleary eyed, we were given mugs of hot chocolate. In my house such things were for holidays and rarest of occasions, so this was a delight- until I took a sip. The taste was tart and sour and animal. Oh what a blow to my little girl expectations! When I pushed it away my Mother, in a sing songy voice said, "It's fiiiiine, just go ahead and drink it petunia"- only later confessing it was made with milk from their goats.

So armed with this memory I decided to give it a try- and it turned out remarkably well. A little bit milder than I would have imagined, which turned out to be an asset. The result was a more delicate taste and an overall sense of lightness. The goat milk I had purchased from Whole Foods which came pasteurized and boxed. The next time I might venture down to the farmer's market and try some fresh milk and compare the difference.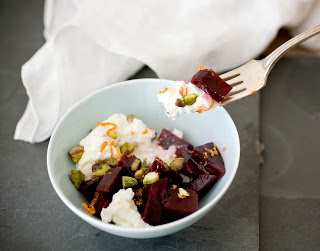 Fresh Goat Milk Ricotta and Ruby Beet Salad
1 qt goat milk
generous pinch of salt
2T fresh lemon juice
cheese cloth or a fine meshed strainer
roasted ruby beets, peeled
grated orange zest
fruity olive oil
chopped pistachios
S & P
Place the goat milk and salt in a heavy saucepan and gently bring to the boil.
Lower the heat and stir in the lemon juice. The curds will immediately begin to separate from the whey.
Gently simmer the ricotta for about 2 minutes, then strain though some cheese cloth or a fine meshed strainer. I have a yogurt strainer that I found somewhere that works like a charm. The whey is rich in nutrients and great tossed into a soup, if you're compelled to do such things.
The longer the curds sit the dryer they will be, so you should go by personal preference on this. I let mine sit for about 3 minutes before transferring it into a container to store.
Let the curds come to room temperature on the counter and then store in the fridge. 
Use within the week.
The Ruby Beet salad is a simple combination of all the above listed ingredients. Drizzle the olive oil over with a nice pinch of coarse salt and a generous grind of black pepper.