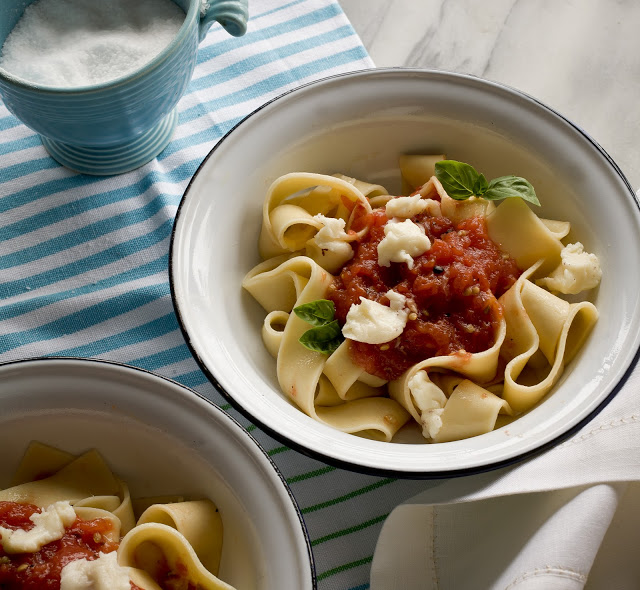 To me the best part of August is the crazy bounty of tomatoes. Heaven is a thick slick of warmed by the sun beefsteak tomato on sourdough toast, slathered with a healthy dose of mayonnaise. Just a sprinkling of sea salt and a quick grind of pepper- nirvana.
At the farmers's market it Union Square, my regular vendor had bags of tomatoes for cheap meant for saucing. I could NOT resist. Perfectly splendid, but not ready for the runway, these babies were mine!
I was tempted to make up a batch of ketchup, or a long slow cooked sauce, but I just love, love this simple sauce. It's bright and fresh and tastes like summer- cooked down can wait for cooler days.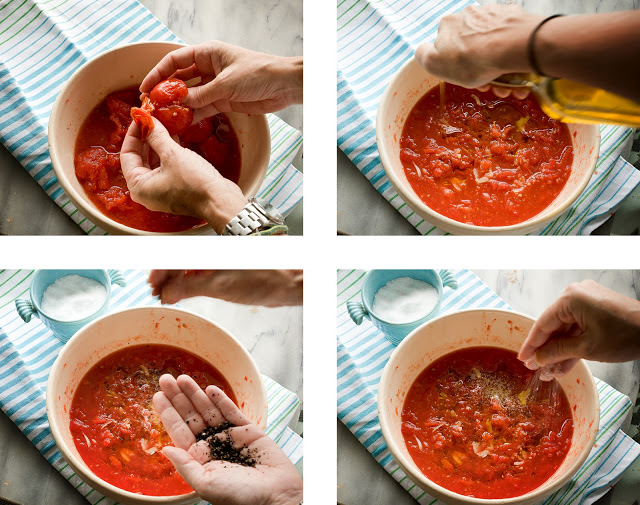 The first step was to slow roast them on a baking tray for about a half hour. This condenses the flavor just a bit, and also allows the fruit to give up their skins easily. I just make small hash cuts in the tips of the tomatoes and set them onto a lined baking tray. I included a batch of garlic cloves to roast and sweeten at the same time.
All gets roughly smashed into a rough sauce in minutes. The pepper is from the peppercorns I brought back from Thailand, which I also rough crushed right in my hand. The bowls are another score that I slogged back across the globe from Chiang Mai. They are simple enamel bowls that I paid about 90 cents each for, that I think are just gorgeous . May I gush for a second? I am proud of myself for acquiring these- that is bartering for them in Thailand. I went to the massive Worarot Market by myself- and with my meager but enthusiastic Thai- I was able to haggle with the seller (who had a smile for miles) and make my purchase. This was my first foray into that dark warren of stalls and vendors, where few farang venture on their own. It was a rush.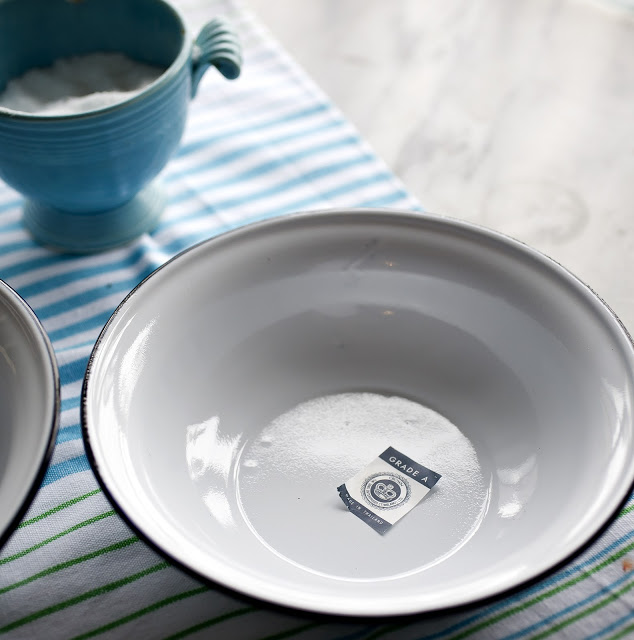 This batch of sauce was more than plenty for my meal- so the rest got put up in serving size containers and frozen for the future- thinking a grilled pizza with this sauce is next in the cue….
Fresh Tomato Sauce
makes about a quart and a half
3# ripe tomatoes
6 cloves garlic, still in their papers
.33c olive oil
3T wine vinegar
generous pinch of sugar
S & P
fresh basil to taste
Preheat oven to 350˚
Line baking sheet with foil. Make a small x in the flesh of each tomato and place on the tray, along with the garlic. Roast for approx 30 mins (depending on the size), or until the skins are a slightly shriveled.
Allow to cool a few minutes, then peel tomatoes, remove the stem core and put into a large bowl. Mash and mince the garlic and add it into the bowl along with the oil, vinegar, sugar, and S&P
Using your hands squeeze and crush the tomatoes into a rough sauce. Taste for balance and add more oil, vinegar etc as necessary. I like mine a tough vinegary.
To serve I boiled up some fresh tagliatelle and added blots of soft fontina.