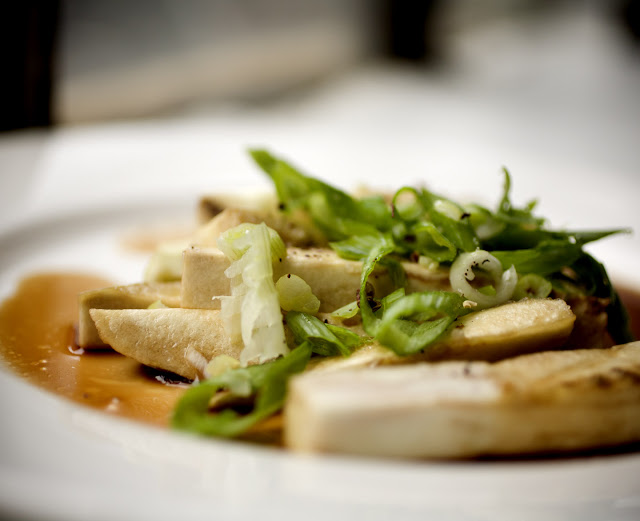 Asian Inspired Eggplant

A quick simple post for a simple Friday night sup. A long strange week in the kitchen left me feeling like a needed a little something special without pulling out all the pots and pans. I purchased an eggplant earlier in the week with an inspiration to do something smokey and some sort of stuffing? but I got myself into an Asian mood, probably a hang over from the Thai rolls yesterday.

So late in the afternoon, during my 4pm "must sit on the couch now for a few" break, I pulled out Kylie Kwong's book

Simple Chinese Cooking.

I really enjoy her cooking style and the easy simple recipes. The techniques are also so straight forward and easy to master, it's like magic. The hardest part really is gathering the ingredients such as sichuan peppercorns, shao hsing wine and malt vinegar. Once they are established in the pantry it's an easy delight pull it all together.

It's fascinating to me how a handful of simple ingredients can be transformed into something so unimaginably different and delicious.
Eggplant Salad
Adapted from Kylie Kwong's, Simple Chinese Cooking
1 large eggplant, peeled
2 teaspoons sea salt
1 tablespoon finely sliced spring onions
pinch ground white pepper
dressing
1/4 c malt vinegar
2 tablespoons shao hsing wine or dry sherry
3 garlic cloves, finely diced
1 tablespoon brown sugar
1 tablespoon light soy sauce
1/2 teaspoon sesame oil
Cut eggplant into long slices lengthwise, then cut into 3/4″ strips. Sprinkle with salt on both sides and lay on tray in single layer. Set aside for 10 minutes.
Dressing: place all the ingredients into a small heavy-based saucepan and bring to a boil. Reduce heat and simmer uncovered for 2 mins, then set aside to cool.
Place eggplant in colander and rinse well under cool water. Drain and pat dry.
Arrange eggplant in one layer on a heatproof plate that will fit inside a steamer. Steam covered for 6 mins or until eggplant is just tender when pierced with a knife. Remove from steamer and allow to cool slightly.
To serve, arrange eggplant on a plate and spoon over dressing. Sprinkle with onions and white pepper.