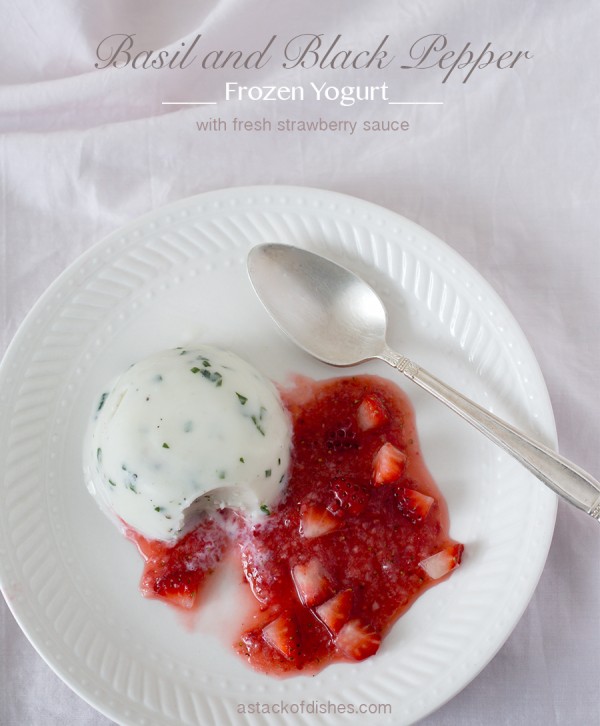 A few leaves of basil and some grinds of black pepper get stirred into store bought frozen yogurt for a sensational, and healthy, dessert for Mother's Day.
You all should know me by now that I am not opposed to milking a cow for fresh milk for making ice cream- but some days… I get tiiiiired! My packing and sorting have already begun for my move, and though the spirit is crying out to cook and create, the flesh is getting to be a big fatigued.
In my family, Mother's Day is a trio of celebrations. We have in addition two birthdays (Mom's and daughter Olivia). It can get a little tricky as to who gets to lay back and enjoy the holiday, and who ends up being the hostess. Since we all love to cook and entertain there are no complaints, just the question of who is going to take the reigns. This year will be a combined effort, which really is the best answer of all.
This dessert is a wonderful last minute throw together also. A good thing to know when the guest who promised dessert shows up empty handed (or you're that guest who remembered last minute on the way to someones home). You can mash up the yogurt and herbs during dinner prep and let it re-harden as you eat. No one would push aside a nice dish of plain frozen yogurt- but you can get a real WOW reaction with little effort.
Then you can lay back and enjoy the celebration.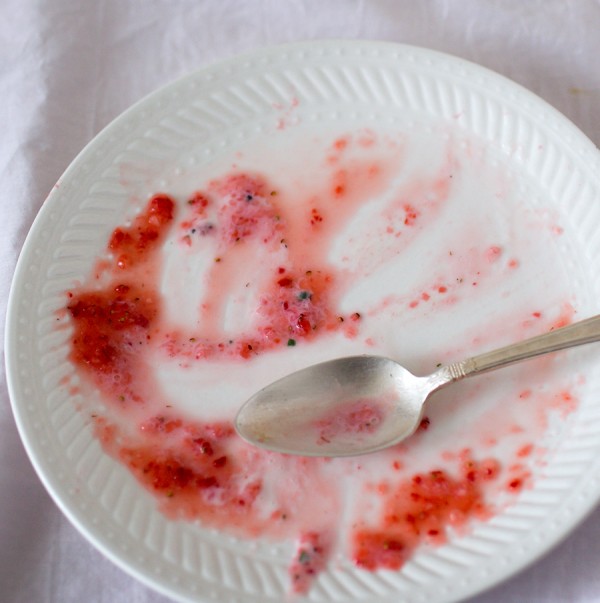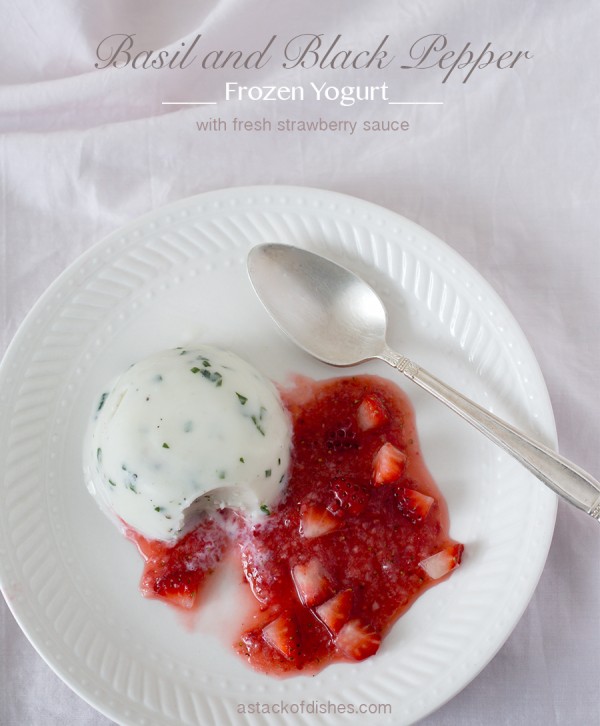 Frozen Yogurt with basil and black pepper with fresh strawberry sauce
2013-05-09 06:40:57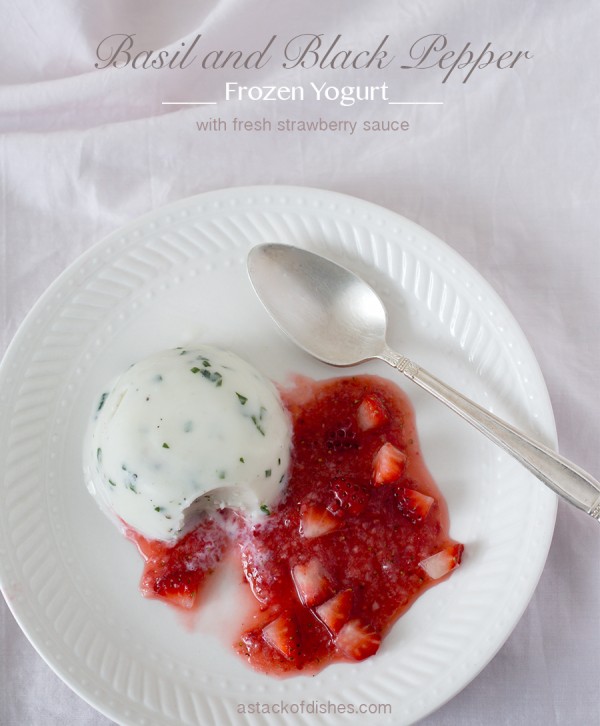 Start with plain frozen yogurt. Fresh mint or tarragon work well here too. In a pinch, frozen berries pureed with a little sugar works if you can't get fresh strawberries.
Nutrition Facts
Amount Per Serving
* Percent Daily Values are based on a 2,000 calorie diet. Your Daily Values may be higher or lower depending on your calorie needs.
Ingredients
1 quart container of Non-fat Plain Greek Frozen yogurt
1 c fresh basil leaves, minced
6 grinds black pepper
1 quart of fresh strawberries
1/4 cup sugar
Instructions
Remove the yogurt in large dollops into a large bowl for it to soften for about 10 minutes- depends on the warmth of the room. You don't want it to melt, just get soft enough to blend.
Add the basil and pepper to the yogurt and fold together. It doesn't have to be perfectly uniform.
At this point if you want you can divide into small cups/molds for individual servings, or return to the original carton.
Place back into freezer to re-harden- at least one hour.
For the sauce
Clean and hull berries. Take about a third of the berries and dice into tiny cubes and set aside.
Place the remaining berries in a food processor with sugar. Blend until just smooth. Over blending with draw out pectin- not a bad thing, but makes a thicker sauce.
To serve, warm the individual cups under cool water and turn out formed yogurt, or place scoops in individual bowls.
Divide sauce amongst the servings and finish with the diced berries.
Notes
Unlike other molded desserts, once warmed the yogurt will slip right out. If you are serving this on a particularly warm day, chill the serving plates first.
A Stack of Dishes http://www.astackofdishes.com/