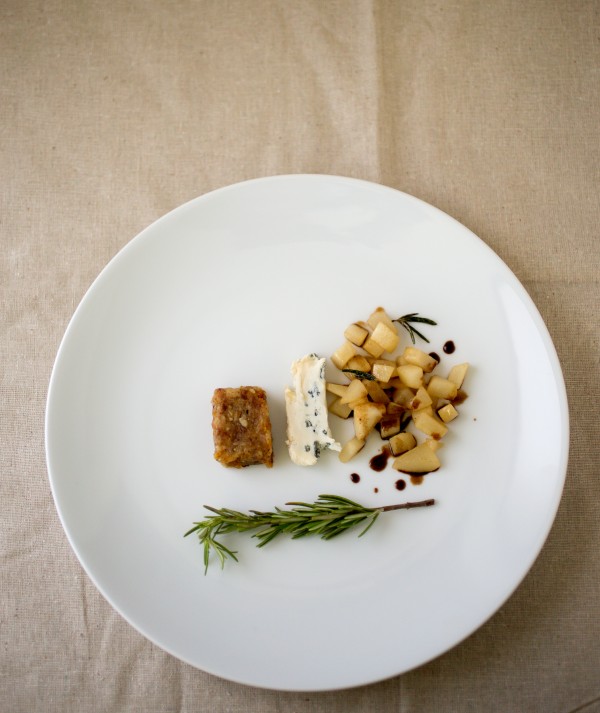 This recipe is what I refer to as a "tumble along". It all started with a unexptected bag of pears from our friend Gail Cox, which she harvested off of her tree in Arkansas. In the bag that she handed me were a half-dozen hard green pears with gorgeous obtuse shapes and the sweetest flesh. Then a day later came fragrant snips of rosemary from Susan Pierce's garden, my neighbor across the street (I'm trying to root it now so I can grow my own crop- any advice?). Then finally a hunk of blue cheese I had just purchased on our last trip to Dallas begged to get in on the act.
The fun part is the mental matrix of how to play with these foods. I rolled around the flavors in my mind, pulling them this way and that, into a cold dish, then over to a warm…. Eventually I came around to a version of a savory tart, which lead to how to include dried fruits and nuts- and then how to enhance that gorgeous blue cheese…. and then I thought about shape….
The result is this deconstructed version of that mental imagining. Not only pretty to look at, but also a fun balance of flavors and textures. That coming Saturday we were planning a small dinner party and this would be the perfect way to kick off the evening. To compliment it, Pam would serve it with a beautifully aromatic white wine, called Abraxis from Robert Sinsky, which we had brought back in our suitcase from Napa.
The night of the party I had prepared everything in advance, including slicing the cheese and dicing the pears. Our friends gathered one by one into our kitchen as I laid out the plates. Once everyone arrived I sizzled and tossed the pears and rosemary at the stove while they sat at my counter. As everyone took their seats at the dinner table I spooned the warm balsamic glaze over the pears, and Pam poured the chilled wine.
My tumble along had now become a gathering.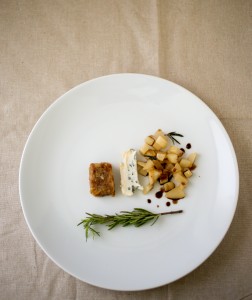 Fruited Nuts with Warm Rosemary Pears
2013-09-14 05:13:30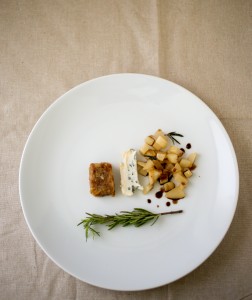 Fruits, nuts and cheese have long been a heavenly pairing. Serve the pears just out of the pan, and if pears are not available, feel free to substitute with apples or quince.
Nutrition Facts
Amount Per Serving
* Percent Daily Values are based on a 2,000 calorie diet. Your Daily Values may be higher or lower depending on your calorie needs.
Ingredients
1 1/2 cups dried apricots, roughly chopped
1 cup toasted walnuts
1 cup almond flour
2 tablespoons coconut oil or almond oil
1/4 teaspoon salt
3 ripe hard variety pears, peeled and finely diced, about 2 cups
2 tablespoons sweet unsalted butter
2 tablespoons light brown sugar
1 tablespoon fresh rosemary needles
1 pinch of salt
3 tablespoons quality balsamic vinegar
(some lemon juice if you plan on preparing the pears in advance)
6 slices of best quality creamy blue cheese
Prepare the apricot nut paste
In a food processor combine the apricots, walnuts, almond flour, coconut oil and salt.
Pulse until roughly combined, you want to end up with fine chunks of apricot and nuts. The paste should also stick together when pinched with your fingers. If the mixture is too stir in a bit more oil or even some water.
Prepare the pears
Warm a medium sized saute pan over a medium flame and slowly melt the butter. Before it browns, add the pears and brown sugar and sauté for 2-3 minutes, allowing the pears to give up just a tough of their juice and bathe the fruit in the sugar and butter.
Add the rosemary and cook another minute and a half, then sprinkle with the salt.
Divide the warm pears amongst the serving dishes, reserving the juices in the pan. Add the vinegar and stir until the juices create a viscous syrup~ about 2 minutes.
Spoon the syrup over the pears, serve with a 2 tablespoons of nut paste and a slice of blue cheese.
Notes
The paste may be made several days in advance and kept in the fridge. You may pinch or roll the paste into a shape or leave it more free form by spooning it onto the plate.
The pears may be diced in advance and placed into cool water with lemon juice until ready to cook to prevent browning.
A Stack of Dishes http://www.astackofdishes.com/