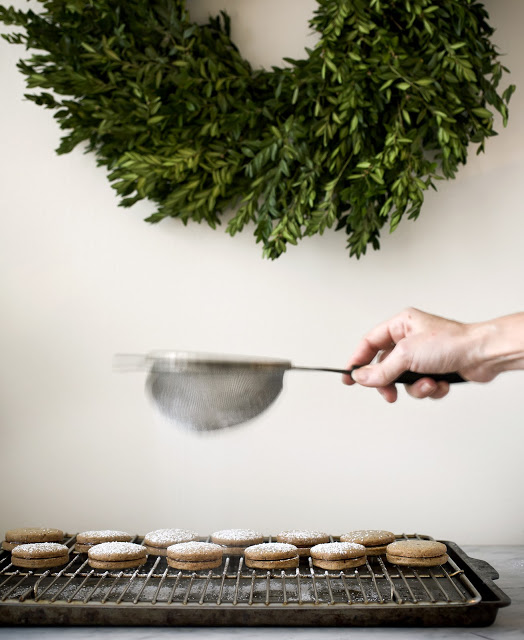 It turns out this year that my immediate family will be split apart for Christmas. It's a familiar scenario in the modern world of blended families and adult children. This is not a bad thing for us- we were all together for Thanksgiving, so no one feels deprived- and we have love all around the world to share. It really is a blessing in a lot of ways. But we will still celebrate together before we board planes and put miles and continents between us.
Tomorrow we will have little Christmas here at my place. My children will draw together from the corners of the city, and my Mother will drive in from the country. I can't wait. There is a relaxed energy when doing it this way, sort of like "Hooky Christmas". Extra celebrations are also always welcome.
I'll start working on our dinner menu today. Not a Turkey or Roast in sight, but a request for salmon and more relaxed eating. I love it. I'm still working on the desserts. Yes there will be a couple (few), that is how we roll in my house. The first of which will be these cookies.
They are beautiful cookie that consists of a delicate layer of rich chocolate ganache that nestles between the two layers of crispy butter thins. A tablespoon of ground espresso beans added to the dough provides a depth of flavor that compliments the chocolate, you don't get much coffee flavor, rather a bass note of richness.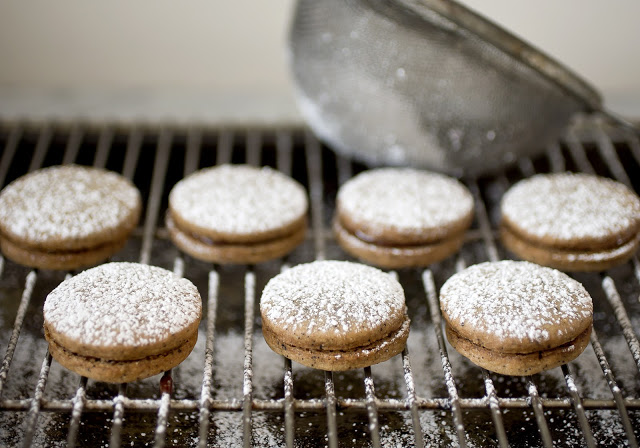 Ganache Filled Espresso Cookies
makes approx 30 cookies
The cookie rounds can be baked in advance and stored in the freezer until ready to fill and sugar dust.
.75c sweet butter, softened
1c sugar
2 eggs
.5t vanilla
2.5c ap flour
1t baking powder
.5t salt
1T ground espresso beans
Ganache
.5c heavy cream
3.5oz semi-sweet chocolate, chopped into small pieces
1T sweet butter
pinch of salt
1c powdered confectioners sugar for decoration
In a stand mixer cream together the butter and sugar until light and fluffy. About 4 mins on medium speed.
Carefully add the eggs and vanilla and beat smooth.
In a large bowl sift together the flour, baking powder, espresso beans and salt.
Transfer the wet ingredients into the dry. Gently and thoroughly mix the dough until fully incorporated.
Divide the dough into two pieces. Flatten them into .5″ thick disks, wrap in plastic and refrigerate for 30 mins.
Preheat oven to 350˚ and prepare baking sheets with parchment or grease.
On a flour dusted work surface, roll out the dough to an even .25″ thickness. Cut rounds using a 2″ biscuit cutter. Place the cookies on the sheet with even spaces between.
Bake until the edges just turn golden, approx 12-15 mins. Allow to fully cool before filling.
To make the ganache: place the chocolate into a small bowl. Warm the cream over medium heat just to the boiling. Immediately pour the hot cream over the chocolate and stir smooth. Add a pinch of salt and the butter.
Allow the ganache to cool until a thick icing consistency.
Place the ganache into a pastry bag, or plastic bag with hole cut in the corner. Squeeze a dollop of ganache into the center of each cookie, topping with another and pressing down to distribute the ganache.
Place powdered sugar into a fine sieve and evenly dust the tops of the cookies.
If not to be eaten right away, store in the fridge.