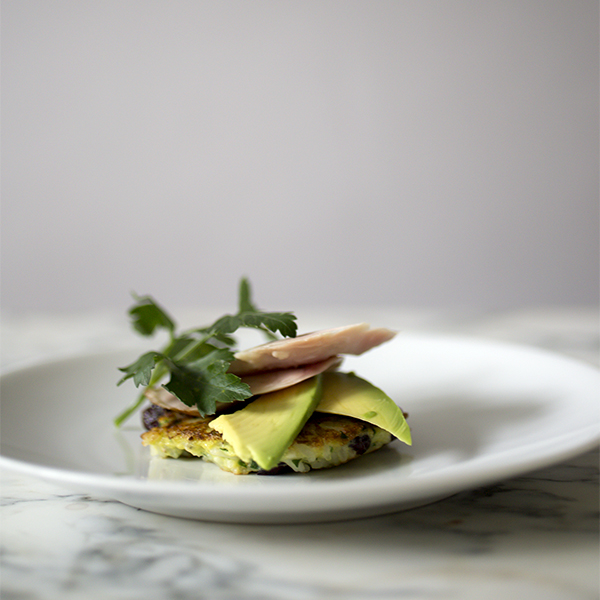 My life will be taking me back to NYC on a more regular basis, one week out of every 5 if all goes well. My reasons are many and good, but that's not important here. How that affects my writing here is it gives me some juice, some much needed verve.
I hate to whine on about the have nots that I face in my small Southern city (to be fair things are improving rapidly and well), but I will admit to a lack of inspiration for me at times. I will not place all the blame on place- I'm more of a grown up than that. Art, beauty- it's all a creation out of nothingness so I should be glad for the grist. But still…
But still, so what.
So freakin' what.
I cook for others often, but my real mistake is not cooking more often for myself. I LOVE food. I mean I just think it's the bomb! Do you share my feeling of potential when you enter a well stocked market? There are things that can me done here people! But I now share my life with a fairly picky eater and often dieter, and well… I'm not as able to spread my wings as much as I would like. But I will.
So now- enough of all that- here we have it. Something from more of my wheel house. My gorgeous supermarket stocks these lovely small smoked chickens (and dare I say they are not pricey either). I just adore them. Chicken chicken chicken- I how I can eat thee everyday- but man, is it exciting to have it ready to eat and so tasty! I'll add it to pasta or top my cheese and cracker snack with a slice. It's faboo.
After making a batch of chili for a crowd a few days ago I ended up with a rather large bowl of white rice (don't you know the brown rice went in a flash, bravo!) I hate to waste food and so what to make of it? I thought about rice pudding, and I thought about a casserole, but this is what I came up with. A lovely pan fried cake laced with ginger, parsley and bits of diced chopped dried cherries- the perfect pairing to my smoked chicken. Tadaaaa!
This would be also stupendous in the morning with a poached egg on top, or serve these cakes alongside roasted fish etc. They take no time flat to throw together- use those bits of herbs in your bin, add a jot of cheese if you wish!
And so we have lift off. Cooking from my soul for the freakin' heck of it. I"m jazzed.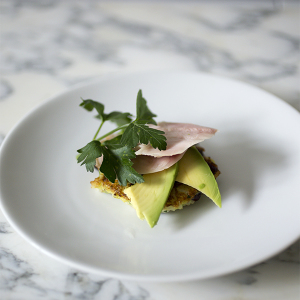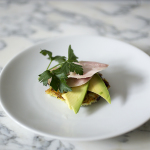 Ginger Herb Rice Cakes with Smoked Chicken
2015-03-13 10:41:21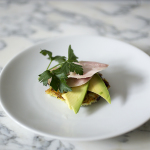 make as an appetizer or side dish.
Nutrition Facts
Amount Per Serving
* Percent Daily Values are based on a 2,000 calorie diet. Your Daily Values may be higher or lower depending on your calorie needs.
Ingredients
1 cup cooked rice (any kind will do)
1 tablespoon minced ginger
1/2 cup finely chopped parsley
1/2 cup chopped dried cherries
1 large egg, beaten
salt and pepper to taste
8 slices smoked chicken (smoked salmon, trout, etc would also work well here)
1/2 avocado sliced into 8 pieces
extra parsley to garnish
Instructions
In a medium bowl combine the rice, ginger, parsley, cherries, egg, salt and pepper and stir well to combine. Let it sit for a minute while you prepare the pan.
Warm a large skillet over medium heat with a teaspoon of oil and swirl to cover. Add large spoonfuls of the rice mixture to create a 4"patty when tamped down to a 1/2" thickness.
Cook gently for 3-4 minutes, then flip and cook the other side until toasted, about 2 minutes.
Serve with two slices of avocado and chicken on top and flourish with some parsley.
Notes
If you would like to serve these at a gathering you may make the patties in advance, not over cooking them. Before serving, gently warm them up in a pan and you're golden.
A Stack of Dishes http://www.astackofdishes.com/