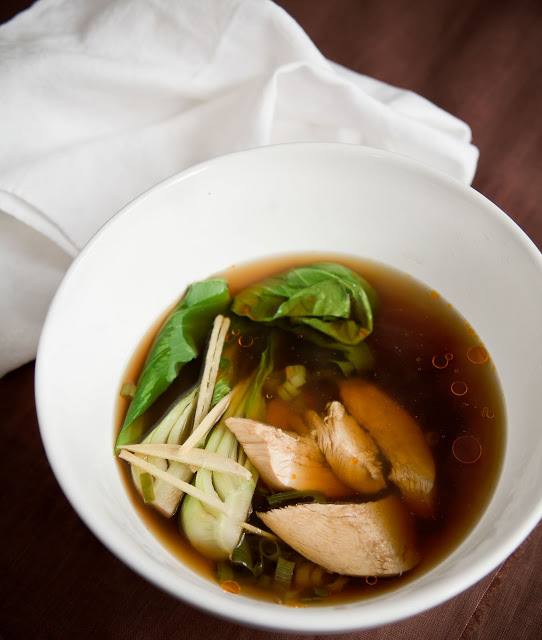 As the holidays season descends upon us and the days get short and compact, it's a lovely thing to come home to a warm brothy soup that only takes a short while to assemble and prepare.
This soup is a standby for me and it lends itself to creativity depending on what's on hand in the cupboard or vegetable drawer. You need just a few basics, such as garlic, ginger, chicken broth and chicken, but from there on- you can "McGuyver" this dish anyway you would like. Leftover noodles or rice can find their way into the pot, or left over veg and the odd ends of this and that- mushrooms, carrots, cauliflower, spinach, etc.
I've set the stage for the classic here- but I'll leave the rest to your interpretation. The primary thing is to make a warm flavorful broth and keep it healthy and light. The perfect revival to a day of dashing.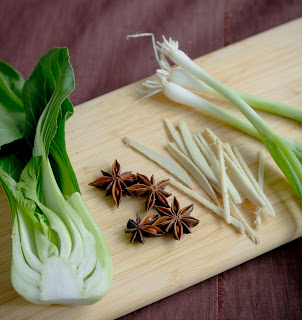 Ginger Poached Chicken Broth Soup
serves 2 generously
3T of fresh ginger peeled and sliced into matchsticks
2cloves garlic smashed and rough chopped
1T vegetable oil
2-3 star anise pods
48oz box of your best low sodium chicken broth
soy sauce to taste- start with 2T
1 large chicken breast or leftover cold chicken cooked
1 bunch scallions, sliced into rings including whites and greens
1 baby bok choy, quartered and washed
drizzle of hot chili sesame oil
In a large pot warm the oil over medium heat, gently cook the garlic to release the oils. Do not toast.
Add the ginger and the star anise and then pour in the broth and soy sauce. More can be added right before serving to adjust for taste. 
Allow to come up to a boil and then slip in the uncooked chicken. Gently simmer until cooked through. Time will vary based on the thickness of the breast, but allow 20 mins or so. If using precooked chicken allow the broth to simmer for 15 minutes to develop the flavors and then add the chicken to warm through.
Right before serving add the bok choy and allow to gently cook to a tender/crunchy stage- just a minute or so.
Top off with scallion and a drizzle of hot chili oil right before serving and add more soy sauce if needed to taste.