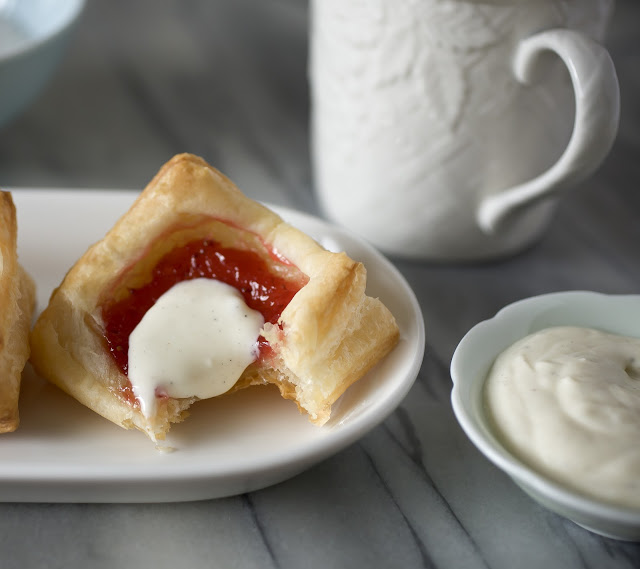 A Sunday morning repose, an afternoon respite. The crunch and yield of the pastry, the toothsome jammy filling complimented by a cool spiced cream. Easy elegance, how lovely.
Forgive me dear readers for this delayed post. I've been a bit of a traveling bum, and last week I indulged in not taking along my computer. Though I have missed being away, it was a delight to roam and indulge without distraction. If you haven't had the chance to do the same in awhile, I invite you to treat yourself as soon as humanly possible! If you need me to write you an excuse note- just let me know, you have my permission.
I can clearly remember the first day of summer when I was a girl of about 9 years old. I remember waking, smelling the sweet air and thinking, "I have all day for ME! and weeks and weeks of it!". I wore shorts every day, ran around the yard with my brother, trekked to the beach with a cooler of cold lemonade and sold my mother's garden tomatoes on a table in the front yard to passing neighbors. This is the joy that I've been experiencing recently and truly, the air has been just as sweet.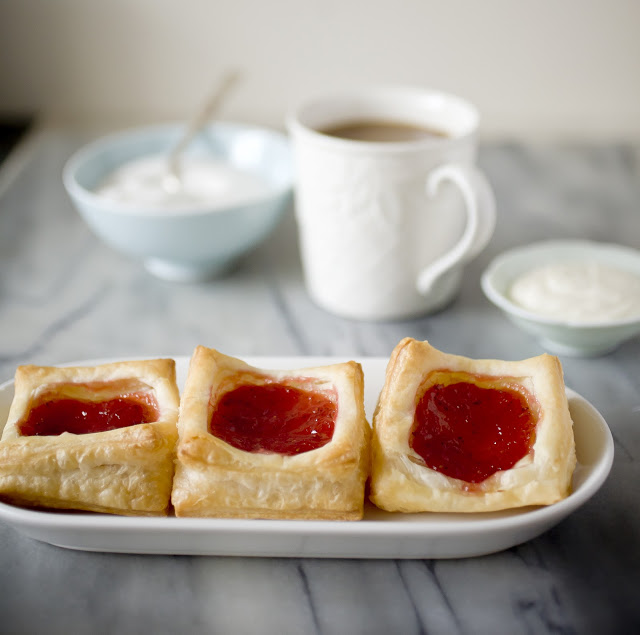 This last installment of coffee treats is certainly not the least. The Gingered Rhubarb filling is a summer go to that I hope will become a favorite of yours. A healthy dollop onto a square of puff pastry makes a quick elegant jewel of a dessert, but the leftover sauce warmed and served over vanilla ice cream is another divine treat. Both of these desserts are good "emergency" sweets. Whenever I find myself in need of a last minute something, dashing for a pint of vanilla ice cream is simple enough, and a warm fruit sauce makes a near disaster sublime- and if the oven is on from dinner, frozen puff pastry takes just minutes to thaw and those babies can be popped into the oven in no time.
There is magic in puff pastry. Go for the magic.
I hope by this point you have taken a moment to visit Irene's Beans. You will understand why I am so taken with her coffees. I can tell you that tasting the different styles has been a delight, and one I really want you to try for yourself.
So here comes the full on summer my loves. Enjoy an afternoon coffee and start planning your summer fun- and no kidding about that note, life is just too short.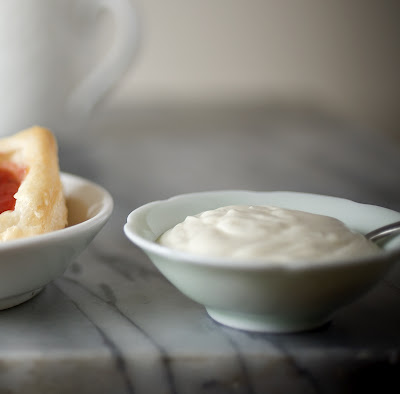 Ginger Rhubarb Tarts with Cardamom Creme Fraiche 
makes about 2 cups
4c rhubarb cut into small chunks
1c strawberries rough chopped
1T fresh minced ginger
.5 c sugar
pinch of salt
prepared puff pastry- I used Dufours
4T creme fraiche
.5t cardamom- freshly ground
In a medium heavy saucepan place the fruits, sugar, ginger and salt. 
Slowly warm over low heat until the sugar draws out the moisture in the rhubarb and berries. Raise the heat and bring to the boil, then lower the heat and simmer for 10 mins.
The lumpy chunky rhubarb will break down and meld into the the berries into a beautiful sauce.
Place into a container and cool or place in fridge for future use.
To make the tarts:
*a word on puff pastry*
I know a lot of folks that can be intimidated- and you should be. Nah, just kidding, but puff pastry does need delicate handling. Puff pastry is a heavenly balance between butter and flour that is science at it's best. It's important to keep your pastry as cold as possible, and not handle it more than necessary, so as not to disrupt that balance. If things are taking longer than they ought to, just toss the pastry into the fridge to cool and then carry on. You can also prep these tarts in advance, store in the fridge and then pop into the oven when ready.
Preheat oven to 350˚
Thaw pastry in the fridge. If you have a marble pastry slab this is the perfect time to use it, if not, the counter is just fine.
Cut the pastry dough into 4 equal squares. 
Lightly sprinkle the clean workspace with a little flour. Gently roll out a square of pastry to approximately half it's thickness.
With a sharp knife, cut into 2″ squares.
Place a healthy dollop if Rhubarb sauce in the center and place onto baking sheet.
Pop into the oven for approximately 12 mins until puffed and golden.
Combine the cardamom with the creme fraiche and let stand a few minutes before serving. Making the creme the day before is even better to allow the flavors to meld and the cream to thicken- but it's all good.