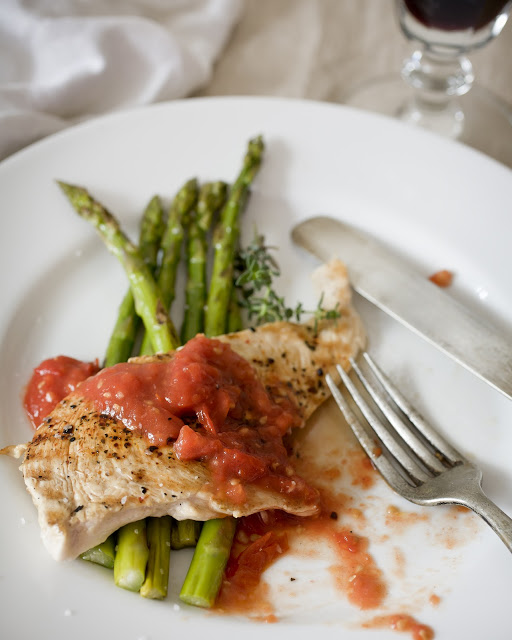 You take a handful of tomatoes and slow roast them, toss in some garlic and oil and a little magic happens. Gotta say this is my favorite way to cook- something so easy with simplistic dynamic flavor.
The idea came to me by way of the bowl of tomatoes sitting on my counter, patiently waiting, but also insistent in their silent plea to be turned into something lovely.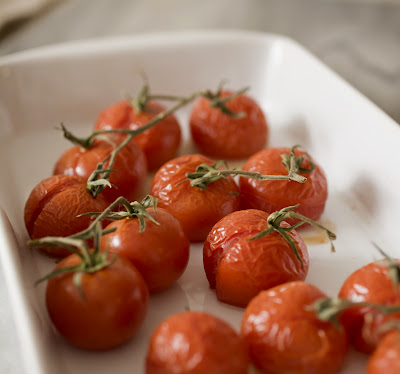 So into a pan they went, popping them into a warm oven and about 30 mins later, they were ready to go. The best thing about this sauce is it's also great on bruscetta with some milky fresh mozzarella or even over a bowl of fresh made pasta. A simple toss and that's all it takes. I had made a small batch of this sauce, I wish I had made a mountain of it.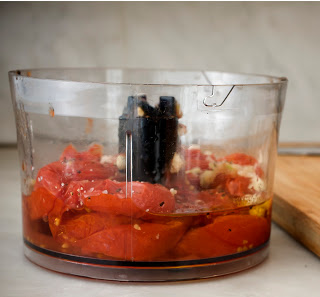 The chicken I sprinkled with some smokey paprika, some garlic and salt and threw it on a
grill pan
, with the asparagus grilling at the other end. If you don't have a grill pan I highly recommend one. I use mine so often it sits permanently on the stove top.
Charring the asparagus adds a great dimension and I love that this meal all happens in one pan. A smart simple, heart healthy, weekday meal. The next time I'll invite someone over…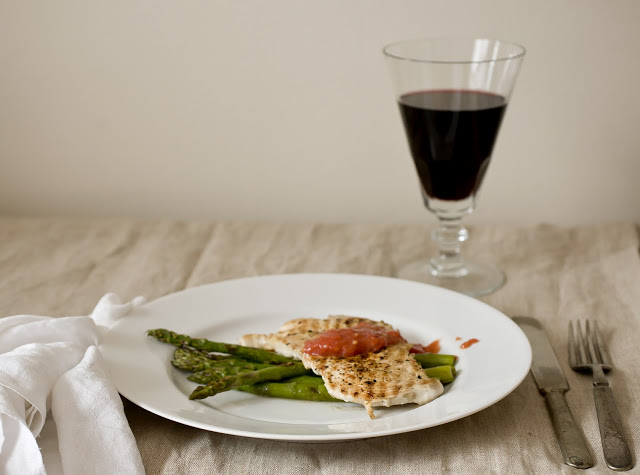 Slow Roasted Rustic Tomato Sauce
makes about a cup
2 fistfuls of vine tomatoes- or really any tomato you have about
2 cloves garlic, smashed and minced
4T olive oil
S & P
In a roasting pan, toss in the tomatoes and roast until shriveled, but not dried out. My batch took approximately 30 mins in a 350˚ oven.
Using your hands take each tomato and squeeze out most of the tomato water- you can reserve this for something else, it's good stuff.
Place the tomato pulp into a food processor- I used the small unit that came with my hand blender-toss in the garlic and oil and give it a quick rough whizz. I like mine just a little on the rustic chunky side.
Add Salt and Pepper to taste.
Let this rest for a bit, oh say 30 mins or so, for the garlic to infuse into the sauce. If you're so inclined you can toss in basil or oregano into the mix- I happen to like the simplicity here.
The sauce can be made a day or few in advance and kept in the fridge. Gently warm to serve.