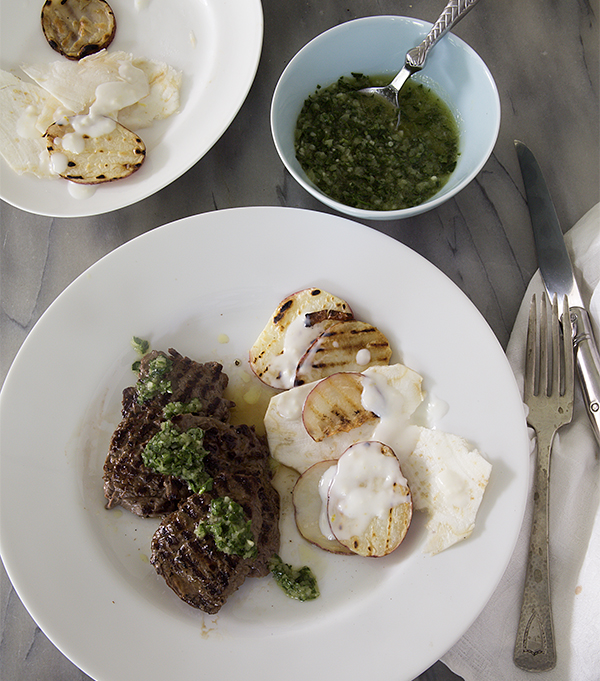 Living in this part of the world there is a tremendous bounty from the land. Even better is how generous people are with sharing it with others. A few months ago our friend Dee McCoy shared with us some of the spoils of her deer hunting- these delicious venison steaks. In the north (an expression I hear myself saying regularly now) venison is a rarity and in most places a luxury on a NYC menu. When I got all excited about the cache of meats, I received shrugs and a "yeah, we have that all the time here".
This is one of my new found joys of living in Louisiana.
There are all sorts of meats and vegetables that I would rarely see in the big apple, yet around here they are commonplace. As you can imagine, I'm in heaven.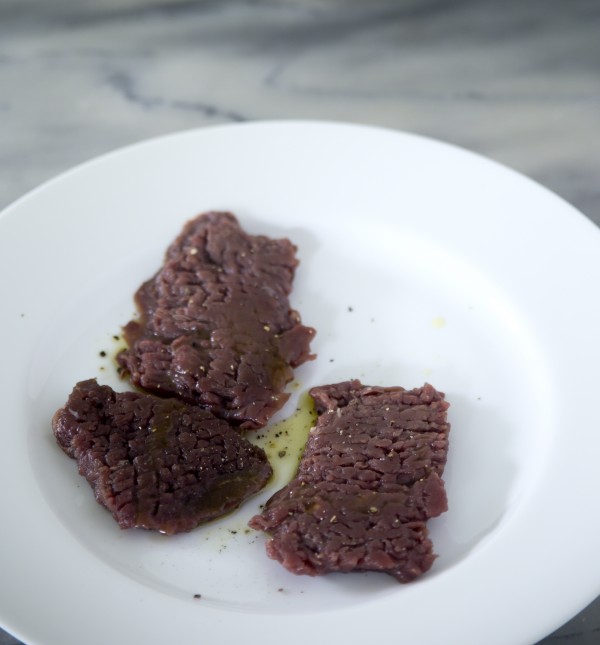 The term venison refers to any meats that are hunted, including boar, rabbits or goat- but these days it is widely recognized that the term venison refers to deer meat. Venison has a finer texture than beef, and is by far much less fatty. I am told that it can have a gamey taste, but I've never experienced that. To my mind venison reminds me of an exquisite beef tenderloin- lean, rich and flavorful. The low saturated fat (less than 1 gram/4 ounce serving) makes it a fantastic replacement for beef in your diet.
Now that we have the grill going what would be better? To add some zing to this neutral meat I whipped up some chimichurri. The sauce turned out so well I am sorry that I didn't make a quart of it. (might still). Chimichurri has such a great balance of refreshing herbs and biting garlic all melded in olive oil.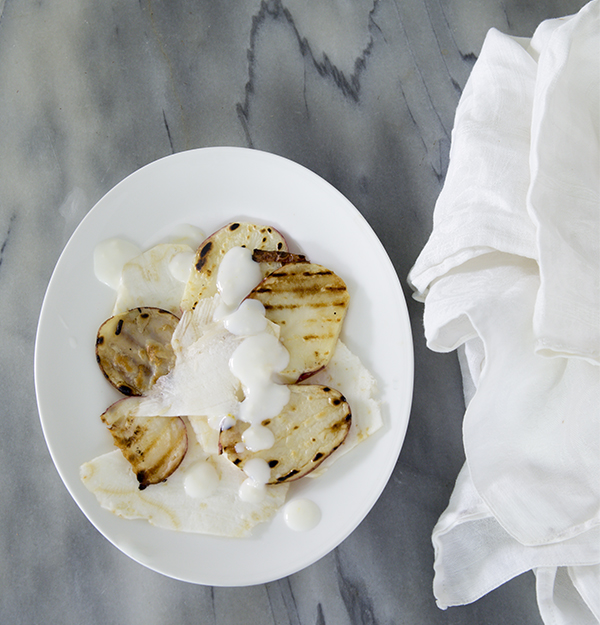 For the salad I made a grilled potato and shaved celeriac salad to which I added a light and tangy lemon buttermilk dressing. I love the tang of buttermilk alongside a rich meat and the lemony flavor helps balance out the garlic in the chimichurri.
Celeriac has a mild flavor but has a bit of a tough texture. I like to shave it to make it more accessible to eat, the same as I do with fennel bulb.
This meal takes a little prep time for chopping and mixing, but it all can be done ahead of time, and all totaled, it's really not terrible. And heck- if you make chimichurri by the quart you can enjoy it for days!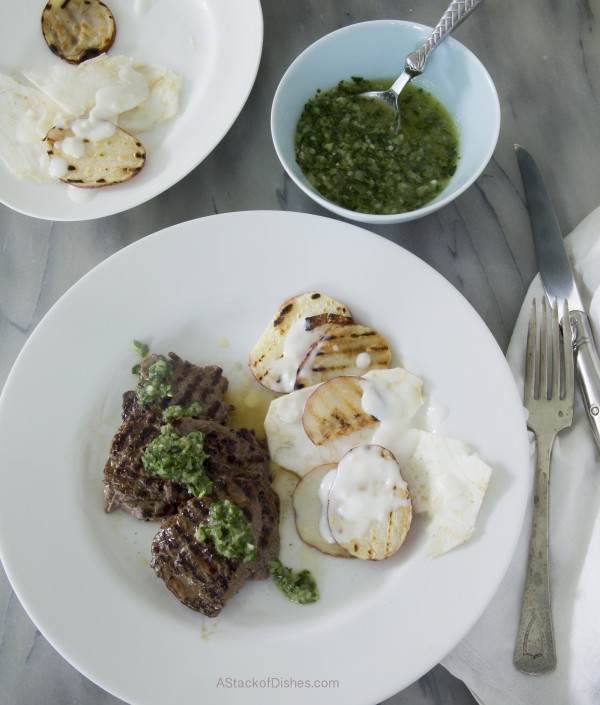 Grilled Venison with Chimichurri Sauce
2013-06-24 08:09:04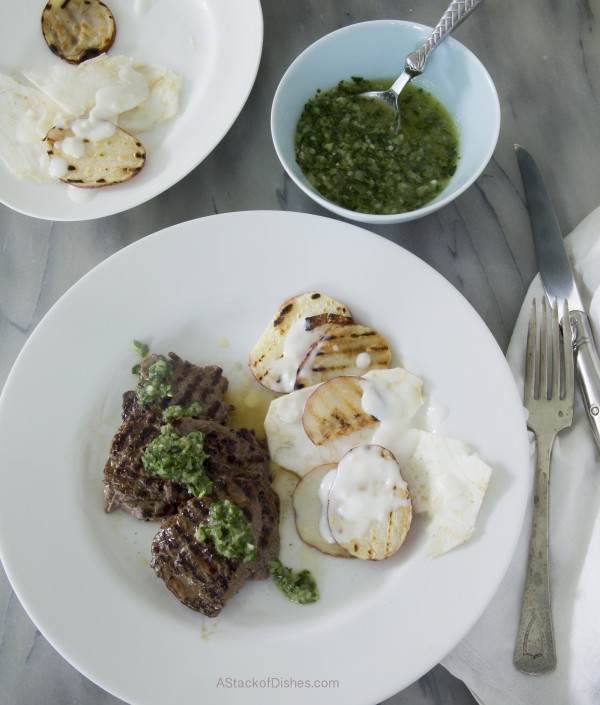 Chimichurri is an concoction of herbs, onion and garlic that brightens anything you can put on a grill- meats, fish and most vegetables!
Nutrition Facts
Amount Per Serving
* Percent Daily Values are based on a 2,000 calorie diet. Your Daily Values may be higher or lower depending on your calorie needs.
Ingredients
1 1/4 pounds of venison steaks
1/2 cup olive oil, plus 2 tablespoons for preparing the meat
1/4 cup red wine vinegar
1 small onion, rough chopped- about 1 cup
4 cloves garlic, minced
1 cup rough chopped parsley, including stems
1 cup rough chopped cilantro, including stems
1/2 teaspoon salt
1/8 teaspoon fresh black pepper
1/4 teaspoon red pepper flakes, optional
Instructions
Prepare the venison by brushing both sides with olive oil and sprinkle lightly with salt and pepper.
Prepare a grill.
For the sauce
In a large food processor or blender: combine the oil, vinegar, onion and garlic and whizz for up to a minute to finely mince the onion and garlic. Add the rest of the ingredients and pulse until you get a rough puree. You want to see the herbs in small bits and turn it into a smooth sauce. This should only take a minute at most.
Reserve the sauce until ready. As it sits the heat and flavor of the onion and garlic will bloom, so best to make this sauce 15-30 minutes before serving.
Over a medium high heat grill (or grill pan), cook the venison for 2-3 minutes on the first side, then flip for another 1-1.5 minutes.
Serve immediately with dollops of chimichurri.
Notes
You may also take creative liberty with the sauce. Feel free to use other combinations of herbs for a different taste profile. This type of sauce is a great way to use the odds and ends of herbs you might have on hand.
A Stack of Dishes http://www.astackofdishes.com/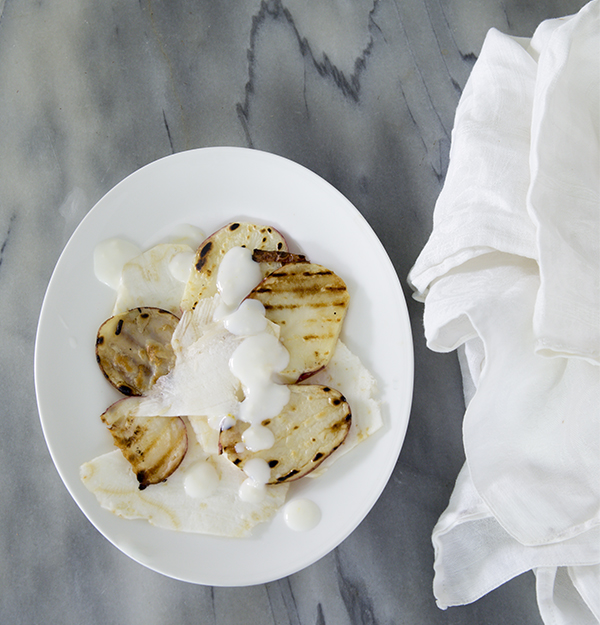 Grilled Potato and Celeriac Salad with Buttermilk Dressing
2013-06-24 08:23:29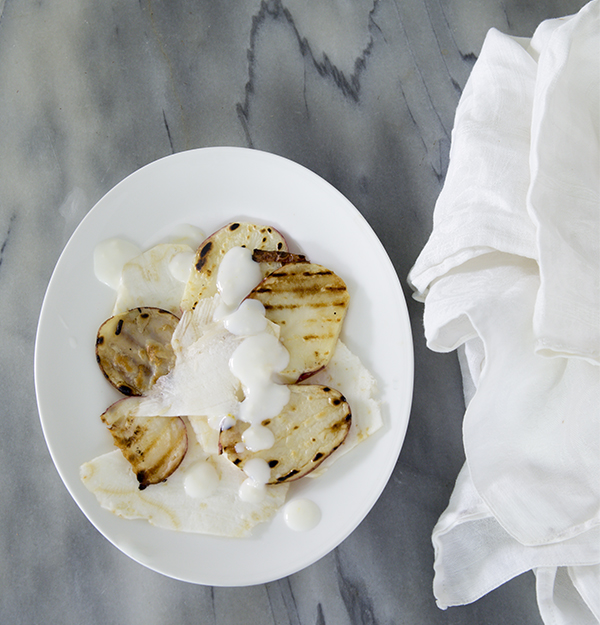 This light and tangy salad is great with any grilled meal. It offers a wonderful foil to smoke and char.
Nutrition Facts
Amount Per Serving
* Percent Daily Values are based on a 2,000 calorie diet. Your Daily Values may be higher or lower depending on your calorie needs.
Ingredients
2 pounds of red new potatoes, sliced into 1/8" slices
1/2 celeriac bulb, trimmed and sliced finely- preferably on a mandoline
Bowl of water with splash of vinegar
1 cup reduced fat buttermilk
1/4 cup nonfat plain Greek yogurt
3 tablespoons olive oil
zest of one lemon
2 tablespoons lemon juice
1/4 teaspoon salt
Instructions
Fill a medium/large saucepan halfway with water, add 1/2 teaspoon of salt and bring to the boil. Add the potatoes and gently boil for 4 minutes. You want a half cooked potato that is yielding to the touch, but not mushy. Drain and allow to cool for 2 minutes.
Preheat a grill or grill pan.
Grill the potatoes for 2 minutes on each side to get grill marks and finish the cooking. Set aside.
After shaving the celeriac, place in a bowl of cool water with a splash of vinegar to prevent browning.
Combine the rest of the ingredients in a bowl and stir until smooth.
Remove the celeriac from the water bath and pat dry. Combine with the potatoes and serve with the dressing.
Notes
I kept this salad simple and with no onions of garlic as a compliment to the chimichurri. When serving this with a lighter meal you may add some finely sliced red onions to the salad, or a small amount of minced garlic to the dressing.
May be made ahead of time.
A Stack of Dishes http://www.astackofdishes.com/