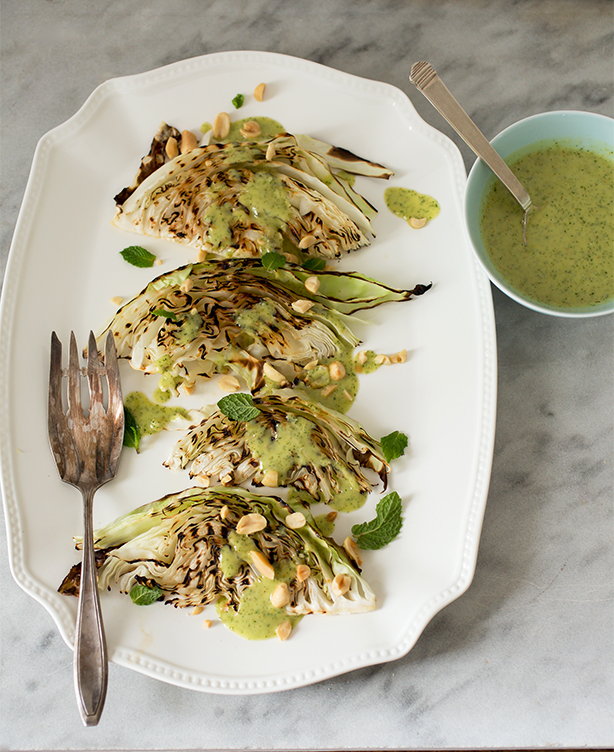 I cannot take full credit for this grilled cabbage recipe. It's a blatant take off (not complete copy) of Faith Durand's recipe that was featured on The Kitchn. I found it so intriguing that I just had to give it a try.
Cabbage is a food that tends to be on my periphery. Though known for it's vitamin C packed leaves and neutral taste when eaten raw, I hesitate to cook cabbage, except for the odd stuffed leaves or alongside corned beef in March. Cole slaw is not really one of my favorite dishes, I find it too sloshy and laden. Occasionally I'll make a marinated salad with a dressing similar to this one. Marinating softens the leaves making to easier on my jaw, and it brings out the sweetness in the cabbage.
As it turns out, grilling also brings out some of that sweetness too. Best grilled outside though to allow the sulfurous odor to dissipate, but once cooked, it mellows into neutrality.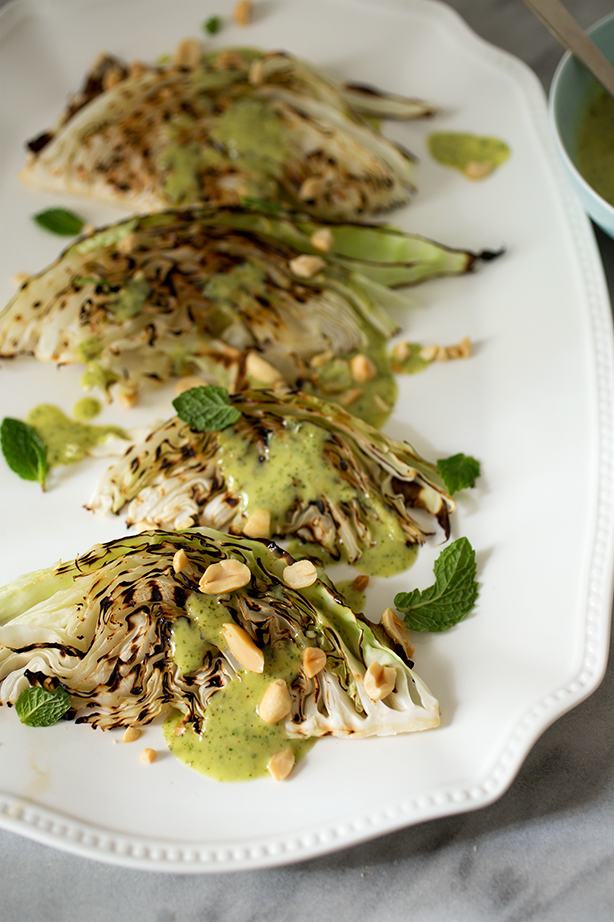 The smoke and the char from the coals also adds a gorgeous dimension which is not to be missed, but if you without a charcoal grill a stovetop grill pan, or even a broil can do the trick.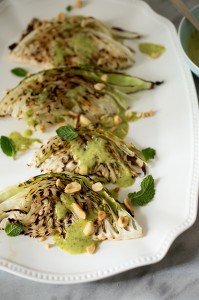 Grilled Cabbage with Cilantro Peanut Sauce
2013-10-21 04:17:54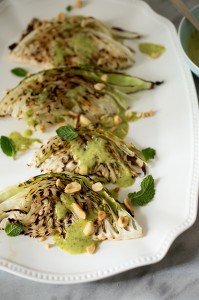 Citrusy cilantro sauce with a little crunch of peanuts is a great foil to the mellow sweetness of grilled cabbage. Try grilling either red or green cabbage!
Nutrition Facts
Amount Per Serving
* Percent Daily Values are based on a 2,000 calorie diet. Your Daily Values may be higher or lower depending on your calorie needs.
Ingredients
One head green cabbage
4 tablespoons fresh lime juice
1/4 cup olive oil
1 tablespoon fish sauce (nam pla)
2 small cloves garlic, smashed
1 fistful of cilantro leaves and stems, about a cup
1/2 teaspoon salt
1/2 teaspoon minced thai chili (or cayenne)
1 teaspoon sugar
1/2 cup toasted unsalted peanuts, chopped
1/4 cup fresh mint leaves
canola oil for brushing cabbage
Instructions
Preheat grill or grill pan.
Remove outer damaged cabbage leaves. Cut cabbage in half through the middle preserving the core. Cut each half into quarters, maintaining a piece of the core when possible. Lightly brush with oil and place on grill.
Cook for 5 minutes each side or until the edges are black and there is some char on the leaves.
Remove when about three quarters done. An al dente cabbage is what your looking for with crispy charred edges.
While the cabbage is grilling, combine the lime juice, oil, fish sauce, garlic, cilantro, salt, cayenne, and sugar in a blender and whizz until combined.
When the cabbage is done, place onto a serving platter and serve with dressing and sprinkle with peanuts and mint leaves.
Notes
Not a fan of fish sauce? go ahead and leave it out and adjust the salt.
Adapted from Faith Durand: The Kitchn
Adapted from Faith Durand: The Kitchn
A Stack of Dishes http://www.astackofdishes.com/