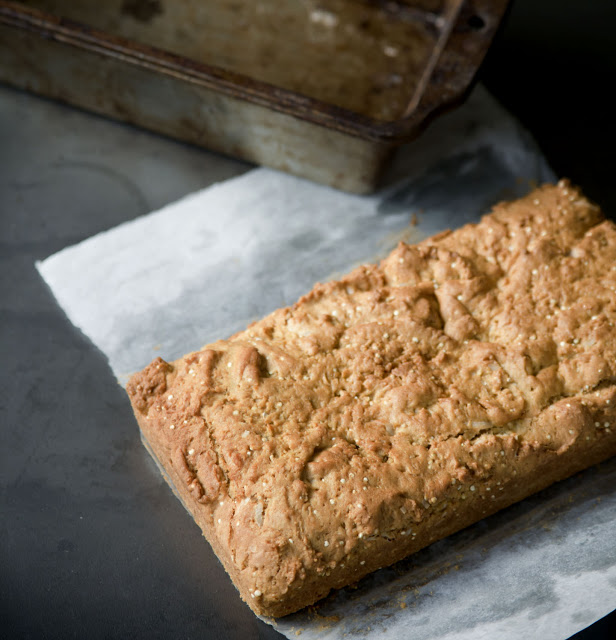 A few weeks ago I found myself standing in front of a huge Bob's Red Mill display that had an incredible assortment of flours and grains- many of which I had not seen on store shelves before.
I grabbed some graham flour and some whole wheat bread flour, but then my eye landed on High Fibre Coconut Flour. News to me, I have never seen such a thing- so tossed into the basket it went.
That package sat around for a few weeks until I could decide what to make with it. I finally decided to reinvent my pumpkin quick bread recipe- not that it needed any fixing, it certainly wasn't broke, but as you know, I love to play. I am also still mesemerized by the quinoa I made a week or so ago and still thinking on how to add that into other things.
Somewhere in the back of my mind was a cookie recipe or something that used the grain uncooked. I searched for it but couldn't find it. So naturally I just decided to give it a go- how much trouble could I get into?
I replaced a half cup of all purpose flour with the coconut flour. The package warns about the high absorption of the flour and the potential need for added moisture. The flour has a lovely coconutty aroma straight out of the bag. I knew from the start I was in for something good.
When all came together the consistency was definitely different than what I am used to. More pasty, but not gummy. I split the batter between two standard loaf pans. I was a little nervous about that dense batter, but I also like a biscotti-esque slice of this quick bread and it toasts beautifully.
They both baked beautifully and I am thrilled. Out came a dense, not too sweet and fragrant loaf. The quinoa gives it a nutty little crunch that I rather quite like. It sliced beautifully and I was right, toasted up divinely.
Now in the morning I take two of the pre-sliced pieces and tuck them into the toaster as my latte brews. A great way to start off the day.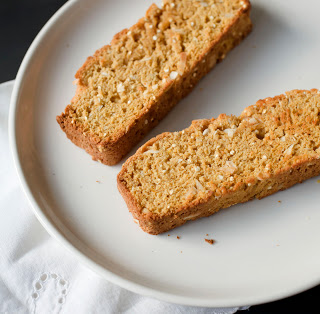 Coconut Pumpkin Loaf with Quinoa
2 c all purpose flour
.5 c Bob's Red Mill Coconut Flour
.25 c uncooked quinoa
.5 c sweetened shredded coconut
1t baking powder
1t baking soda
1T ground cinnamon
1/4t salt
.5 c canola oil
1.5 c sugar
1 large egg
1 cup canned pumpkin puree
2T cool water
splash of vanilla (1t?)
Grease and line with parchment paper two standard loaf pans. Preheat oven to 35o˚
In large bowl combine first ingredients through to salt (dry). Stir to combine.
In separate bowl combine oil, egg, pumpkin, water and vanilla.(wet) Stir to combine.
Mix the wet into the dry and swiftly stir to incorporate. Resist the temptation to over mix. The batter will be dense.
Divide into the two pans and smooth out tops with spatula.
Bake in the center of the oven for approx 25 mins. Test after 20 mins and check every 3 after that.
Allow loaves to completely cool before slicing.
1 SLICE: 123 CALS, 4.7G FAT (.7G SAT FAT), 12.2G TOTAL CARB, 3G FIBER, 2G PROTEIN