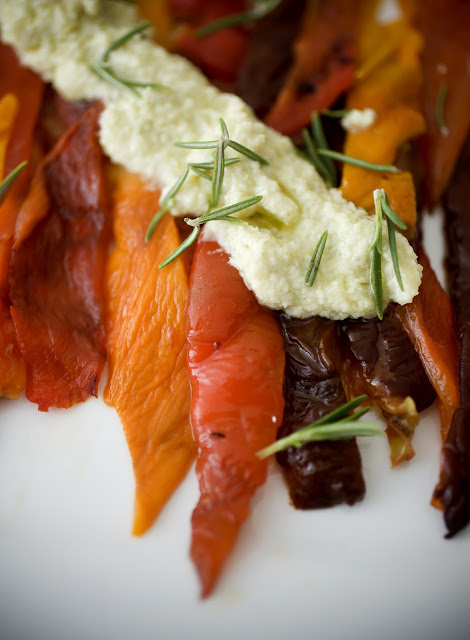 Fall colored roasted peppers with a light green artichoke puree.
Taking the time to make fresh roasted peppers is well worth it in my book. Not only do I appreciate the better flavor, but I don't drown them in oil either- which they simply DO NOT need! Peppers are packed in oil are to preserve them, but I eat mine right away. Instead of all that oil, I dress them with this fantastic artichoke spread, that will steal the show the next time you serve it.
Roasting peppers is a little time consuming, I won't kid you. I usually throw mine into the oven when I'm in the midst of doing other things. If I can't get to skinning them right away I'll do it later- though between you and me- skin-on ain't no bad thang either.
For company I'll do them up right, but once a week I throw in a nice big tray of roasted peppers to keep them in the fridge for a great afternoon snack- or an addition to a sandwich.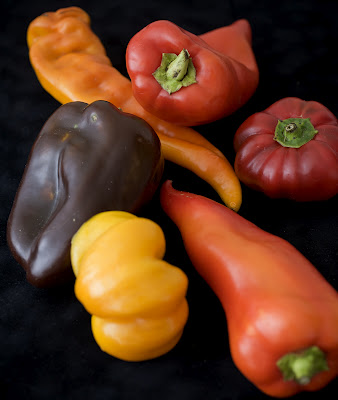 This batch was a result of falling in love with all the colors at the farmer's market. Seriously, how could I resist? I pulled them into my arms like I was arranging flowers. Once they were roasted I had a blast arranging them into a contemporary painting of colors on the platter.
I'm also really loving this artichoke dip. This was a bit of stroke of serendipity when I came up with this. At Fairway they sell lovely little jars of artichoke puree for a mere $9 each. On the other side of the aisle are the bins of pickles, olives and- artichokes. Do I need to explain my thinking?
The addition of the rosemary is just stellar. The pine flavor rosemary makes the artichokes sparkle and it compliments the peppers too. I make myself a good batch of this. It's so good on so many things.  Rather than mayo I use this garlicky spread on my sandwiches. The flavor is amazing and it's just as satisfying.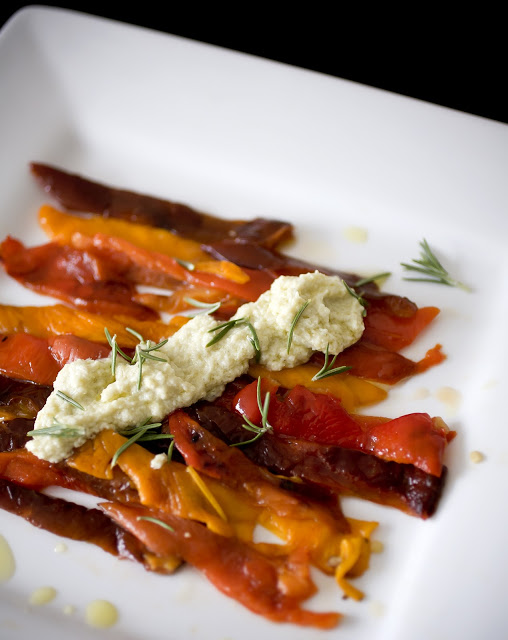 Strips of bright colored peppers with a nice addition of artichoke puree
So now you can add a brightly colored serving of delicious and healthy vegetables into your weekly menu.
Roasted Peppers with Garlicky Artichoke Puree
If you prefer to use pre-made peppers, that's fine. Drain off the extra oil and reserve for salad dressing. The artichoke dip is also wonderful with other veggies too. You'll fall in love, I promise.
serves 3 plus one cup of dip
6 peppers of varying types
1 can of artichoke hearts packed in water
1 small clove of garlic, crushed and rough chopped
2t fresh lemon juice
S & P
1T olive oil 
1T fresh rosemary
Preheat oven to 350˚ and line cookie sheets with foil
Slice peppers in half and deseed. Arrange top down on sheets. Roast until blistered and a bit shriveled. Abt 45 mins.
Allow the peppers to cool, then peel off skins. Slice into thin strips and arrange on a plate.
In a food processor combine drained artichokes, garlic, S&P and olive oil.
Puree until smooth. If necessary you can add a little water to reach desired consistency.
Spoon puree over the peppers and top with chopped fresh rosemary.
Store leftover puree in the fridge for up to a week.