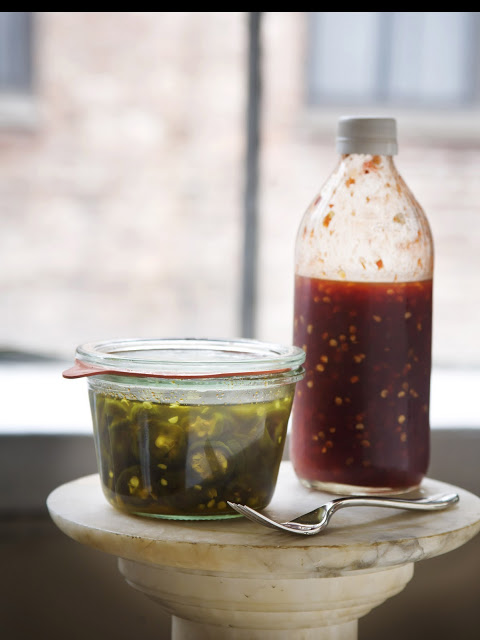 Sweet and Hot- that's how I like it. I've put these two hot concoctions on a pedestal because seriously, that's where they belong.
Let me first say that I have always been pretty much a fan of fire and spice. Perhaps it's my Latina roots, but my relationship with my Louisianaian fiancee, and our month long trip to Thailand, has completely changed my definition- and appreciation– for spicy. A few months before taking that trip I prepared by upping my spicey in increments. I am really happy I did. I was able to really enjoy everything I ate there (and I pretty much ate EVERYTHING). It was also a walking start to the leap that my tolerance level attained as the trip progressed.
The first sauce is the fantastically hot and sweet sauce that I spoke about in my recent post
here
. It's a kick tuckus sauce that gives you back some love with a vinegary sweet kiss. It's awesome. It's addictive. You've been warned. It's Sweet Thai Chili sauce, but not that super sticky sweet stuff that you get in aisle 7 at the supermarket. That's Baby chili and it cries in single notes. This is Mama's sauce and it sings a full chord.
In that afore mentioned previous post I spoke about my favorite Gai Yahng spot in the Neiman Heyman area of Chiang Mai. It's a hole in the wall sort of place that I couldn't stop thinking about. Below is a picture of the grill master at the helm.  The fiancee says he's been working that grill every day of the 5 years she lived there and has always (and still) wearing a knit cap. A remarkable thing considering it's rarely below 90˚ and standing over that grill don't make it no cooler!
The grill produces great banks of billowing smoke that is blown right out onto the street. You can spot the place from quite a ways away because of it.  The chicken is served with sticky rice and a side of Som Tom- Papaya Salad and, of course, a bowl of hot sauce. The chicken and rice are eaten with your fingers for the best flavor . One  of my favorite aspects of this place is a water bucket with a dented tin cup that is nailed to a tree. It sits above the water trough that funnels into the street. After devouring our plates of deliciousness you just dip into that bucket and pour water over your hands to wash them. Call me crazy, but I just love that. A wave to the grill master and then we can head off into the day.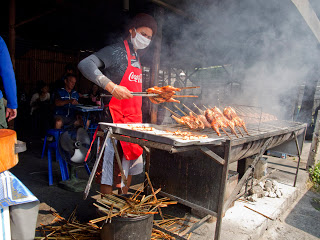 I made my own version of Gai Yahng, which is quite tasty. Sadly my NYC kitchen does not have a charcol grill so I roasted my chicken instead. The chicken was first marinated overnight, though a few hours is fine. The marinate is made from the stems and some leaves of cilantro and this combined with some fish sauce gives it that unique Thai flavor. Don't get me wrong, this is delicious with our without the grill. I dove right in and enjoyed every bite, and then walked to the sink with my sticky hands in the air to rinse them off.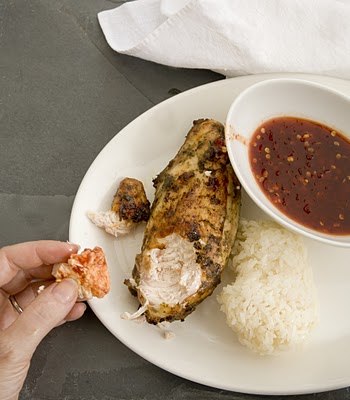 Gai Yahng Chicken with a side of sticky rice and HOT sauce.
My next favorite Chili concoction, though not exactly a sauce is Foodie with Family's "Cowboy Candy". Fresh jalepenos are used instead of dried chilies. The technique is the same, and it produces a slightly sweeter and tangier chili with a manageable fire.
I just LOVE these and really like the look of the rings too. You can put these babies on just about anything- but a ham sandwich? oh yes. Cream cheese on baguette? sure. I'm thinking atop a turkey burger would be good but I haven't tried it.. yet.
The real bonus of making this "candy" is that there is quite a bit of the syrupy sauce left after putting the peppers into the jar. Later that day during my late afternoon couch respite, it struck me that there was a tequila cocktail in my near future with that spicy tangy juice as the feature.
I grabbed a glass, squeezed 2 fresh limes into it, added a serious glug of tequila and then topped it out with a half glug of the juice. The result?…….HOOOOOWEEEEE!  oh yeah baby- that's the stuff. A splash of seltzer would also be good if you liked it just a step back, but the fire of the chilies, combined with the smokiness of the tequila was just all slap happy to be conjoined with vinegary sweetness. I may just start bottling this stuff- I'm thinking stocking stuffers….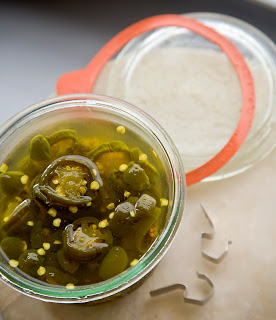 Sweet Hot Thai Chili Sauce
1 c sugar
1/2 c white vinegar
1/2 c water
2 T chopped garlic
1 t salt
3/4 c pureed red chilies or Sambal Oelek (prepared chili sauce)
Combine sugar, vinegar, water, garlic and salt in a sauce pan and place over medium heat. Bring to a boil and then let it simmer on low for about 10 mins. You should be left with a thin syrup that will thicken as it cools.
To make your own pureed chilies- take about 4 c of dried red chilies- I get this pretty cheaply in Chinatown. They come in big bags for a few bucks. Remove any stems and then place in a heatproof bowl and cover with some hot to boiling water. Let them sit for about 4 mins to get them softened.
Place the chilies in a food processor and give them a whirl. Take care to stand back and not breathe in the chili oils that get released. Though not lethal, they will invoke unsightly coughing attacks. If the mix is a bit too dry you can add in some of the soaking water to get a paste going. Don't worry about adding too much, it's all good in the end. If you were a proper Thai chef you would get out your mortar and pestle and pound those chilies into submission. If you get the chance give it a try one day- there is beauty in watching a ruby red paste materialize. It's zen. It's good.
After the syrup is prepared you can put the chilies right in and give it a good stir.
And that's all there is to it. 
You can get yourself some fancy pants bottles, but the Thai's use whatever they got on hand. I used my leftover vinegar bottle. There is poetry in that.
Store in the fridge and consume within a month or so.
For the Cowboy Candy recipe please visit Foodie with Family.
Gai Yahng Marinade
3 T coarsely chopped fresh cilantro roots and stems
3 T chopped fresh garlic
2 T soy sauce
2 T fish sauce
1t salt
Place all ingredients into a blender and blitz into a puree. If necessary you can add water if needed. Conversely, place cilantro and garlic in mortar and pestle and pound into a paste. Add sauces.
Place chicken parts into a large plastic bag and pour marinade in and turn chicken to coat. You can put this into a bowl, but you really want this marinade to get all in there, so go for the bag.
Grill chicken on BBQ or roast the chicken at 350˚ to doneness ~40 mins.