Now that the summer is unofficially here I have begun to think about weekend entertaining. To make my life easier I have created a few variations on hummus. The idea is to have some easy fall back or go-to that is not the same ol' same ol'. Let there be NO humdrum hummus!!
If you're like me we have at least one or two impromptu cocktail hour get togethers. Keeping stock on some sprightly rose is fairly easy, but the snacks! I grapple with trying to come up with something different. Last summer I easily ate my weight in delicious cheese. Now there ain't nothing wrong with that- and trust me, it will happen again and again- but it also can feel like a cop out sometimes.
And I will be honest- all that goodness did not do my waistline any favors either. (no complaints, it was deelish!!) The reality though is I would rather spend my time on the tennis court or relaxing on the beach. Futzing in the kitchen is ok on a gray or rainy day, but I pretty much want to open the fridge and pull out some magic.
So here you go my friends- You can make your hummus from scratch, or keep a master tub of plain hummus in the fridge- you know, next to the rose….
Pomegranate Molasses Hummus with Pistachio Nuts
I used store bought plain hummus for this. Then I drizzled some pomegranate molasses around and added some chopped fresh pistachios. Feel free to improvise.
White Bean Puree with Dill Oil and Black Salt
This one I whizzed up using my hand held mixer (no need to drag out the food processor). In the large cup they provide add:
1 12oz can of drained white beans
1/4 piece of fresh garlic clove
1/2 teaspoon salt
2 Tablespoons olive oil
Whizz that all together into a creamy puree and pour into a large enough bowl for dipping.
To make the dill oil, finely chop some fresh dill and put into a small bowl along with some fruity lovely finishing olive oil (you know, that gorgeous bottle you have but rarely use) and let that sit for a few minutes. Then drizzle and swirl that into your puree. Top with some crunchy flake salt. I used some black salt I had, but anything will do.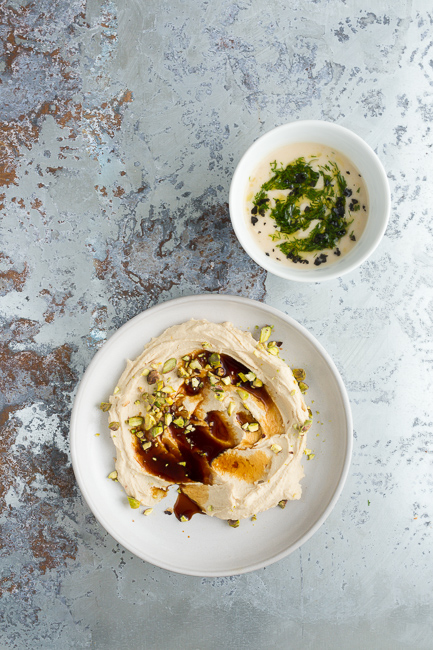 BTW- This is the beginning of an entertaining cookbook I have started to work on. With luck it will be out mid summer. So stay tuned!!!