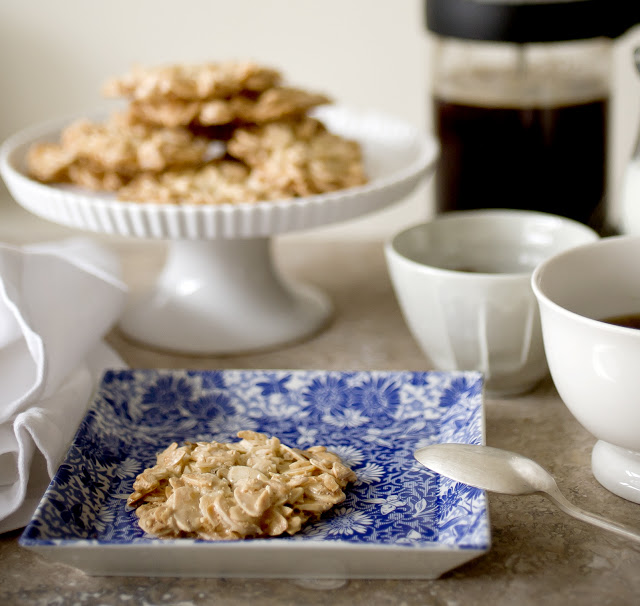 You are either going to love me or hate me for this recipe. These Almondines are so crazy easy to make, and the crunchy and yet chewy texture of the cookies are frighteningly addicting.
This past Mother's Day I was delighted to celebrate in my new apartment. It was the first time that I had my Mother over to see the new place and I looked forward to entertaining her. It was a beautiful day spent with my three children and my Mom. The weather was warm and sunny in NYC, warm enough for us to take a walk along the river in Riverside park after we shared a cold lunch that I had prepared: Cold poached lobster served on green sauce, Shrimp ceviche with melons and mint (similar to my previous post), Israeli cous cous salad with heirloom tomatoes and cumin and a romaine salad with bleu cheese dressing and bacon bits. I'm sorry that I didn't take a photo, but sometimes guests need full attention and Mother's Day was a day that I got to indulge myself in them.
My "children" are all adults now, so gathering them all together in the same space and time gets harder and harder. The beautiful thing is when they do end up in the same room, it's back to the old antics from their younger years. Seriously, I believe my children can take their "act" on the road. When they were younger I referred to them as The Flying Walendas. They are a three ring comedy act, and they move in sync without missing a beat. As a mother who was always in the kitchen, listening to my children play in the background (I had strategically placed doors and mirrors so I could keep an eye on them at all times), the raucous laughter brought back memories of those earlier days. They joke and tease, and break into song and little dances to punctuate a story, that to me is poetry in motion.
I've often thought of raising children as the same as enjoying an ice cream cone on a scorching hot day. There is so much effort spent on managing the drips, and then it's gone before you can fully enjoy it as much as you should.
The years certainly have zipped by, and with three kids and a demanding business, I managed too many drips. So naturally, I feel blessed when I can recapture some of those moments.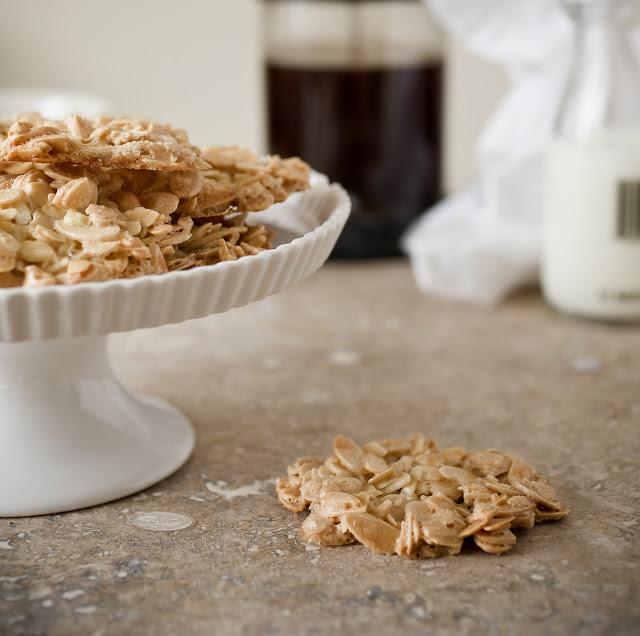 My eldest, Olivia, brought us some apple hand pies (that being the hands of Paul Bunyon, they were huge and gorgeous!). Before we headed out into the sunshine, I made a quick batch of these cookies. They cooled while we strolled in the dappled sunlight and walked off a bit of the lunch. When we returned, I warmed the apple pies and served chunks of the pies with some ice cream with the Almondines on the side, while the coffee brewed.
With this sweet I paired Irene's coffee from Papua New Guinea. The coffee has a caramel-y, nutty note, not too heavy to suggest an added flavoring, with a tinge of earth and smoke. A great coffee for any time of day and lovely with these cookies or not.
This is a great recipe to keep in pocket. Only 3 ingredients and 2 minutes to throw together. The only hard part is to keep an eye on them so they don't burn. The sugar and the egg whites make for a slightly chewing cookie, and the almonds give it some crunch and depth of flavor. I pulled it directly out of Ottolenghi: The CookBook, so I am sorry, I cannot, and will not, print the recipe- but I can attest, that the cookbook is well worth owning, if you don't already.
These cookies are a bit of a metaphor for this next stage in my life. Keep it simple, keep it sweet, make it delicious, and share with the ones you love.