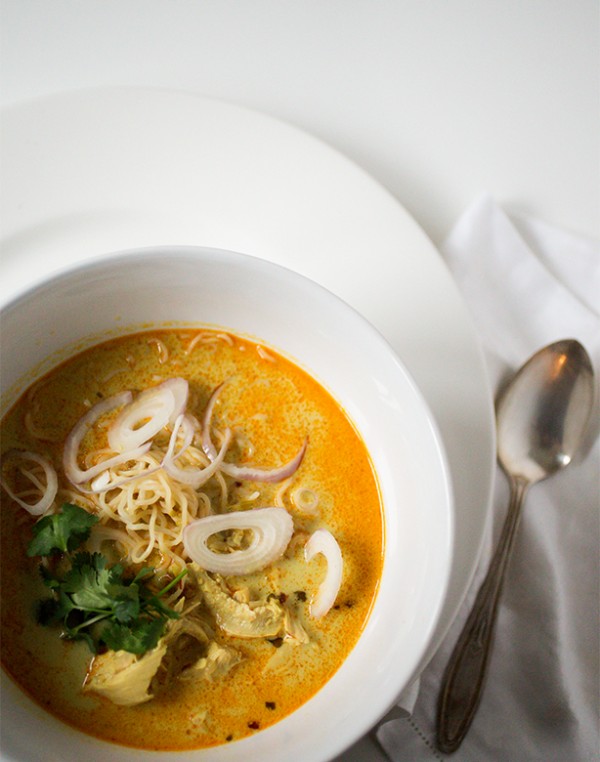 There are a few dishes that I dream of, along with the place where I've eaten it. Without a doubt, on the top my list is Khao Soi in Chiang Mai. This is a regional dish from Northern Thailand, thought to be of Burmese influence. This dish consists of a rich curry laced coconut milk broth in which chicken or pork are simmered. The broth is then poured over warm egg noodles and topped with sprouts, greens and fried noodles.
In Chiang Mai you can find small hole in the wall shops that serve this dish for around 35Bhat ($1 US). My favorite place is in the Airport Mall food area on the lower level. Nestled amongst several other bustling luncheon food stands is our favorite spot. A somewhat grumpy guy, with a handful of furtive worker bees chopping and stirring around him, rules over the middle of a fairly large oval food stand. It consists of a low shallow counter and rustic stools, akin to the design of a sushi bar. Out of an enormous cauldron he ladles the broth over tender egg noodles, piles on a mound of mung bean sprouts and fried noodles, and plunks the bowl before you without ceremony. Dispersed along the counters are large tea caddies with the condiments. Pickles, sliced shallots, chunks of lime, soy sauce, bottles of chili sauces, and bowls of dry chili flake combinations. No two people will dress up their bowl the same, and it's mind boggling to think of the variations- especially since no one is shy about pouring on the hot sauce and spices.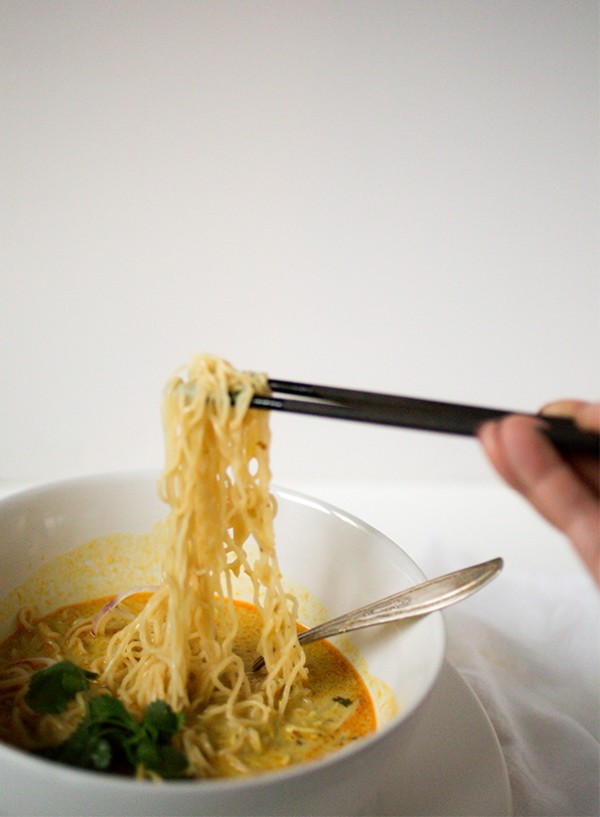 I prefer mine with a shot of soy sauce, a generous squeeze of lime, a sprinkling of shallots and a dangerously daring teaspoon of chili flakes. The dish is rich in flavor, and delightful in texture. Rich creamy broth is spiked with tender bits of meat, amongst slippery noodles, accented with some crunch of mung bean sprouts and fried noodles, then finally punctuated with a ying yang of vinegary pickles and spice.
Whenever Pam and I go to Thai restaurants in the states we will look for this dish. It's quite a bit of an undertaking to create so it's not often seen on menus. Often when it does appear, the resulting dish is quite unsatisfying. I would say it's akin to comparing a NYC good Jewish bagel with some mass produced notion in Ohio. Yeah… it IS Khao Soi, but it just doesn't seem to have the depth and soul. Not to diss Thai chefs in the US, but maybe it's the water or something? It's just not the same.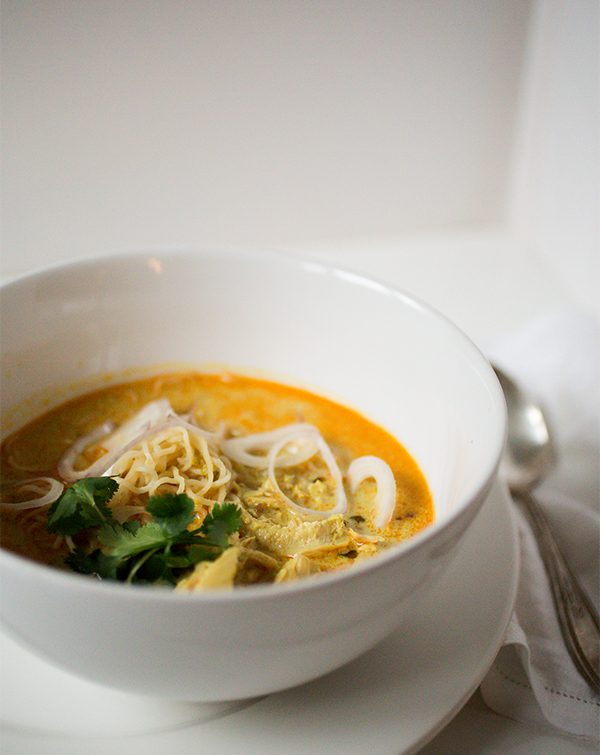 Of course, trying to replicate this dish, especially in a small city in Louisiana, is not easy at all. It took me almost 2 hours over the stove to nudge and cajole the ingredients I had on hand into a fair replica. More was the pressure as I was serving it for a small dinner party that evening. The recipe I came up with has all the nuances I associate in this curry bowl. By no means is this to be compared to a classic version, but all things considered, it is divine.
We have a fantastic Asian Market here so I was able to pick up fresh egg noodles, which I will say was well worth the effort. You may use dried spaghetti, but the difference in texture and taste is incomparable. Sadly I could not find mung bean sprouts, and my dietary concerns deterred me from making a batch of fried noodles. By no means would this meal be considered low calorie, but worth every slurpy spoonful.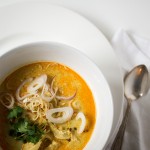 Khao Soi~ Chiang Mai Curry Coconut Noodle Soup
2014-02-11 06:54:14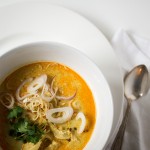 This is a rich curry coconut soup that packs a spicy punch.
Nutrition Facts
Amount Per Serving
* Percent Daily Values are based on a 2,000 calorie diet. Your Daily Values may be higher or lower depending on your calorie needs.
Ingredients
4 tablespoons red chili flakes
2 medium shallots, rough chopped
4 cloves garlic, minced
2 tablespoons minced ginger root
1/2 cup cilantro stems, rough chopped
2 tablespoons hot curry powder
2 tablespoons canola oil
2 14z cans unsweetened coconut milk
4 cups chicken broth
2 large chicken breasts, on the bone, skinless
3 tablespoons fish sauce
1 tablespoons hot chili oil
1 tablespoon palm sugar ( or brown sugar)
Salt to taste
1 lb fresh chinese egg noodles
for serving
lime wedges
thinly sliced shallots
fresh cilantro
chili sauce
mung beans (if you can find them)
fried egg noodles- you may take some from the recipe and fry them up
Instructions
In a blender jar add the chili flakes and cover with hot boiling water. Let it stand for a few minutes to soften. The longer the better. Pour off the water and reserve. Add the shallots, garlic, ginger, cilantro stems, and curry powder and blend into a smooth paste. Adding some of the chili water if needed.
In a large soup pot, warm the oil and add the chili paste and cook over medium heat for 3 minutes, stirring constantly taking care not to burn the paste. Add the coconut milk and chicken broth and bring to the boil. Reduce to a simmer and add the chicken. Simmer until the chicken is just tender, about 20 minutes. Remove the chicken to a plate to cool, then shred the meat and return to the pot, discarding the bones. Simmer for another 20-30 minutes, then add fish sauce, chili oil and palm sugar and taste for balance, adding more salt if needed.
Cook the egg noodles in boiling water and keep warm.
To serve add a mound of noodles at the bottom of a bowl and pour broth with chicken over the top. Offer the condiments on the side.
A Stack of Dishes http://www.astackofdishes.com/